Disclaimer: Traveling Ness contains affiliate links and is a member of the Amazon Services LLC Associates Program. If you make a purchase using one of these links, I may receive compensation at no extra cost to you. See my privacy policy for more information.
17 Best Things To Do In Mammoth Lakes, California
Mammoth Lakes is one of the most beautiful places in California with an abundance of enormous mountains, lakes, rivers, and waterfalls. It really is an outdoor lover's paradise with so many things to do in Mammoth Lakes to keep you busy for months!
Choose from a number of activities that most likely involves the presence of nature's jaw-dropping beauty.
As its name implies, Mammoth Lakes has majestic mountains that are very special to see in person.
The elevation at Mammoth Lakes is 7,880 feet but expect elevations to get as high as 11,053 feet at nearby lakes and mountains.
Where Is Mammoth Lakes?
Mammoth Lakes is in the Northern California area known as the Eastern Sierras and nestled at the base of Mammoth Mountain. You will often hear of the town referred to interchangeably as Mammoth, Mammoth Mountain, Mammoth Lakes, and Mammoth Village.
Usually just saying "Mammoth" is fine. Mammoth Lakes is the main town and the Village is next to it where you can access the ski lifts.
The town of Mammoth Lakes is part of Mono County sitting along the Long Valley Caldera and an earthquake fault line. Because of this, the earth around Mammoth is a geological hotbed with lots of natural hot springs and interesting terrain to see.
The drive to Mammoth from Los Angeles is 5.5 hours, 7 hours from San Diego, and 6 hours from San Francisco. That makes it a fantastic mountain getaway from pretty much anywhere in California! If coming from LA or San Diego, make a stop to see the incredible rock formations and arches in the Alabama Hills!
Tip: Want to visit the coolest ghost town nearby? Find out more in my post 11 Best Things To See In Bodie Ghost Town.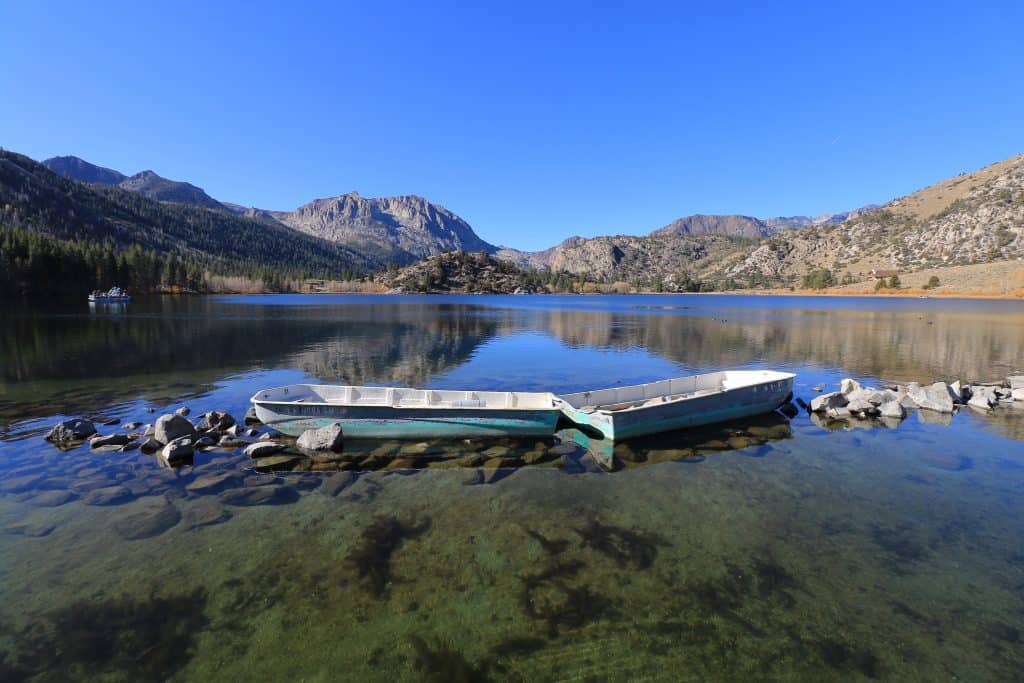 Tips:
Make sure to pack food in bear-proof bags so they can't smell what you have!
Gas up in Mammoth before heading out as gas stations are rare or very expensive.
Have a map of the area with you in case you lose wifi.
If you see a bathroom use it! You might not see another for some time…
Pack a lunch and bring snacks with you for the drive and/or hikes in a daypack.
To combat altitude sickness, drink extra water, get rest, eliminate alcohol, and ease into physical activity.
Carry with you this stainless-steel water bottle that will keep water cold or this water purifier straw if you will be drinking from water sources like rivers.
For a great selection of essential hiking and outdoor gear, explore my post 45+ Awesome Gifts For Hikers & Adventurers!
Best Things To Do In Mammoth Lakes
1. Mammoth Lakes Welcome Center
I admit that I don't always go to the welcome center in most places I visit but this is a great one to stop at. Why? Well depending on the time of year you visit, it is really important to know about any road, pass or trail closures due to weather.
You don't want to drive 30 minutes to an hour and realize you can't pass through somewhere. They can also inform you about the wildlife and the best practices if you should encounter any.
The Mammoth Lakes Welcome Center has someone on hand to answer any questions and get tips on things to do especially if it is a seasonal event or festival. You can grab plenty of maps and brochures to take with you. There is even a gift shop where you can grab a souvenir from your trip.
If you plan to do some camping while backpacking on one of many trails, you will need a wilderness permit that you can get at the Welcome Center. As you enter the town of Mammoth Lakes, you will drive right by the Welcome Center so pull in and visit!
Hours: Open from 8 am to 5 pm.
Address: 2510 Main Street, Mammoth Lakes, CA
2. Hike Mammoth Lakes
There are so many hiking options in the Mammoth Lakes area that it can be overwhelming to pick which one to go on.
I'm going to highlight a few favorites but for an in-depth guide on hikes in Mammoth, read my post 21 Epic Hikes In Mammoth Lakes for more info.
No matter where you go hiking make sure to bring plenty of water, a bag for your trash, and carry your food in smell-proof bags (so bears can't smell).
For all of these hikes, I carried a physical trail map of the area and used the mobile app AllTrails to keep me on track. The app came in so handy as I veered off the trail I was supposed to be on and able to correct thankfully.
Although I didn't have cell coverage on almost all these hikes, the app still worked to track where I was. But since phone batteries might not last all day, having a physical map comes in useful.
Within 15 minutes of Mammoth Lakes in the area of Lake Mary are some epic hikes with spectacular views for days.
A hike with insane views and that you get to see three lakes in total is the Crystal Lake Hike. It is a steep climb up to Crystal Lake but you get to look down at Lake Mary and Lake George as you trek up.
Although not difficult, two hikes to combine as one is Horseshoe Lake and McLeod Lake that are both breathtaking to see. If you are looking for a longer and more intense hike, Duck Pass Trail is it!
On this hike, you will see 4-5 lakes depending on which path you take. It is such a scenic trail and worth the tough climb.
* For a more detailed guide on hikes in Mammoth Lakes, check out my post 21 Epic Hikes In Mammoth Lakes!
3. Devils Postpile
Devils Postpile National Monument is one of those natural rock formations that is a wonder to see. Taking Highway 203 that runs through Mammoth you will reach Devils Postpile after a 30-minute drive.
From the parking lot, the trail to Devils Postpile is an easy 1.6 miles (roundtrip) that takes you to the base of Devils Postpile.
Did you know that California has the most national parks in the United States with a total of 28? Devils Postpile is one of these impressive and beautiful national parks you must see when in California.
For an epic road trip to see all 28 national parks, read California National Parks Road Trip Itinerary by Riley's Rove for the perfect guide!
Looking up, you can admire the basalt columns that were formed about 82,000 years ago from cooled basalt lava. The specific composition of minerals allowed it to form into what looks like perfectly symmetrical and hexagonal columns. It is quite amazing how they all formed so uniformly and right next to each other.
It would've been so cool to see these columns form in action! Kinda hard to believe this formed naturally, right? Many of the columns that you see have fallen over but the ones still standing vertically are up to 60 feet tall!
As you continue on the path, you will see a sign after Devils Postpile on your left leading up to the top of it. Make sure you don't forget to go to the top! The perspective from above shows how the tops of the columns look like a bunch of pavers from a backyard patio.
It is such an unusual and fascinating thing to see. You can come down on the opposite side and head back down and towards the trailhead.
Parking: If you go in the spring or fall, you can drive down and park at the Devils Postpile Trailhead. If you go in the summer from mid-June to the beginning of September then you MUST park at the Mammoth Mountain Main Lodge near the Adventure Center. The cost of the shuttle is $8 per person.
4. Rainbow Falls
If you are up for more of a hike, then continue on the same path from Devils Postpile towards Rainbow Falls.
To Rainbow Falls it is a 5-mile roundtrip trek (that includes the distance of Devils Postpile from Ranger Station). And if you go further down to Lower Falls add another 1.3-miles for a total of 6.3 miles.
You may ask if it is worth it to see both sections of the falls? And that is a big fat yes! That is if you enjoy gorgeous waterfalls of course. Once you get to Rainbow Falls, there is a viewing platform looking down at the 101-foot waterfall.
And if you are lucky, you will view a rainbow hovering in the mist when the sun is shining on it. If you want to get a more up close and personal viewing, continue straight past the viewing platform until you see a staircase that leads down to the base of the waterfall.
After you have taken some time to get those awesome photos, head back up the stairs and follow the signs to Lower Falls. Instead of going back the way you came, you will turn right down the path.
When you arrive at the Lower Falls you can either climb down the boulders on the side or a dirt path on the far left.
If you bring your lunch, this is the perfect spot to sit, relax and enjoy the spectacular views of the Lower Falls. Even though it is much smaller, I liked it so much more than the bigger Rainbow Falls. Probably because I was the only one there and it was so peaceful.
Fun Fact: Rainbow Falls is the tallest waterfall in the Eastern Sierras at 101-feet!
Tip: If you plan to visit several of the U.S. National Parks during the year, consider purchasing the America Is Beautiful Pass. It gives you access to 2,000 National Parks and Monuments in the U.S. including Devils Postpile and nearby Yosemite National Park!
America Is Beautiful Pass is good for one year from purchase and also includes 3 other adults that are in your car. If you just visit 3 or more national parks or monuments it is worth buying and pure savings after that!
5. Reds Meadow
To see an impressive meadow, look no further than Reds Meadow. Reds Meadow is a quick 5-minute drive from Devils Postpile and sits between Reds Creek and Sotcher Lake.
Access to Reds Meadows is open (same as Devils Postpile) from about mid-June to early fall. If you are visiting in the fall, Reds Meadows is a spectacular spot to see yellow, burnt orange, and crimson fall foliage.
It is an idyllic spot to camp, fish, hike and go horseback riding in the summer and early fall. If you aren't much of a camper, you can stay at Reds Meadows Resort in their cabins.
For those up for a good hike, you can hike to Reds Meadows from Devils Postpile for a 12-mile trek. If you are looking for a more leisurely hike, the 1.5-mile loop around Sotcher Lake is ideal.
Parking: If you go in the summer from mid-June to the beginning of September then you MUST park at the Mammoth Mountain Main Lodge near the Adventure Center. The cost of the shuttle is $8 per person. If you go outside of this time or before 7 am, you can park directly at either Devils Postpile, Sotcher Lake or Reds Meadows.
6. Convict Lake
Convict Lake might be one of the most beautiful lakes in Mammoth. It has that extra something where your jaw will drop and you say "wow"! I might be a little biased as I used to camp here every year with my parents as a kid. There are a lot of fond memories here regardless of its stunning beauty.
As you turn onto Convict Lake Road from Highway 395, you immediately are presented with magnificent and tall mountains that seem to be inviting you to Convict Lake. If you aren't a huge fan of camping, they have cabins (Convict Lake Resort) that you can stay at which is something I'd like to go back and do!
Hiking around the entire Convict Lake is an easy 3-mile loop that is a must to do as it is so scenic. You will get breathtaking views of the lake and during the fall it is an extra treat to see the leaves changing colors. Vibrant yellows and oranges are bursting with fall delight!
At this point, you might be curious as to why the name Convict Lake? Back in 1871, some convicts (prisoners) escaped from a prison in Carson City, Nevada. The sheriff tracked the convicts down to what is now the area of Convict Lake.
That incident resulted in the sheriff getting killed sadly. But the mountain peak above the lake was named after him, Mount Morrison.
A few of the fugitives were captured and brought to justice but the name stuck. Despite its darker history, it is the prettiest lake with crystal clear water that won't disappoint no matter when you visit.
Note: If you happen to like fishing, Convict Lake is an excellent lake for catching big trout. Over the years I always went between mid-May and mid-June and it was phenomenal.
7. Minaret Summit Vista
One of the best views in the Mammoth area and a direct line of sight of the "Minarets" is from Minaret Summit Vista. The Minarets are a number of jagged sharp peaks on a mountain range in the Ansel Adams Wilderness. They are immediately recognizable for their distinct shape.
If you ask a local, one of the best places to watch the sunset is at Minaret Summit Vista. There are two ways you can reach the vista point, drive or hike. If you are short on time or not up for a hike, then you can drive all the way up to the parking lot at the Minaret Summit Vista.
If you are looking to get some cardio in, you can park at the Mammoth Mountain Inn and start the 2.6 miles out and back trail behind the inn. The trail has an elevation gain of 246 feet and considered to be moderate.
Remember you are at an elevation of around 9,000 feet so it will feel a little tough for that reason.
Note: There are restrooms to use at the parking lot. From the town of Mammoth, turn onto Minaret Road off of the 203 (main street in Mammoth). Follow Minaret Road past the Mammoth Ski Area until you see a sign for Minaret Vista. Turn off to the right before the ranger gate to go down to Devils Postpile.
8. Earthquake Fault
Located in the Inyo National Forest Just a few minutes from the town of Mammoth Lakes is the Earthquake Fault. For most people when they think of California, earthquakes and fault lines likely comes to mind.
At one time the Eastern Sierras was a very active volcanic region and at the Earthquake Fault, you can see up close a huge "fault". The fault split open around 550 and 650 years ago and is around 10 feet wide and 60 feet deep.
You can tell that at one time the land here was one because each side of the fault looks like it would match together perfectly like puzzle pieces. The walk around the fault is an easy 0.3-mile loop where you can wander at your leisure.
The fault sits in the middle of a forest of very old pines that tower over the area. There are bathrooms and picnic tables in case you want to take a break here and enjoy your lunch. The Earthquake Fault is open all day and free to see.
9. Hot Creek Geologic Site
A short distance from the Mammoth Yosemite Airport is a geological wonder to see steaming hot water bubbling up from the ground.
The boiling temperatures are due to the hot magma that lies just 3 miles below the surface and part of the Long Valley Caldera.
For this reason, it is too dangerous to go in or get near the hot creek. When earthquakes erupt in the area, it releases new hot springs and is why it isn't safe or stable for people to use.
As a child, I got to go in here a bunch before the waters became too hot and unstable. After a few deaths, they had to rope it off and prevent people from entering.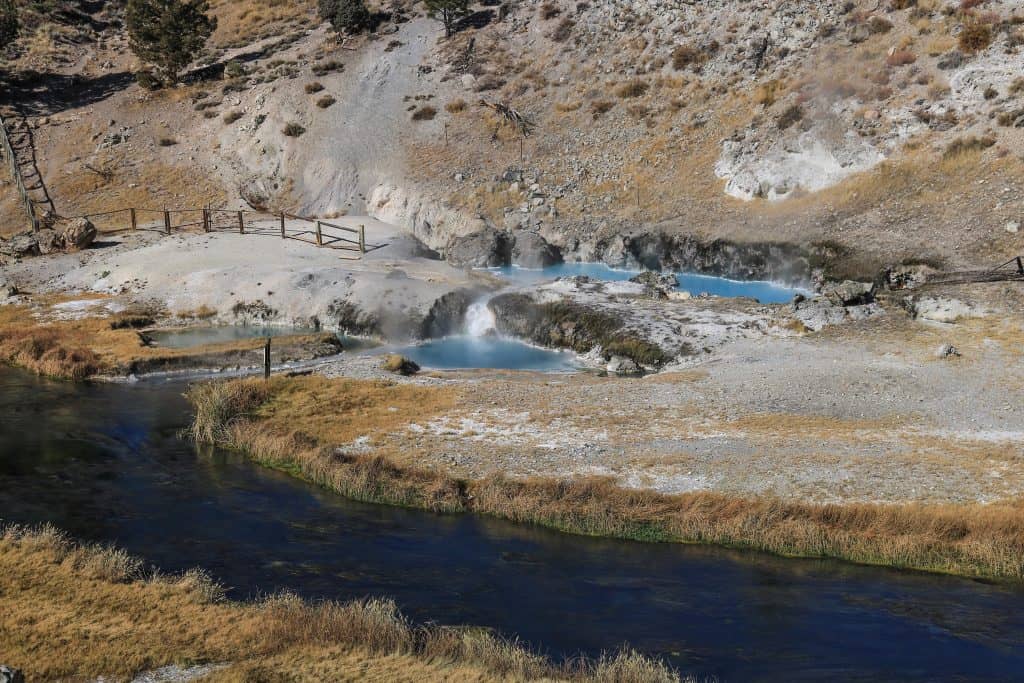 If you didn't know it, it looks like something out of a sci-fi movie or a location on a different planet. Along Hot Creek, there are a number of small pools that look so appealing with turquoise colored water. It really is gorgeous to see and a shame it is too dangerous to get close.
There is a fence to prevent getting close but you can get views from above by the parking lot or on the ramp down to the creek. Visiting the Hot Creek Geologic Site is free to visit with parking, restrooms and picnic tables.
Note: The last section of the drive to the Hot Creek Geologic Site is on a dirt road but doable for cars to go on. It is open daily from 8 am to 7 pm and can be reached 3 miles off of Highway 395 on Hot Creek Hatchery Road (next to Mammoth Airport).
10. Chase Fall Colors
One of the best things to do in Mammoth Lakes in the fall is to search for the changing colors of foliage. There are several places to drive or hike to view the brilliant yellows and oranges that line the lakes, rivers, and canyons.
The best time to see the vibrant and eye-popping colors in the Eastern Sierras is from mid-September and mid-October. During my trip, I was there from mid-October to the first week of November and it was amazing to see.
At each Mammoth Lake, you will see various shades of autumn that will differ from lake to lake. A lot of it depends on the elevation and temperature.
South of Mammoth Lakes, the fall colors are abundant at Convict Lake, McGee Creek, Rock Creek Canyon, and Bishop Creek Canyon.
North of Mammoth Lakes, driving the June Loop which has four lakes in it will offer plenty of striking fall colors throughout the loop. Heading about 30 minutes north of the June Loop is Lundy Canyon. It leads to Lundy Lake and has colorful aspens leading up to the lake.
A short drive (20 minutes) north of Lundy Canyon you arrive at Virginia Lakes which also has aspens lining the road and makes for excellent photo opportunities. Both Lundy and Virginia Lakes have great hikes and superb fishing for trout!
During September and October, you can't go wrong no matter which lake and hike you wander upon as fall foliage is bursting all along the Highway 395 corridor!
11. June Loop
The June Loop consists of four lakes that form a loop off of Highway 395 about 30 minutes north of Mammoth Lakes. The main town and first lake you come to is June Lake and June Lake Village.
The 16-mile June Loop is one of the most scenic drives in the Eastern Sierras during any season and fun to explore.
On the loop, you will pass June Lake, Gull Lake, Silver Lake, and Grant Lake. The first three are natural lakes with Grant Lake being man-made.
You will also notice that the terrain and landscape drastically change when you get to Grant Lake. It is very bare with a lack of trees yet still gorgeous in its own way.
The most places to stay, dine and shop will be in June Village next to June Lake. It really has something for everyone as it is excellent for fishing (rainbow trout), kayaking, SUP and hiking.
And if you happen to come in the winter, there is even a small ski resort at June Mountain that is great for families and beginners.
Gull Lake is another spectacular place to fish, picnic and walk around as it is a lovely lake that sits next to June Lake. Next, you come across Silver Lake that is one of my favorites to visit as it has excellent fishing and a beautiful campground.
You can camp, rent a cabin or stay at a resort at June, Gull, Silver, and June Lake Village if you choose to stay here for a few days.
If you visit in September or October, you will find an abundance of fall foliage throughout the loop. All four lakes are spilling over with charm and complete tranquility. So, no matter which lake you spend your time at you will leave happy and rested.
12. Mono Lake
Visiting Mono Lake is one of those odd yet fascinating landscapes that is a must to see. What makes Mono Lake so special?
It is one of the oldest lakes in all of North America estimated to be between 760,000 and 3 million years old! That is crazy old for sure and is one of the reasons it has an interesting history.
What makes Mono Lake so unique is that it is a very alkaline lake with a pH of 10 and that is ten times the amount of salt found in the ocean. Talk about salty!
The water chemistry of the lake is made up of chlorides, carbonates, and sulfates. Because of its salty environment, fish can't survive. With no outlet for the water to flow out of leads to the lake being so salty.
Walking along the shores of the lake, you immediately get the feeling that you are on another planet that is desolate or abandoned. Yet, there is plenty of brine shrimp, algae and flies that thrive and call Mono Lake home.
Make a point to drive to South Tufa State Reserve to see the alien-looking "tufa towers". The tufa towers are calcium-carbonate or limestone and form towers along Mono Lake.
From the parking lot, you can follow a self-guided tour that forms a loop back up to your car. There are signs that tell you about the history, make-up, and ecology of what you are seeing.
Arriving before sunset is an excellent time to view the lake with the sun's warm glow on it. It is a very popular spot for photographers at sunset so don't be surprised to see many tripods set up!
If you are visiting in the summer months, take a dip into the lake and see how buoyant you are. You will notice that the water will feel soft and somewhat silky like there is soap in it. Another summer favorite is to go kayaking on your own or as a tour with Caldera Kayaks.
Location: Mono Lake is about a 30-minute drive north of Mammoth Lakes sitting right off of Highway 395 (south of Lee Vining). The lake is so big, you won't miss it! To get to South Tufa State Reserve, turn right onto the 120 off of Hwy 395 and then turn left onto Test Station Road.
Hours & Admission: Mono Lake (including South Tufa State Reserve) is open year-round and 24 hours per day. There is a self-pay box where you deposit $3 per adult at the parking lot.
13. Soak In Hot Springs
As I mentioned above, the region in and around Mammoth Lakes is a geothermal hotbed of natural hot springs.
Scattered throughout this area are creeks and pools that have become popular to soak in the soothing hot waters. Now when I say a pool, I mean tiny ones about the size of a hot tub.
Although the hot water pouring into the hot spring pools is natural, many of the springs have been made to resemble an actual hot tub. For the majority of the hot springs, they fit between 4-6 people with a few that could squeeze a couple more.
The temperatures of these hot springs range from 95 F to 105 F (35 C to 41 C), with some that you can add in cold water to cool it down a bit if needed. I had quite a bit fun driving (mostly off-road) to find the coolest hot springs near Mammoth Lakes.
To find out more info and details on how to reach these hot springs, read my post 7 Amazing Hot Springs Near Mammoth Lakes.
Note: Do be aware that many of the locals like to soak in the hot springs in their "birthday suits", that is naked! Although it was a bit awkward at first, it really wasn't an issue. lol
14. Inyo Craters
A short drive (about 20 mins) from Mammoth Lakes along the Mammoth Scenic Loop are the Inyo Craters. There are two enormous craters that were formed from eruptions in the Long Valley Caldera about 500-600 years ago.
Today it looks like two sunken holes that are now lakes with turquoise green water. Go earlier in the day to see the light hit the water and display the prettiest colors!
Once you park your car, there are two trails that will take you to the craters. Either one works as you can go in one way and loop back via the opposite trail. The walk to the craters is an easy, 1.6-mile loop, and takes you through a tranquil shaded forest.
Hiking on the far side of the craters doesn't have a super clear trail and is steep. If you are not sure, you can always just walk around the side closest to you and still capture great views. There is even a viewing observation area to see the 200 feet deep crater lakes.
Note: From Mammoth Lakes take Minaret Rd (203) in the direction of Mammoth Mountain Ski area. Turn right onto Mammoth Scenic Loop and after a few miles turn left onto a dirt road to reach the Inyo Craters parking area.
15. Mammoth Mega Zip
During the summer months get an adrenaline rush with taking to the sky and flying down the Mammoth Mega Zip! This fun experience is coming soon so check the Mammoth website for when it is open! It has the biggest vertical drop of any zipline in the United States and is a thrilling way to see Mammoth Mountain.
Over two separate lines, you can get up to a speed of 60 miles per hour and drop 2,100 feet in elevation from start to finish. The view on the way up to the top in the gondola alone is worth the experience.
Location: The Adventure Center at the base of the Mammoth Mountain Ski area at 10001 Minaret Rd, Mammoth Lakes, CA.
16. Mountain Biking
If mountain biking is your passion and you want to get in a killer workout, check out the trails in Mammoth. There are trails that range from easy to difficult with something for everyone no matter your experience.
A few popular bike trails to tackle are the Knolls Loop, Mountain View Trail, and Panorama Mountain Bike Trail. Head to Mammoth Mountain Bike Park where you can rent bikes, get a lesson and take the lifts up the mountain to bike down. There are over 80 miles that you can bike as it is the biggest bike park in the United States.
Location: 10001 Minaret Rd, Mammoth Lakes, CA.
17. Go Skiing
Are you more of a skiing fan and looking to hop on the snowy slopes? Then you are in luck, Mammoth Mountain has excellent skiing conditions and is beyond charming in the winter months. Mammoth Mountain is one of the largest ski resorts in the country boasting 3,500 acres of skiing fun, 28 lift chairs and a summit elevation of 11,053 feet!
Hands down, Mammoth Mountain is the best skiing and snowboarding in California. The slopes are usually open from mid-November into the month of June. Slope difficulty at Mammoth Mountain is rated as 15% expert, 20% advanced, 40% intermediate and 25% beginner. That means there are great options for all levels.
There are three areas where you can take to the slopes. The Mountain Center (Mammoth Village) which is closest to the town of Mammoth Lakes, The Mill and the main ski resort of Mammoth Mountain. For more information and updates on snow conditions, visit here.
Note: It is recommended to take the free shuttles to the mountain to avoid driving in potentially tough conditions.
Where To Stay In Mammoth Lakes
There are numerous places to stay in and around Mammoth Lakes but some great choices with good location are:
The Village Lodge – this is an excellent choice especially if you are staying in the winter as you can catch lifts right next to it at the Mountain Center.
The Westin Monache Resort – next to both the Village Lodge and Mountain Center in the Village.
Juniper Springs Resort – located in Mammoth Lakes and a short distance to lifts, lakes, and hiking.
Best Camping Options
During the spring through fall months, camping in Mammoth Lakes is an excellent option. Especially if you want to be more "outdoors" than in a hotel. There are so many camping options but a few favorites that all have great campsites, fishing and hiking are below. To book a campsite at any of these lakes, click here.
Lake Mary – sits above the town of Mammoth Lakes next to Lake George and Lake Maimie (Lakes Basin).
Convict Lake – Of all these camping options, it might be the prettiest although they are all breathtaking!
June Lake – part of June Loop and next to June Village
Silver Lake – the third lake along the June Loop
When To Visit Mammoth Lakes
Deciding when to visit Mammoth Lakes really depends on your interests and what activities you want to do. There are so many different things to do in Mammoth Lakes year-round with every season offering unique experiences.
In the winter there is world-class skiing but you can't hike, fish or explore as much of the area. That's due to snow and road closures. If you want to hike, fish and camp then spring through fall is prime for that. And if you are a fall foliage chaser then September and October are the months for you.
Places To Eat
There are many great spots to eat in Mammoth Lakes but a few favorites are:
John's Pizza Works (pizza) @ 3499 Main St, Mammoth Lakes, CA
Roberto's Café (Mexican) @ 271 Old Mammoth Rd, Mammoth Lakes, CA
Mammoth Brewing Company (brewery and pub food) @ 18 Lake Mary Rd, Mammoth Lakes, CA
Schat's Bakery (bakery and sandwiches) @ 3305 Main St, Mammoth Lakes, CA
Stellar Brew (coffee) @ 3280 Main St, Mammoth Lakes, CA
Got Travel Insurance?
Don't leave home without travel insurance as you never know what might happen on a trip! It is always when you least expect it that something can go wrong like getting sick, in an accident or cancellation of some sort. Get a no-obligation quote from two trusted travel insurance companies for peace of mind on your next trip!
Looking For More Travel Inspiration?
11 Best Things To See In Bodie Ghost Town
9 Natural Wonders In The Alabama Hills Of California
7 Best Filtered Water Bottles For Travel And Hiking
21 Epic Hikes In Mammoth Lakes
7 Amazing Places To See Giant Redwoods In Northern California
45+ Awesome Gifts For Hikers & Adventurers
7 Amazing Hot Springs Near Mammoth Lakes
The Best Ways To See Yosemite In The Fall
15 Ultimate Solo Hiking Tips For Women
Disclaimer: My post contains affiliate links including being an Amazon Associate. I may receive a small commission if you click a link and purchase through that link. It won't cost anything to you to use these links but is very much appreciated. Thank you!