Disclaimer: Traveling Ness contains affiliate links and is a member of the Amazon Services LLC Associates Program. If you make a purchase using one of these links, I may receive compensation at no extra cost to you. See my privacy policy for more information.
10 Best Things To Do In South Dakota For First Time Visitors
If Mount Rushmore isn't on your bucket list, add it because of all the South Dakota attractions it is the best to see! South Dakota is a trip I kept putting off because I didn't think there was much to see there. Boy, was I wrong! I was amazed at the beauty of this state and the many things to do in South Dakota!
I only wish I had taken this trip much earlier as there are numerous places to visit in South Dakota especially if you are a nature lover.
Let's just say this won't be my last trip to the Black Hills of South Dakota and one I am sure you will enjoy. Get ready for an adventure and explore the best places to stay in Keystone!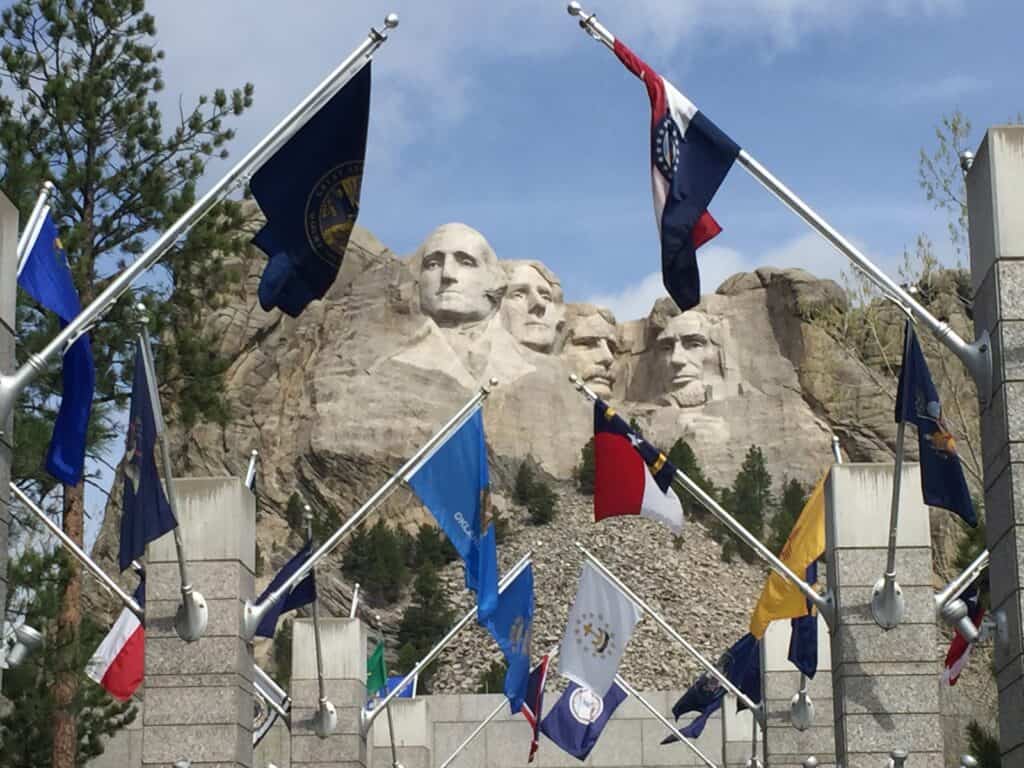 Where Is South Dakota?
South Dakota is a state in the United States in the Western half but officially considered in the Midwest region. South Dakota is a landlocked state with North Dakota to the north of it and only North Dakota as the barrier to Canada.
In total, South Dakota is surrounded by 6 states which are North Dakota, Montana, Wyoming, Nebraska, Iowa, and Minnesota. The state was named after the Dakota Native American tribes who made up the majority of the population at the time.
The area where many of the South Dakota attractions mentioned here are located is in the region called the Black Hills of South Dakota. Mount Rushmore, Custer State Park, Crazy Horse Memorial, and Jewel Cave National Park are a few sights in the Black Hills.
Tip: If you plan to visit several of the U.S. National Parks during the year, consider purchasing the America Is Beautiful Pass. It gives you access to 2,000 National Parks and Monuments including the Badlands National Park and Wind Cave National Park!
The America Is Beautiful Pass is good for one year from purchase and also includes 3 other adults that are in your car. If you just visit 3 or more national parks or monuments it is worth buying and pure savings after that!
How to Get There
The closest airport is in Rapid City (RAP) which is about a 45-minute drive to Keystone (Mount Rushmore). I flew into Denver International Airport (DEN) in Colorado as I wanted to use reward points via Southwest Airlines.
Start planning for your trip to South Dakota and explore the best flight deals today!
Other cities to consider when looking for the best fare would be Cheyenne, WY and Billings, MT. From Denver, it is easy to rent a car and drive about 6 hours with some stops closer to 8 hours.
But overall it wasn't bad as it is a beautiful drive the whole way! Whichever airport you fly into, search and book the best deals on a rental car here!
To book your airfare to South Dakota, go to Skyscanner to compare the best flight deals available!
Best Time To Visit South Dakota
South Dakota has four distinct seasons and for that reason, I recommend visiting during the spring, summer, and fall months. May through the beginning of November is ideal as you have excellent weather to explore the many trails, camping, and many natural wonders.
To avoid the crowds then stick to spring and fall to enjoy the tranquility of this beautiful land. There are chances of rain in the spring and early summer, so make sure to bring a rain jacket just in case.
During the winter months, it can get very cold with freezing temperatures, snow, and many attractions not open.
Note: Mount Rushmore is open year-round if you want to photograph it in winter but beware you won't be able to see or do much else at that time.
Cell Service Tip
At the time of my visit, my cell service did not function the entire time in South Dakota and I have Sprint service. After asking locals, Verizon is the best carrier for the area followed by AT&T. So, if you don't have one of those carriers, make sure you have directions and a physical map to navigate around.
Get A PDF Of This Guide For Your Trip
For your convenience, you can download a copy of this South Dakota travel guide or print it to take with you. It includes pictures and links within the article. It's ad-free and handy for on the go.

The Mount Rushmore Presidents
So who exactly are the faces of the four guys up on Mount Rushmore? They are the founding fathers of the United States and were thought to represent major events in America's start. The choice was that of the sculptor and his vision of their importance.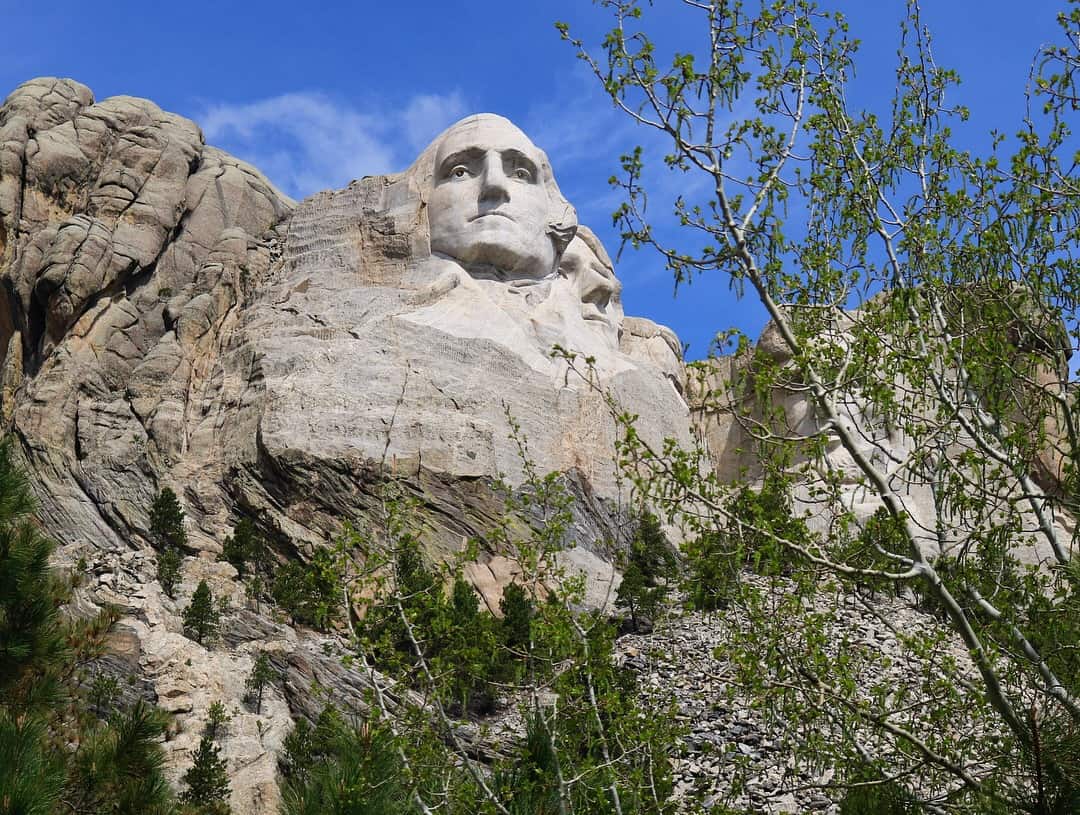 In going from left to right, George Washington is the first head you will see and he was the very first president of the United States in the late 1770s. The second head belongs to Thomas Jefferson who was the third president of the United States and the main author of the Declaration of Independence.
The third face you see is that of Theodore Roosevelt who was the 26th president of the U.S. and he was instrumental in the significant growth of the country and was passionate about the natural lands of America. It was he who established the first national parks, monuments, and preserves in the United States.
Lastly, the fourth face is that of Abraham Lincoln who was the 16th president of America and is a national hero for his fight against slavery during the Civil War. It was under his leadership that slavery was abolished.
Explore The Top Tours In South Dakota For Your Trip!
South Dakota Attractions
1. Mount Rushmore (Keystone)
Mount Rushmore should be on every person's USA bucket list and is the most popular place to visit in South Dakota. The making of Mount Rushmore took 14 years to complete by the sculptor Gutzon Borglum with completion in 1941.
It is such an iconic symbol of the founding fathers of America and truly an impressive sight. It is located about 10 mins from the town of Keystone, South Dakota and $10 per car to park. There is no entrance fee other than parking.