Disclaimer: Traveling Ness contains affiliate links and is a member of the Amazon Services LLC Associates Program. If you make a purchase using one of these links, I may receive compensation at no extra cost to you. See my privacy policy for more information.
11 Top Things To Do In White Sands National Park For First Time Visitors
A visit to White Sands National Park initially looks like a mirage or a sea of waves that are stark white with varying shades depending on the light. These waves are of gypsum sand creating mounds of magical beauty. Get ready to explore the many fun things to do in White Sands National Park for first-time visitors!
Walking out onto the sand dunes is like stepping out onto an undiscovered planet. Although it is a desert, it is the most captivating desert I have seen!
If you didn't know it, the white sand looks like you could be on a stunning beach minus the ocean of course…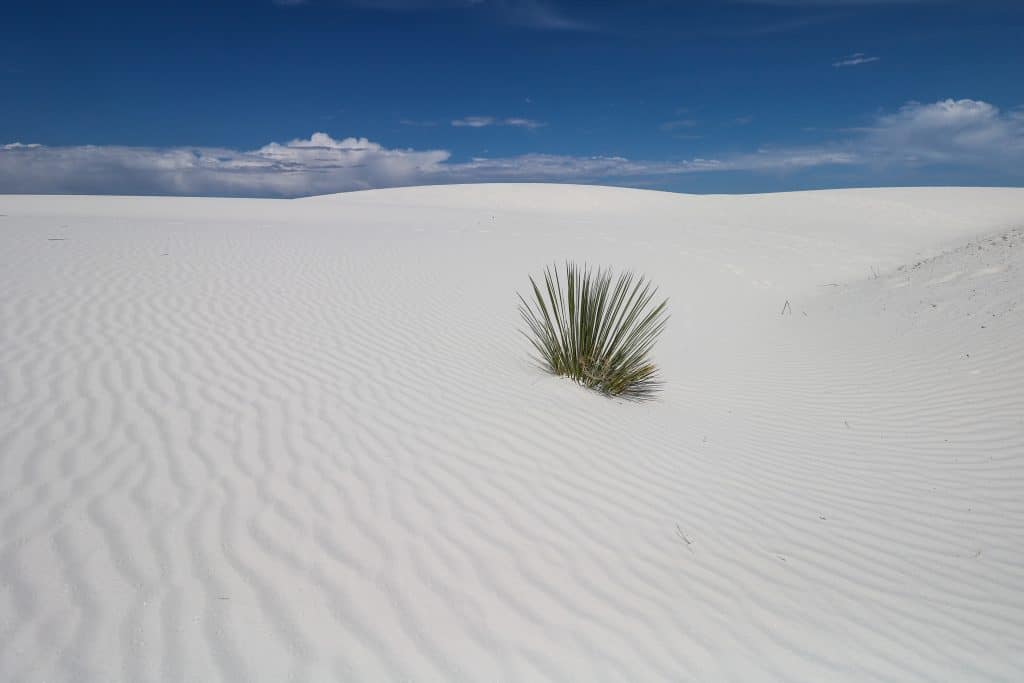 How did this white sand come to be? Millions of years ago, this area of New Mexico was the Permian Sea. When the sea dried up, it left layers of gypsum (a mineral found in rocks).
Over time with water, wind, and the sun, these gypsum crystals were broken down into the fine white sand you see today.
In fact, White Sands is the largest gypsum sand dunes in the world. Discover for yourself their beauty when visiting White Sands National Park!
Note: White Sands is one of the newest National Parks in the United States as of 2019. Prior to that is was designated as a National Monument.
Where Is White Sands National Park?
White Sands National Park is located in southern New Mexico and is a vast desert that covers 227.8 square miles of white sand dunes.
New Mexico itself is in the southwest area of the United States between Arizona and Texas. The cities of Albuquerque and Santa Fe are about 3.5 hours and 4.5 hours north of White Sands.
Even though White Sands is on the opposite end of the state from Albuquerque and Santa Fe, New Mexico it is definitely worth visiting!
Tip: If you are looking for other things to do in New Mexico, explore these fun posts:
How To Spend The Best Weekend In Albuquerque
The Ultimate Guide To The Albuquerque Balloon Fiesta
15 Best Things To Do In Santa Fe, New Mexico
7 Unique Day Trips From Santa Fe
How To Get To White Sands National Park?
The national park is a good distance from all major cities, so you do need to rent a car to reach White Sands National Park.
The closest major cities to fly into are Albuquerque (NM), Tucson (AZ) or Phoenix (AZ). From each city the drive time to White Sands is:
Albuquerque, New Mexico – 3.5 hours or 225 miles. The airport is Albuquerque International Sunport (ABQ).
Tucson, Arizona – 4.5 hours or 327 miles. The airport is Tucson International Airport (TUS).
Phoenix, Arizona – 6.5 hours or 440 miles. The airport is Phoenix Sky Harbor International Airport (PHX).
I visited White Sands on a long road trip from California, so I drove my own car. Depending on your schedule, a road trip is a great excuse to see a lot of cool sights!
Get ready for your trip and search for the best car rental rates today!
When Is The Best Time To Visit White Sands National Park?
White Sands is a desert so, with that in mind, the best time to visit based on temperatures is September through May. The summer months of June, July, and August will get very hot so it might not be the best time if you can't take the heat!
The temperatures in the summer months will reach up to 98 F to 100 F ( C to C) whereas the rest of the year will range from 57 F to 87 F on average.
I visited in June as it just worked out that way and I made a point to do most of my touring of White Sands during the early morning and late afternoon/sunset hours to avoid the midday heat.
It was hot but not bad as I carried plenty of water, wore sunscreen and a hat, and had a travel cooler with me.
How Much Does It Cost To Visit White Sands National Park?
To enter the national park the entrance fee is $25 per vehicle and up to 4 people per vehicle. If you are on a motorcycle the fee is $20.
The entrance fee allows you to come and go as many times as you want for 7 consecutive days from purchase.
But if you plan to visit a few national parks within 1 year, I highly recommend purchasing the America Is Beautiful Pass for $80.
Since I knew I would be visiting a few national parks on this road trip I knew it would pay for itself on this trip alone.
If you would like more information on getting the pass, what is covered, and how to use it, refer to America The Beautiful Park Pass: Is It Worth Getting For Your Trip?!
And the bonus is I can use it for a whole year at 2,000 federal recreation parks in the United States including all national parks that have an entrance fee!
How Long Should I Spend At White Sands National Park?
It really depends on your schedule as some people will breeze through in half a day and others will spend several days. I would suggest 1 – 2 days if you are a photography lover looking to capture a few sunrise and sunsets.
Plus, it gives you time to explore the various trails, visitor center, and nearby Las Cruces. But if you aren't into taking tons of photos, a ½ day to a full day is good.
Where To Stay In White Sands
There is no place to stay in White Sands National Park itself unless backcountry camping is your thing. But there are two great locations nearby where you can choose from hotels and campgrounds.
The two locations are the towns of Alamogordo and Las Cruces. I chose to stay in Alamogordo as it is only 20 minutes and closer to White Sands National Park.
Las Cruces is west on the opposite side of the park from Alamogordo and about 50 minutes away. Hotel options including the one I stayed at are:
Fairfield Inn & Suites Alamogordo
Holiday Inn Express & Suites Alamogordo
If you would rather stay in Las Cruces:
Courtyard by Marriott Las Cruces
Camping: If you prefer to camp, a great campground close to White Sands is the Alamogordo-White Sands KOA or the Boot Hill RV Resort.
Note: If you are staying in Alamogordo, grab dinner at CJ's Si Senor Restaurant for incredible Mexican food. Address is: 2300 N White Sands Blvd, Alamogordo, NM 88310.
Tips For Visiting White Sands National Park
Sometimes the park can be closed for a few hours to allow for missile tests by the nearby military base. Check the park website for the missile schedule.
If you are walking on a designated trail, make sure you stay on the trail.
Don't leave any trash behind on a trail or the dunes. Carry out what you bring in!
Carry plenty of water with you as it is a desert! You can fill up water bottles at the visitor center but if you get there early it will be closed so plan to bring your own.
Bring a travel cooler and keep some drinks, snacks, and lunch to picnic at one of the tables.
Bring a camera and photograph at sunrise and sunset for best lighting on the dunes.
For photos, wear bright colors so they pop in your photos like red, pink, black or blue. Avoid wearing white…
The sand will get everywhere, so be careful to keep phones and cameras tucked away when not using. Bring a small towel to wipe off sand from where it doesn't belong!
Have a towel or blanket to sit on, the more colorful the better if you want to include in a photo.
To avoid people in your photos, hike a few dunes away for better shots.
Hot Air Balloon Festival is in White Sands the beginning of September for 2 days in Alamogordo.
Get ready for your trip and purchase an America The Beautiful Pass to pay for your entrance fee and lasts 1 year to all 2,000 federal recreation sites!
Dogs are allowed but must be on a leash.
Best Things To Do In White Sands
1. Visitor Center
When you turn off the 70 highway, onto Dunes Drive the Visitor Center for White Sands National Park will be the first thing you see on your right.
Pull in to use the restroom and fill up your water bottles. There is no source of water within the park so make sure you have more than enough water, especially on a hot summer day.
There are snacks and refreshments at the visitor center but that's about it along with a gift shop.
Inside the visitor center, you can get info from a ranger and watch a 17-min film "A Land In Motion". At the time of this post, they were not showing the movie but I'm sure that will change as restrictions lessen.
If you have a National Park Passport, you can get it stamped in the small museum area.
If there are any available you can pick up an adventure pack to rent for free on a first-come basis. The pack includes binoculars, animal track guide, and a compass.
The restrooms and visitor center did not open up until 9:00 am so if you go before like me, I visited the Visitor Center after I had toured the park.
I had already purchased an America Is Beautiful Pass. If you don't already have a pass you will need to wait until the center opens to purchase either a pass or a one-time ticket.
Plan ahead and buy your America is Beautiful Pass so you can go whenever you want from sunrise to sunset!
Tip: Make sure to gas up before heading out from Alamogordo or Las Cruces as there aren't places to get gas in White Sands National Park.
Address: 19955 Highway 70 West, Alamogordo, NM or you can just type White Sands National Park into your GPS.
2. Native Plant Garden
Outside of the Visitor Center is a small native plant garden with wildflowers, yucca and other plants that call this area of New Mexico home. The flowers and plants will be in bloom and prettiest to see from March to November.
Walking through this tiny garden only takes a few minutes and worth stopping at when you are at the visitor center.
3. Drive Dunes Drive
From the moment you leave the White Sands National Park visitor center, you are driving on Dunes Drive that is 8 miles (13 km) to the farthest point. Roundtrip, the drive is 16 miles (26 km).
The road will take you through the white sand gypsum dunes, splitting off to form a loop that will bring you back onto the road you started on.
Basically, if you stay on the road and follow it, it will return you to the front entrance/ visitor center. If you were to just drive the entire park and not stop it would take about 45 minutes to 1 hour.
But I highly recommend stopping at several points along the drive including the trails and places of interest listed in this post. The white sand is stunning to see especially when the ripples made from the wind are present.
Besides the incredible sand dunes, you can find along Dunes Drive many trails, space-age picnic tables, areas to bring your horses to ride, and an amphitheater that is used for different events or programs.
Tip: You will get a map of the park at the entrance station on Dune Drive.
Note: Sometimes Dune Drive is closed when White Sands Missile Range is conducting missile tests. The park could be closed 1 to 2 times per week and for up to 3 hours but they usually post the schedule ahead of time on the park website.
4. Playa Trail
After leaving the Visitor Center and driving past the gate entrance, the first pullout where you can park and walk out onto a trail is Playa Trail. It will be on your right-hand side and is a sandy dirt turnout.
You will see the 0.5-mile trail leading out and back that is flat and very easy to walk. Of all the trails it is the least exciting but it does have a beauty worth enjoying.
If you are visiting during the warm season, it will look like a shallow lake bed. After a storm, you might see it filled up with water.
As you walk along the trail, there are signs explaining the terrain and environment. It might be hard to see from the ground, but the lakebed actually forms a shape of a heart!
5. Dune Life Nature Trail
After taking a stroll along Playa Trail, drive across the road to the bigger parking area for access to Dune Life Nature Trail.
Compared to Playa Trail, the Dune Trail is a little more challenging as you need to hike up a small hill and with the entire trail in the sand.
Think of it as walking in the very sandy portion of the beach and is a little harder to walk if you have mobility problems. This is not a trail for strollers or wheelchairs as the entire trail is in the sand dunes with no hard or flat surfaces.
Of all the trails in White Sands National Park, Dune Trail has the most greenery and desert plants. The addition of plants is a beautiful contrast to the stark white sand.
Note: The trail is about 1 mile and will take about an hour to walk. Dune Life Nature Trail is one of the best things to do in White Sands National Park so don't miss it!
6. Interdune Boardwalk
The Interdune Boardwalk is the easiest trail throughout the park as it is a raised boardwalk platform. It is the only trail that can be accessed by strollers or wheelchairs with ease.
Along the boardwalk, there are signs that describe the plants, animals, and the science behind the white sand dunes. Midpoint on the trail is an overhang where you can escape the sun for a few minutes.
Expect to spend about 20-30 minutes wandering the Interdune Boardwalk.
Note: Walking to the end of the boardwalk and back to your car is 0.4 miles so it is a quick and easy stop.
7. Go Sledding
Whether you are a kid or an adult sledding down the sand dunes is very fun! You can purchase sleds at the visitor center but you can bring your own or your hotel might offer sleds for use that their guests can check out.
Make sure you have wax and wax your sled before you attempt sledding to make it more likely that you actually move!
At first, I watched others to see how they were sledding and quickly realized that it didn't matter if you were a tiny kid or a large adult.
What seemed to be the determining factor in sledding success was waxing your board and finding the steepest sand dune.
There was one couple that let me and others try our own luck at sledding. I was nervous at first but I went down super slow so not that scary…
Tip: The best places to go sledding on the dunes is past the Interdune Boardwalk and on your left-hand side after you start the loop. You will see many others doing the same thing.
The other spot is on the other side of the loop on the right-hand side where the sand dunes are steep.
8. Have A Picnic
Make sure to pack some sandwiches or lots of snacks in a cooler and have a picnic surrounded by the white sand dunes!
There are around 60 picnic tables scattered throughout three sections in the park with the most in the Primrose and Roadrunner picnic areas. These two picnic areas are right next to each other.
Each picnic table has a futuristic and cool design that includes an overhang to provide shade while eating. Each table also has a grill but you can bring your own if you want.
I overheard someone out there say they kind of resemble something you would see from the Flintstone's cartoon. And I think they are right!
Note: There are trash cans but please make sure you do not leave trash anywhere in the park. Take out everything that you bring in!
9. Alkali Flat Trail
So, if you are like me, you might think that this trail would be flat and super easy. But it is quite the opposite as it isn't flat at all.
The Alkali Flat Trail is a strenuous 5 miles (8 km) hike that climbs up and down the more remote sand dunes. In return, you are rewarded with spectacular views of rolling hills of white sand.
The reason "flat" is in the name, is because you are hiking to what was once Lake Otero. It is now a dry flat lakebed.
Since this trail is more challenging, you might find that you have this trail all to yourself! It is the perfect trail if you want to take a lot of photographs without the distractions of other people.
Note: There is no shade, restrooms or water on this trail so make sure you are prepared. If the heat is intense, maybe hold off for cooler temps. Expect the hike to take about 3 hours.
10. Play In The Sand
And much like you might do in the snow, playing in the fine and soft white sand can be a lot of fun especially if you have kids.
The white gypsum sand feels almost like powdery flour but that doesn't stick to you! The sand brushes off quite easily and even in the intense heat, it is cool to touch.
You could walk barefoot with no problem as it won't burn your feet. I saw some families making white sand angels instead of the typical snow angel you may have done yourself.
Or you can throw sand up in the air for a fun shot!
11. Take A Ranger Guided Sunset Tour
At the time I visited there were not doing guided ranger tours due to covid but over the coming months, I anticipate they will start these tours again.
You can check the tour status on their website before visiting to sign up for a sunset or full moon ranger-guided tour.
On these tours, you can learn about the geology of White Sands National Park, the animals that inhabit it, and the plants that can thrive in a desert environment.
I didn't see any but I was surprised to hear that a lot of foxes live among the dunes.
12. Pistachio Land (Bonus)
Do you like pistachio nuts? If so, then I highly recommend you visit Pistachio Land! And no it isn't in White Sands National Park but if you are staying in Alamogordo don't miss it.
Just a short drive north of Alamogordo is the well-advertised Pistachio Land which you will likely see a billboard of at some point.
Not only do they have a pistachio farm but they have the largest pistachio in the world at 35 feet tall! Not a real one of course but a fun roadside attraction to see and take a photo of.
Inside there are numerous pistachio flavors to purchase with my favorites being the Habenero-Limon and the Green Chile flavors.
And you can take a quick tour of the pistachio farm which is very interesting to learn about the making of these yummy nuts.
Tip: If it is hot and you are waiting for your tour to start, they have the best Blue Bell ice cream…
Have a fun time exploring things to do in White Sands National Park!
Got Travel Insurance?
Don't leave home without travel insurance as you never know what might happen on a trip! It is always when you least expect it that something can go wrong like getting sick, in an accident or cancellation of some sort. Get a no-obligation quote from two trusted travel insurance companies for peace of mind on your next trip!
Looking For More Travel Inspiration?
15 Best Things To Do In Santa Fe, New Mexico
America The Beautiful Park Pass: Is It Worth Getting For Your Trip?
The Ultimate Guide To The Albuquerque Balloon Fiesta
7 Unique Day Trips From Santa Fe
How To Spend The Best Weekend In Albuquerque
7 Best Ways To Spend A Perfect Day In Tucson, Arizona
11 Best Wineries In Fredericksburg, Texas That Are A Must To Try
7 Amazing Places To See Giant Redwoods In Northern California
10 Best Things To Do In South Dakota
45+ Awesome Gifts For Hikers & Adventurers
Disclaimer: As an Amazon Associate and a participant of other affiliate programs, I may earn from qualifying purchases in this post. This means that if you make a purchase through one of these links, I might receive a commission at no extra cost to you. Thank you and it is greatly appreciated!