Disclaimer: Traveling Ness contains affiliate links and is a member of the Amazon Services LLC Associates Program. If you make a purchase using one of these links, I may receive compensation at no extra cost to you. See my privacy policy for more information.
15 Best Things To Do In Santa Fe, New Mexico
Santa Fe is best known as a place where artists flock to, stunning landscapes, and fabulous cuisine made with its famous hatch chile peppers. Santa Fe attractions are a gem to experience with an intriguing history and diverse culture. Keep reading and find out the best things to do in Santa Fe, New Mexico!
The city is also home to about 300 days of sunshine each year that makes it very appealing to visit.
If you have an appreciation for eating delicious food, hiking, and visiting art galleries then you will love spending a long weekend in Santa Fe. It is truly one of the most unique cities in the United States!
Where Is Santa Fe?
Santa Fe is located in the state of New Mexico in the Southwest region of the United States. It is the capital of New Mexico and happens to be the oldest and highest (7,200 ft elevation) state capital in the U.S.
If you are wondering what there is to see and do near Santa Fe then read my post, 7 Unique Day Trips From Santa Fe!
Santa Fe is a great base if you are wanting to visit Albuquerque (1 hour) and Taos (1.5 hours) along with plenty of places to visit in between.
Get ready for your trip and find the best deals on a car rental here as you will need a car to get to Santa Fe and nearby attractions!
You can easily spend a week taking your time to see many of the museums, art galleries, and nearby attractions. But plan to spend a minimum of 3 days to really capture and experience Santa Fe's magic!
And if you plan to spend time visiting other areas of New Mexico, explore:
The Ultimate Guide To The Albuquerque Balloon Festival
11 Top Things To Do In White Sands National Park
Where To Stay In Santa Fe?
The most convenient place to book a room is near the historic Santa Fe Plaza which is the center of many attractions. Staying close to the Plaza makes most things to do in Sante Fe within walking distance.
Hotels that I recommend laying your head down at are:
Best Santa Fe Tours
What better way to experience and see Santa Fe than with a unique tour! The top tours to take in Santa Fe are:
Historical Walking Tour – Go on a walking tour to learn about Santa Fe's unique culture, history, and more!
New Mexican Foodie Tour – Sample delicious New Mexican food and see the top attractions in Santa Fe!
Santa Fe Architectural Tour – Learn about and see the different architectural styles that makes Santa Fe stand out!
E-Bike Adventure In Santa Fe – Hop on an e-bike and go on a guided tour of hidden Santa Fe attractions!
Get A PDF Of This Guide For Your Trip
For your convenience, you can download a copy of this guide for visiting Santa Fe, New Mexico or print it to take with you. It includes pictures and links within the article. It's ad-free and handy for on the go.
Map Of Santa Fe Attractions
Best Things To Do In Santa Fe
1. Santa Fe Plaza
Located in the heart of Santa Fe's Old Town, the Plaza is pedestrian-only making it a popular spot to explore on foot. The Santa Fe Plaza is a place where people come to gather and socialize in this tree-lined square.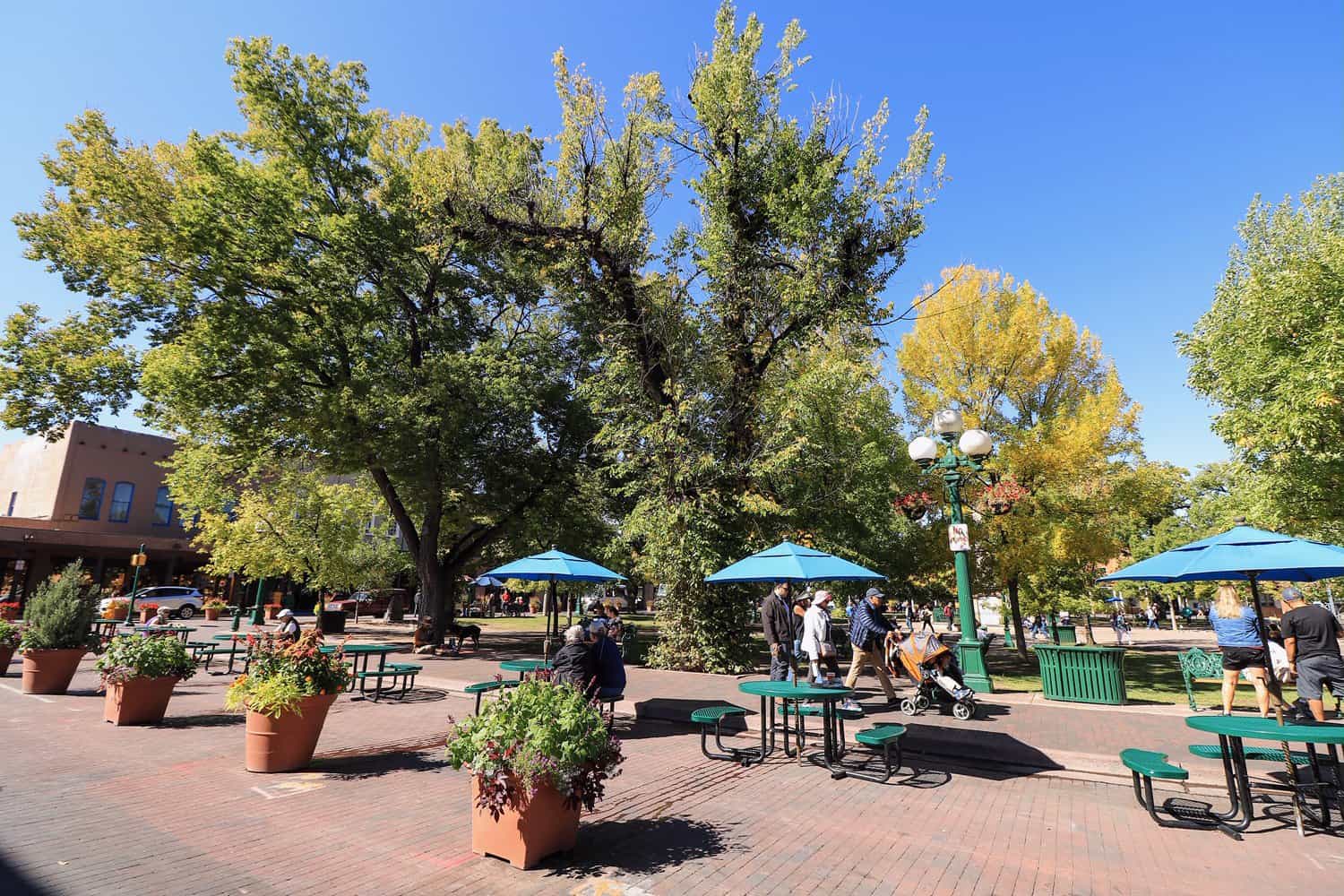 As the center of social and political life in Santa Fe since the early 1600s, the Plaza plays an important role in history.
It is a good starting point for your visit and one of the first Santa Fe attractions to see once you arrive. It also has an energetic atmosphere that draws many to visit.
Most of the year, vendors will line the plaza selling various art and jewelry locally made. There are numerous restaurants and cafes that encompass the Plaza and are a perfect place to take a breather from site seeing.
The obelisk monument in the center of the Plaza is a war memorial from 1868. It is in remembrance of the Mexican-American War with the Indians and Americans.
On each side is an inscription dedicated to the fallen heroes and hoping that prejudices would eventually dissolve.
2. Palace of Governors
Along one side of the Plaza and on Palace Avenue is the Palace of Governors that was the heart of all government in Santa Fe starting in 1610.
It also happens to be the oldest continuously lived in public building. It has since been declared a historic building and houses a museum next door to New Mexico's history.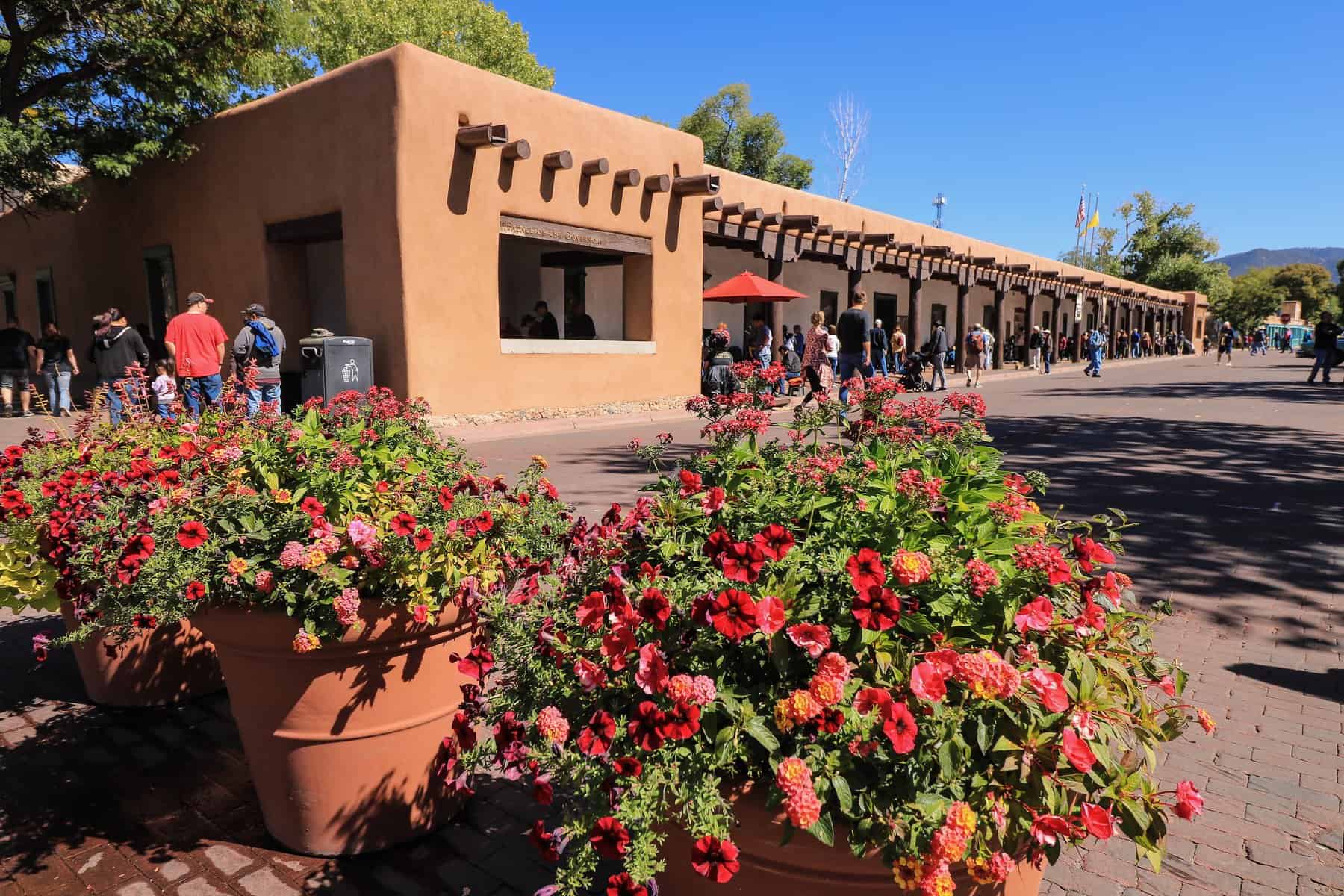 You can't access the actual Palace of Governors currently as it is being renovated. But you can walk through the museum that is on the same property which I highly recommend.
It does an excellent job of providing a timeline of New Mexico's history as you walk through the museum. New Mexico's history is much more fascinating than I ever knew!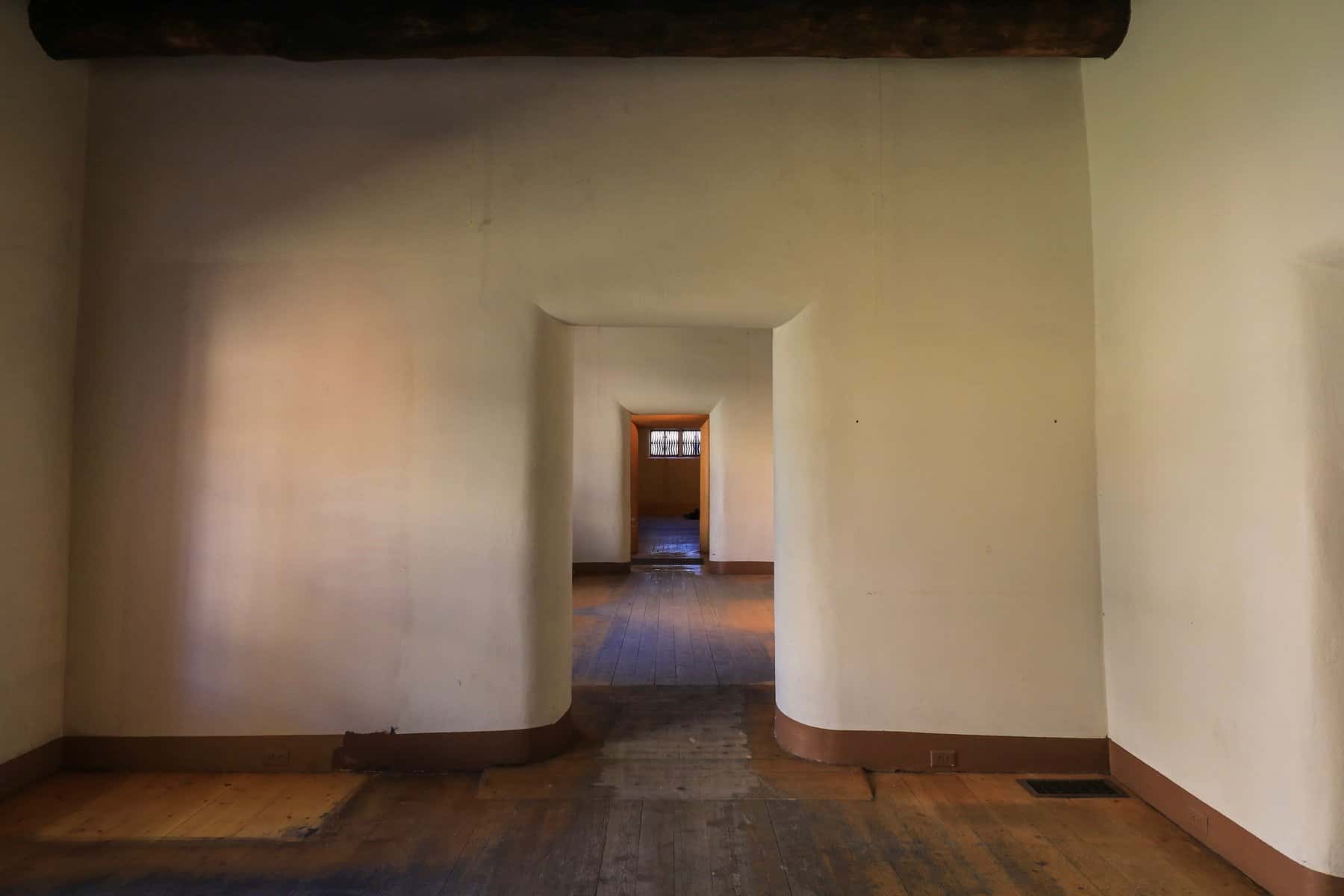 On occasion, tours of the Palace of Governors (old adobe) are offered and I was lucky enough to attend. To find out if you can join a tour of the original seat of government, call ahead to find out here or by calling (505) 476-5200.
Hours: Open 10 am to 5 pm daily from May to October and closed on Mondays from November to April.
Admission: $12 per adult
3. Cathedral Basilica of St. Francis of Assisi
The Cathedral Basilica of St. Francis of Assisi is one block away from the Plaza and is a Roman Catholic church.
The Cathedral is also known as St. Francis Cathedral was built between 1869 and 1886 with a French Romanesque Revival style. Saint Francis of Assisi also happened to be the Patron Saint of Santa Fe.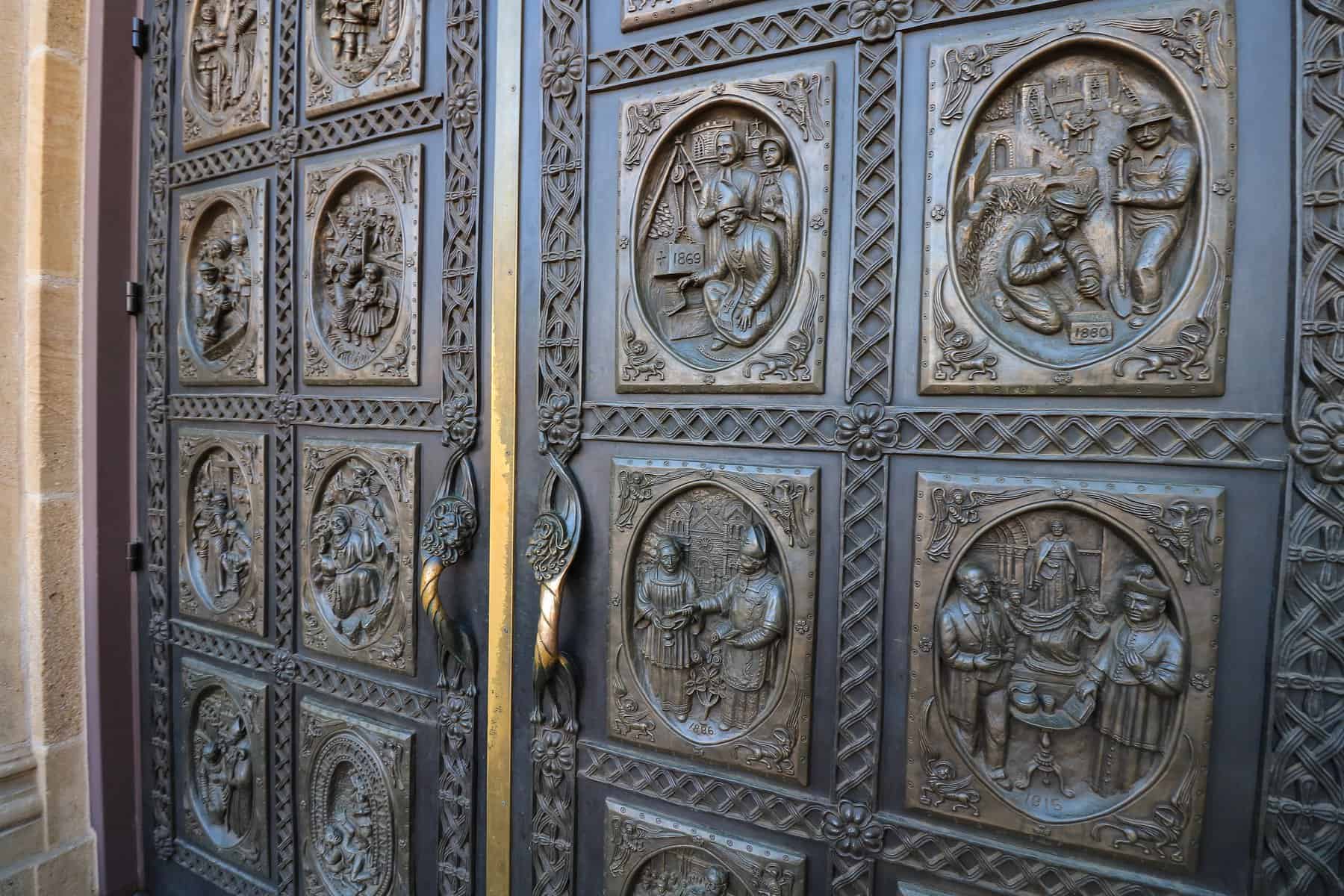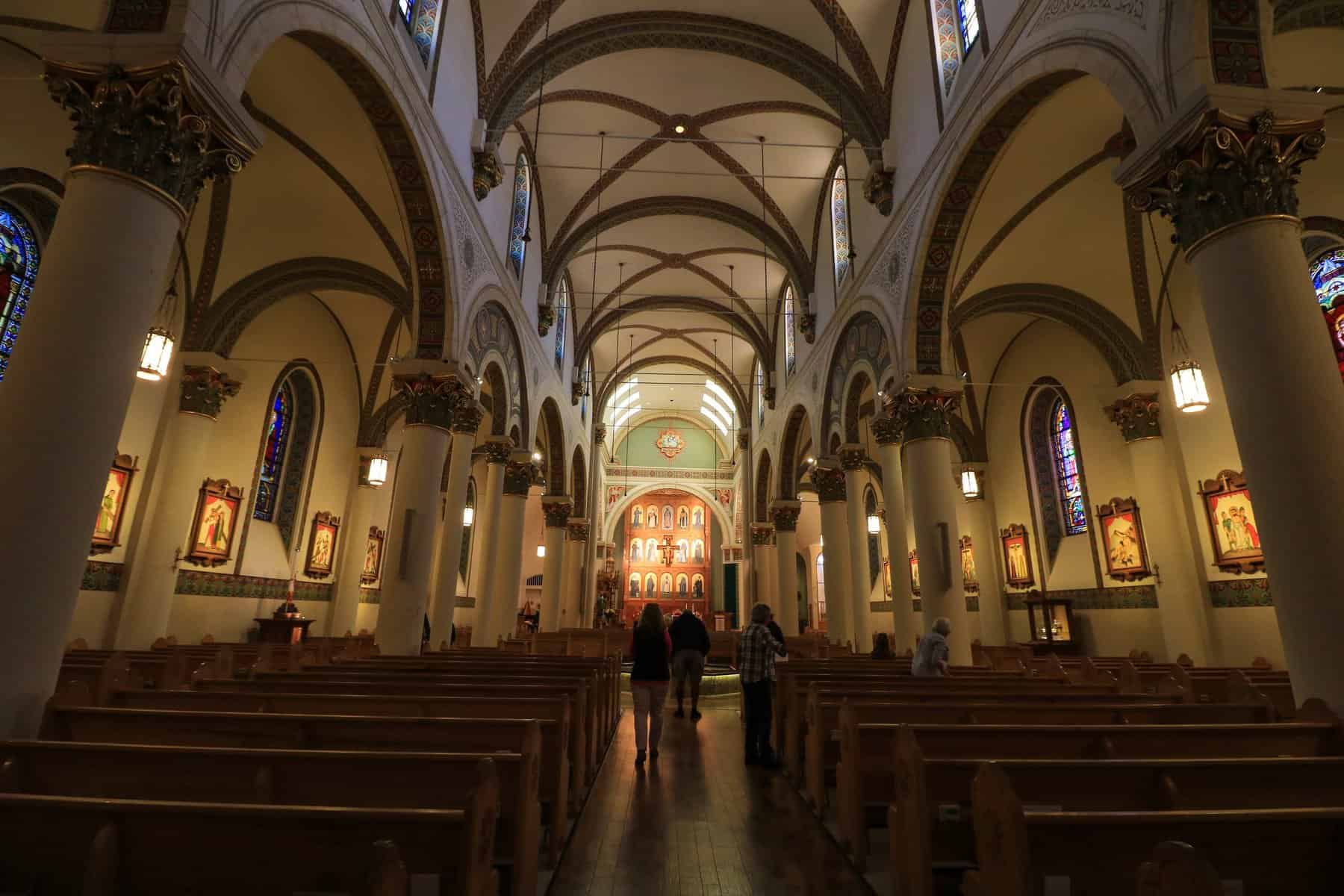 Located next to Cathedral along Palace Avenue is Cathedral Park and was previously the sight for a Sanatorium in 1883.
Today it is a large grassy area with walkways for you to wander and enjoy the quiet space. And if you are needing a spot to relax and rest your legs, there are plenty of benches to do so.
Hours: The Cathedral is open from 6 am to 6 pm daily. The park is open 24 hours a day.
4. Loretto Chapel
A few blocks away from St. Francis Cathedral is the Loretto Chapel and it is a Santa Fe must-see when visiting. It might be the most charming and prettiest chapels I have ever seen!
And to top that off, it has the most exquisite staircases inside that is a helix-shaped spiral staircase.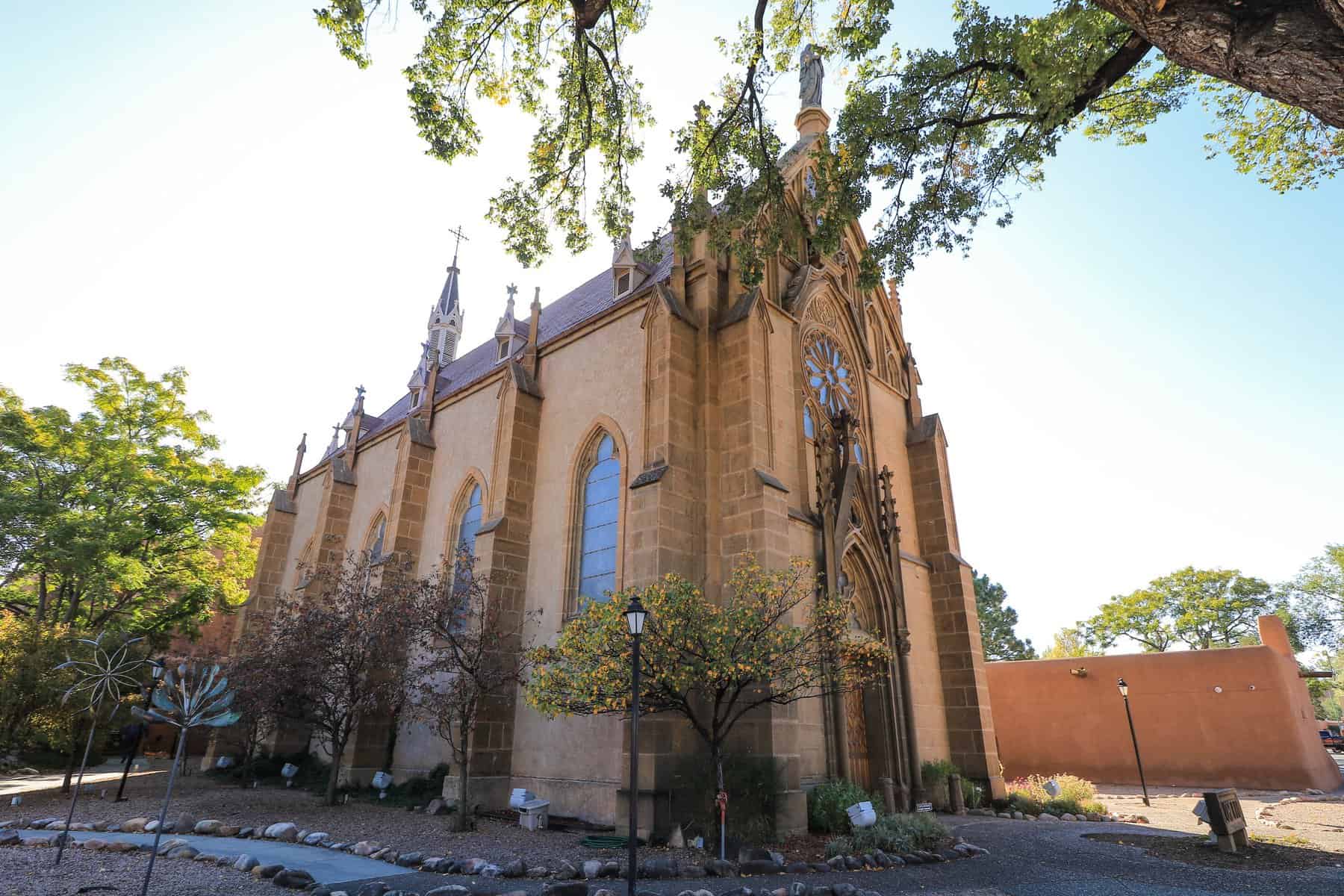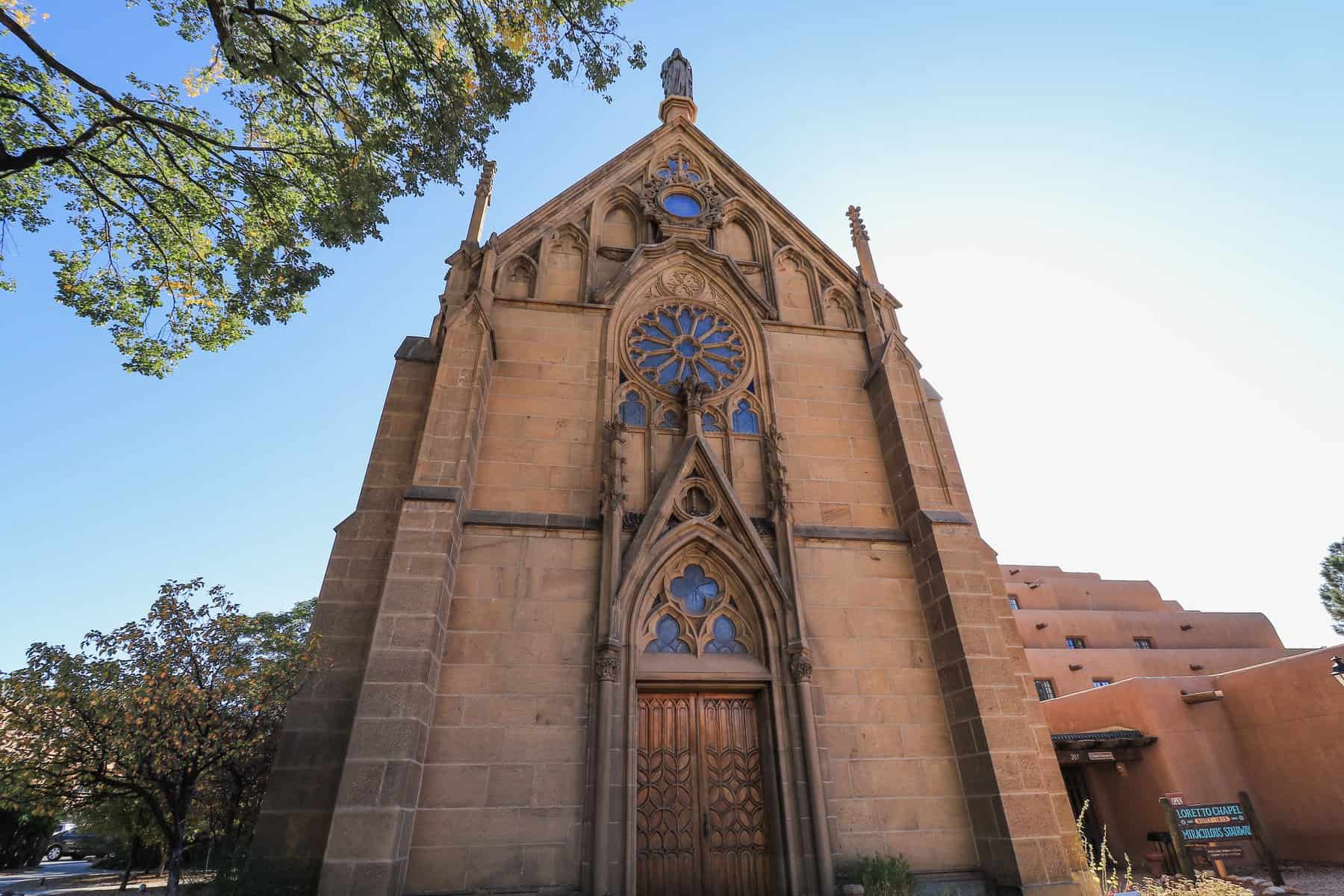 The wooden staircase that leads to the choir loft alone is worth coming to visit as it is beautiful and an amazing piece of craftsmanship.
The original version of the staircase had no railings and appeared to have no support. It looked as if it was floating and quite a miracle in construction.
For safety and preservation, there is now a railing and support added. It is more a piece of art than a staircase. Although you can't use it, you can admire in awe and take as many photos as you want of it.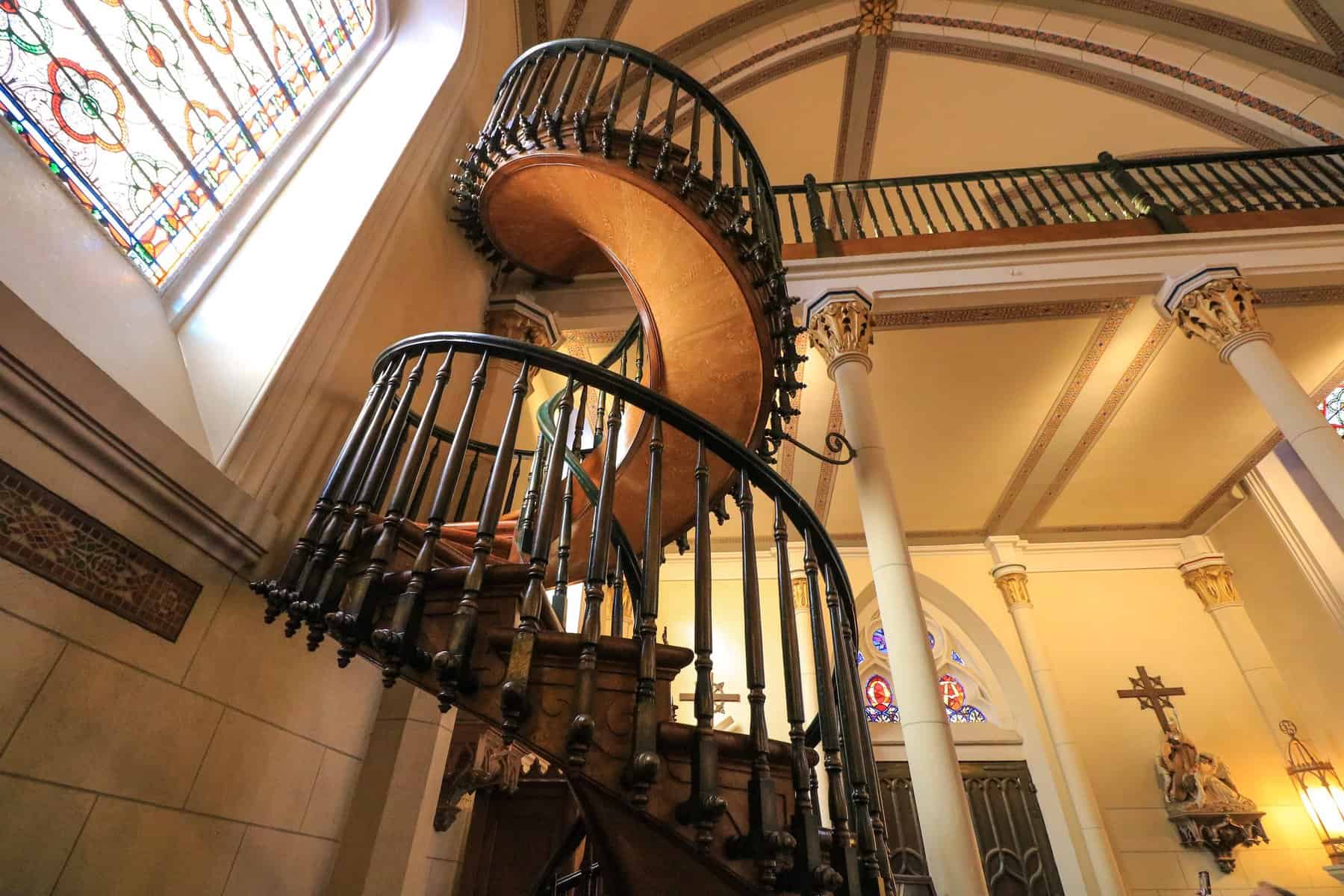 The chapel was built in 1873 by the Sisters of Loretto to be the chapel for the Loretto Academy, a school for girls.
After the school closed in 1968, it was purchased and turned into a museum and site for weddings. Thank goodness it was purchased otherwise there was talk of tearing it down!
As it is a small chapel, I recommend going right when it opens to avoid the crowds. To listen to the recording on the history of the chapel sit in the front row pew so it is easier to hear.
Hours: Open 9 am to 5 pm daily, except it opens at 10:30 am on Sundays. Enter chapel via the side entrance and pay $5.00 (Adults).
Address: 207 Old Santa Fe Trail, Santa Fe
5. Oldest House Museum
Not only is this the oldest house in Santa Fe, but it is one of the oldest houses in the United States. Documented as being on the same site of an ancient Pueblo (~ 1200 AD), the house you see today dates back to 1646.
Over the years it has since been occupied by several different families up until the 1920s.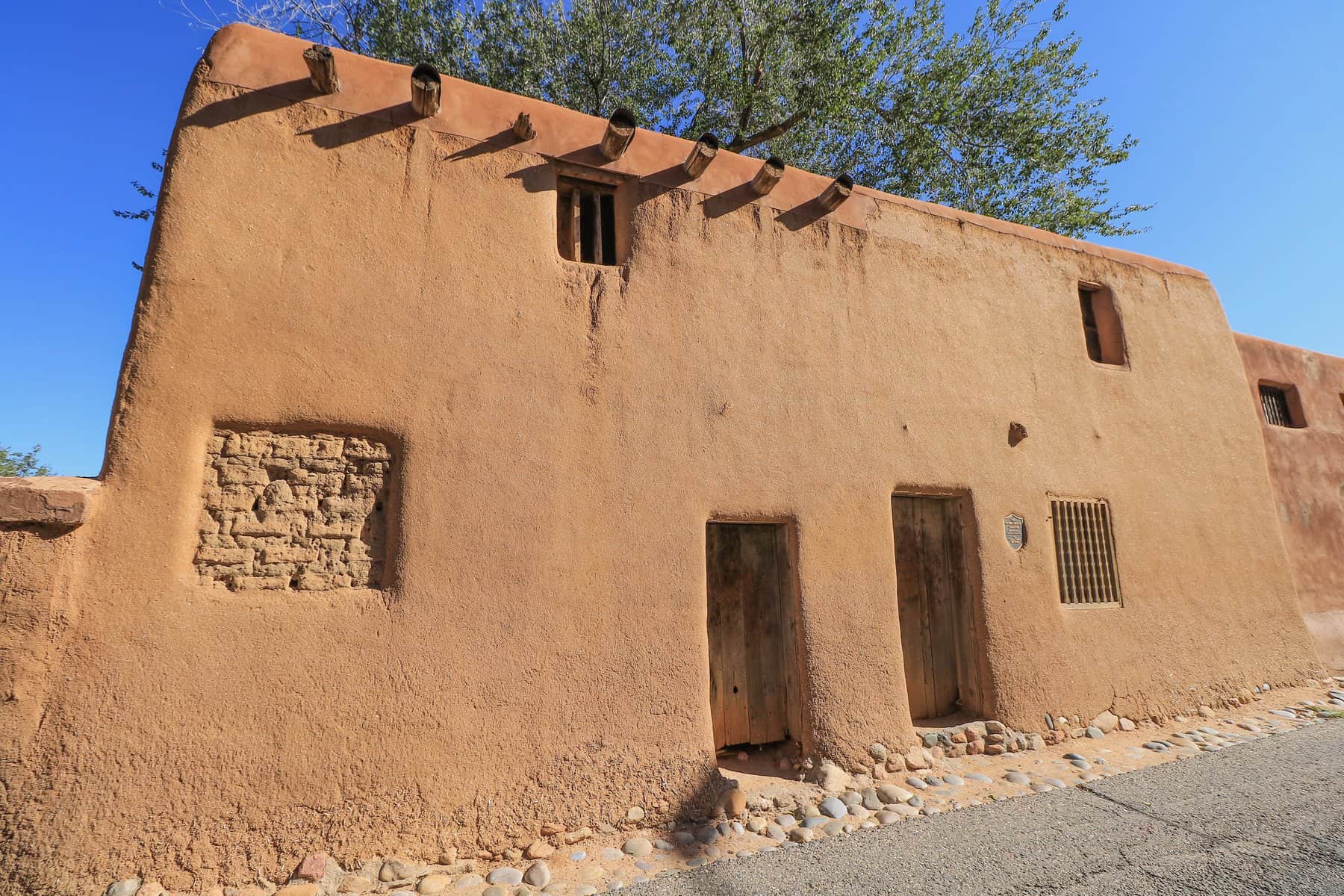 There are records that show the house was once two stories but all that remains is the main floor. The upper floor was used for the sleeping quarters.
The house was also much larger beyond the two rooms left for you to see. It is quite small but truly amazing at the fine condition it is in for its age.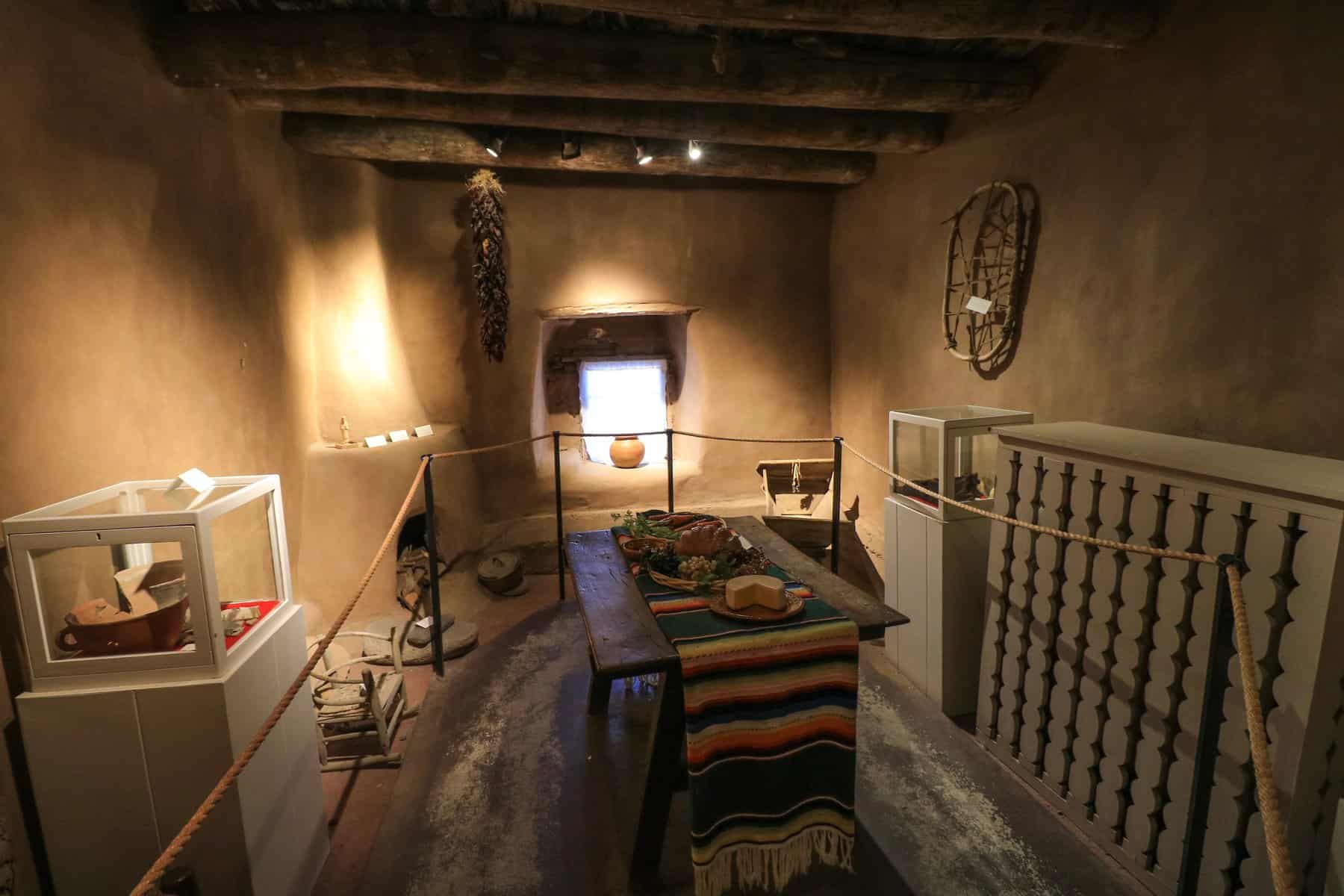 Today, it is now a museum with an attached gift shop for you to explore and learn more about its history.
With artifacts and replicas, it is staged to mimic what the inside of the house would look when it was used.
You can also see old photographs of what the Oldest House looked like over the years. This house and the San Miguel Chapel are some of the coolest things to do in Santa Fe, New Mexico!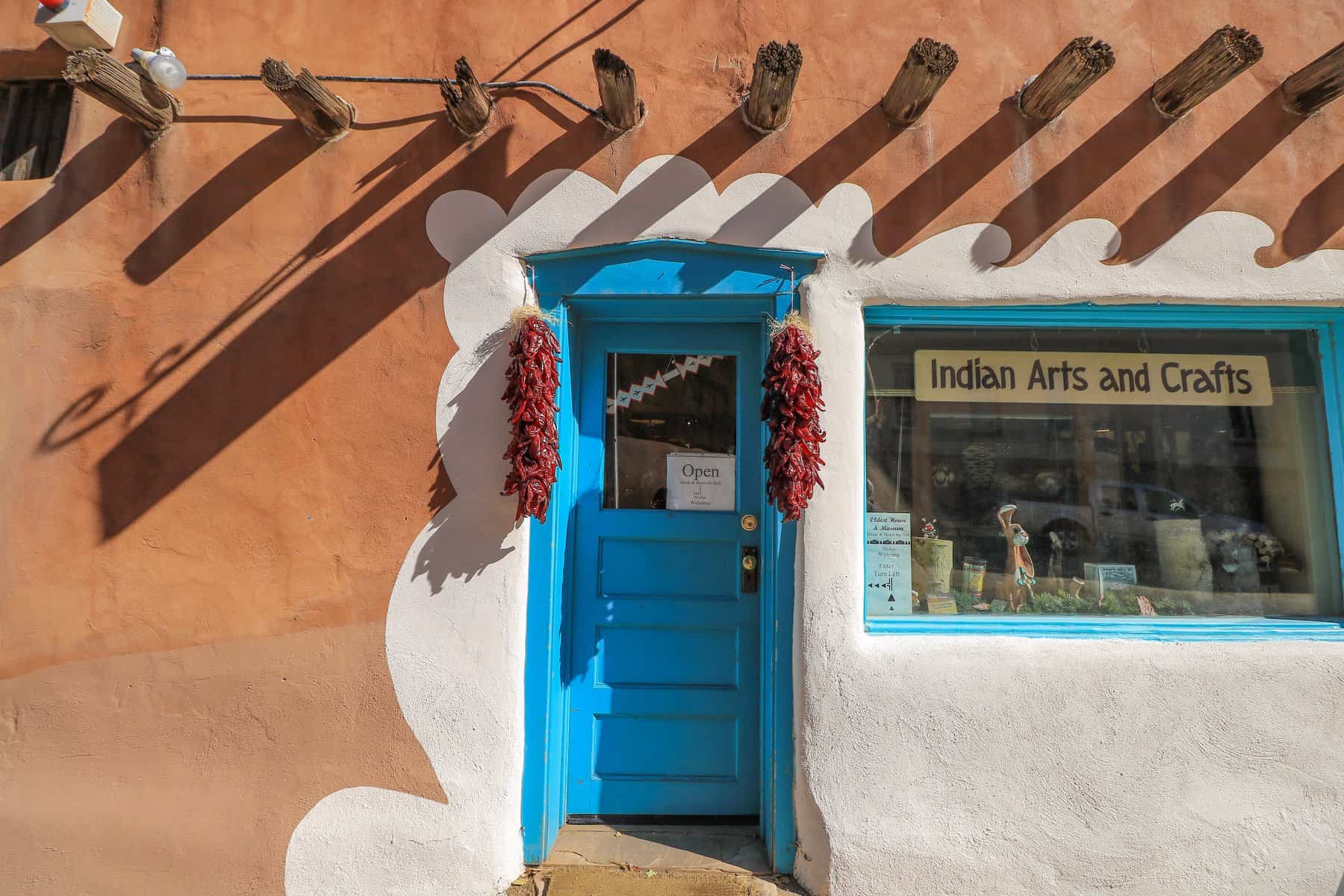 Hours: Open from 9 am to 6 pm daily and free to enter.
Address: 215 East De Vargas Street, Santa Fe (located a short walk from the Loretto Chapel).
Discover Fun Tours In Santa Fe, New Mexico!
6. San Miguel Chapel
Like its neighbor the Old House, San Miguel Chapel is the oldest chapel in the United States making it one of the most unique places to visit in Santa Fe.
It is also referred to most of the time as the "Oldest Church". Fitting as it is right next to the Oldest House!
The history of this chapel is very fascinating so do be sure to ask the attendant that is inside to tell you a bit about it. It is like getting a small history lesson of the chapel and Santa Fe.
The original adobe church at this site was built around 1610 but was destroyed in the Pueblo Revolt of 1680.
The chapel that you see today was built in 1710 but you can still see the ruins under the glass of the adobe steps from 1610 (under the front altar).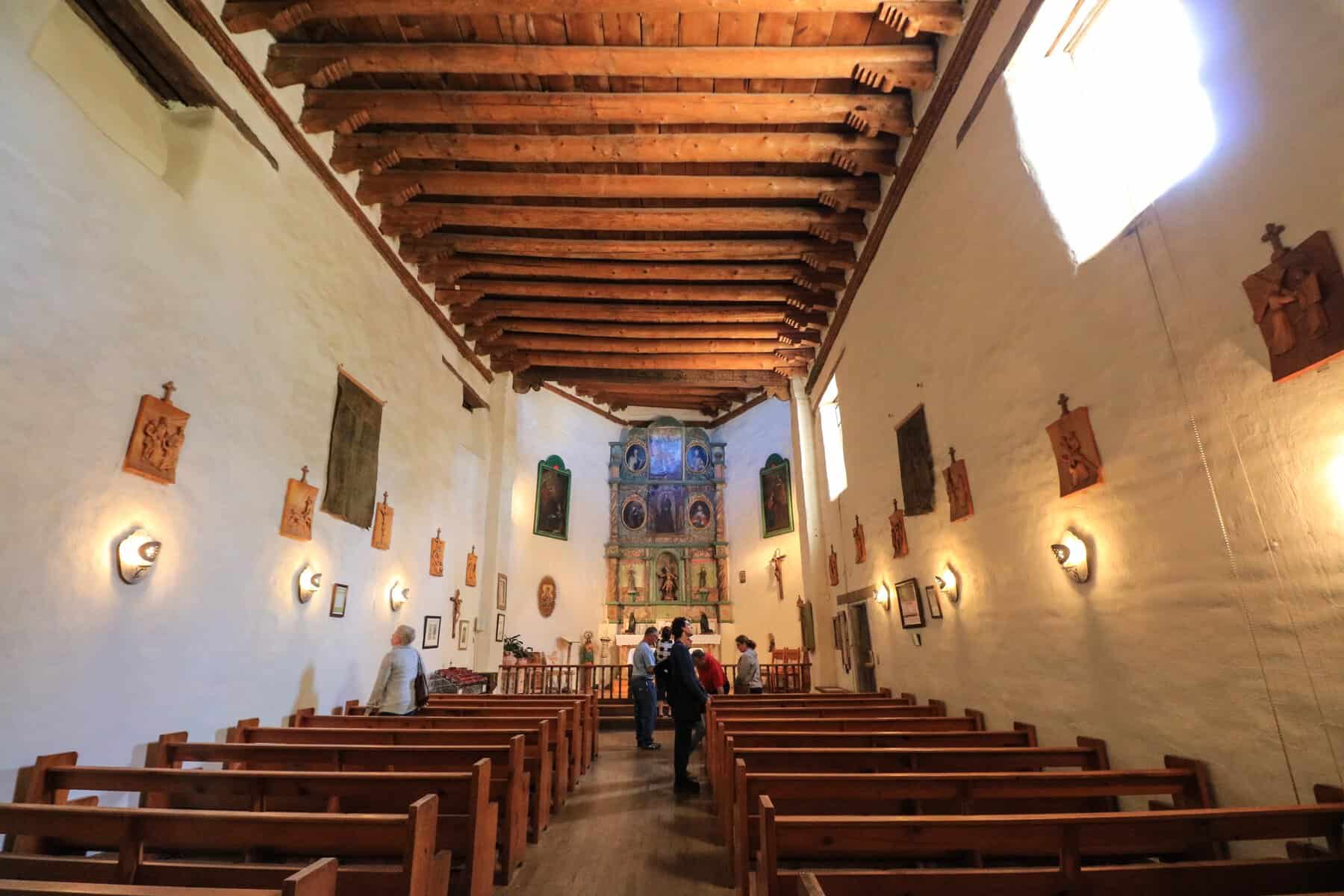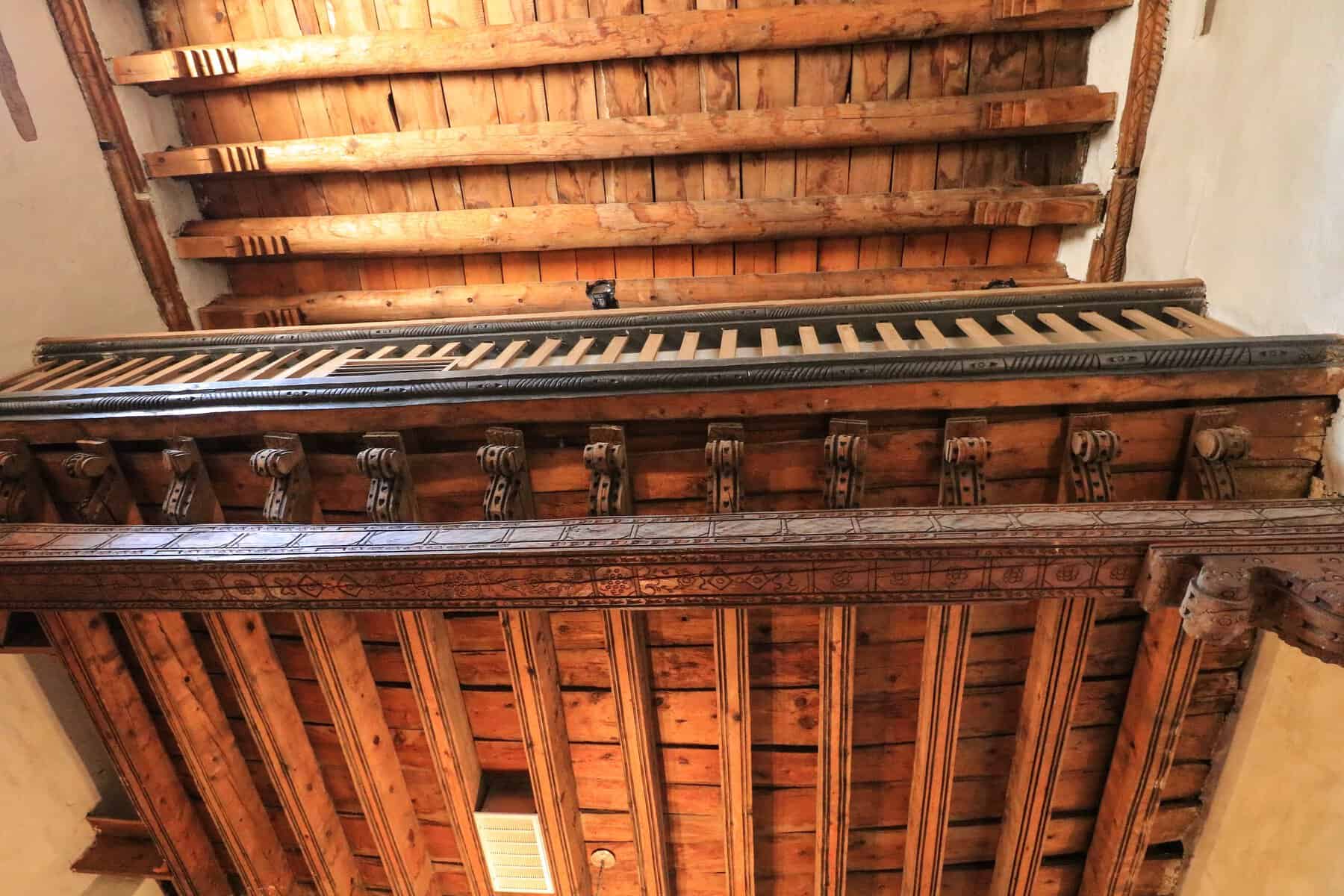 The front altar is beautiful and although it is not a very decorative chapel, there is something about it that is quite appealing.
Do take a moment to look up and admire the craftsmanship of the wood ceiling throughout and the loft balcony in the back.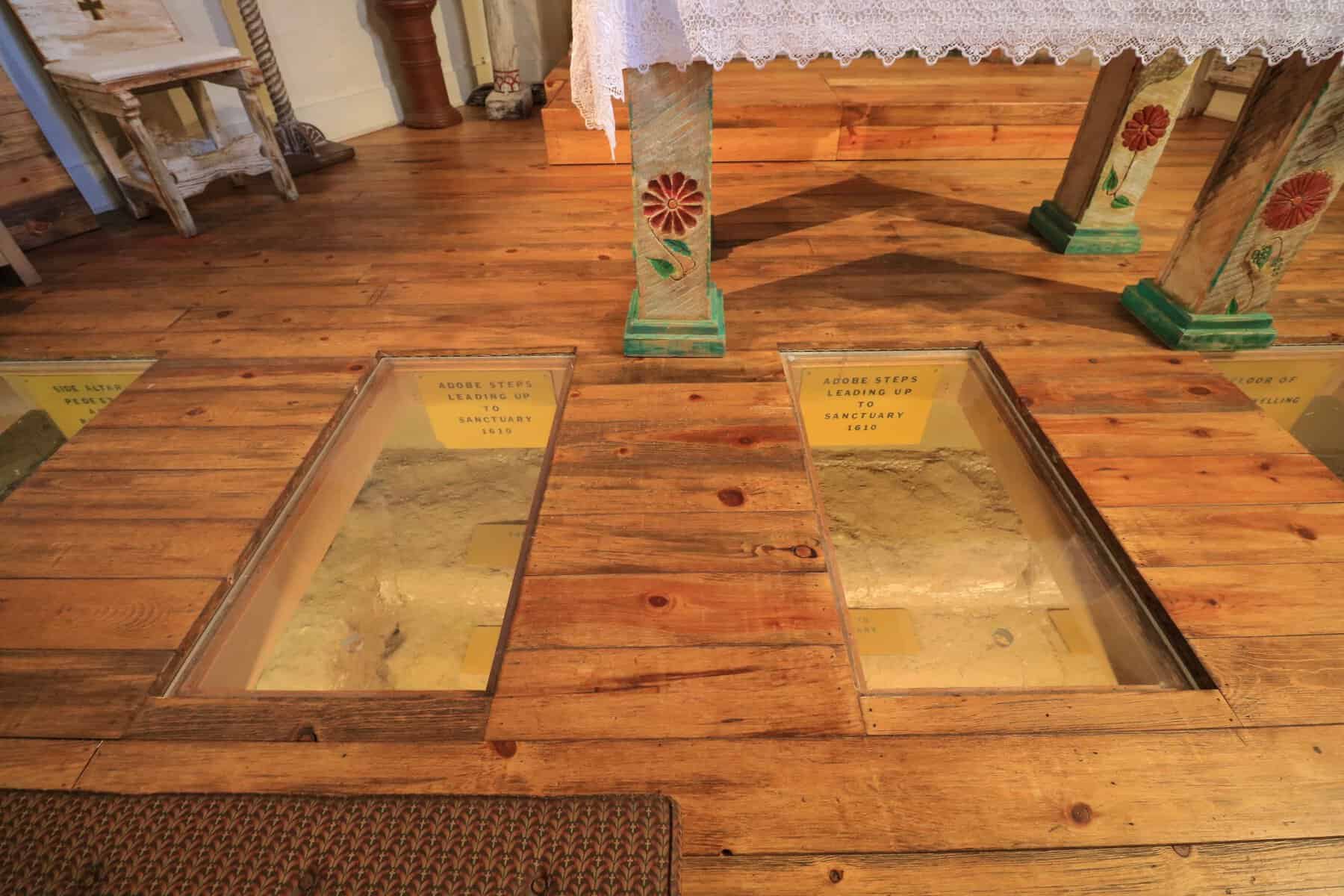 The San Miguel Chapel is a wonderful example of adobe architecture that is very distinctive to Santa Fe.
Fortunately, the chapel is now a U.S. National Historic Landmark that will continue to be preserved. And if you want, you can join mass here on Sundays at 5 pm.
Hours: Open from 10 am to 4 pm daily and a $1.00 entrance fee. Enter on the side of the chapel.
Address: 401 Old Santa Fe Trail, Santa Fe
7. Georgia O'Keeffe Museum
If you don't know Georgia O'Keeffe, you most likely will recognize her paintings. Georgia O'Keeffe is considered to be one of the most influential and talented American Modernist painters.
She took many normal things in life such as flowers or nature and painted them in an abstract way that immediately captures your attention. It is no wonder she is known as the "mother of American modernism".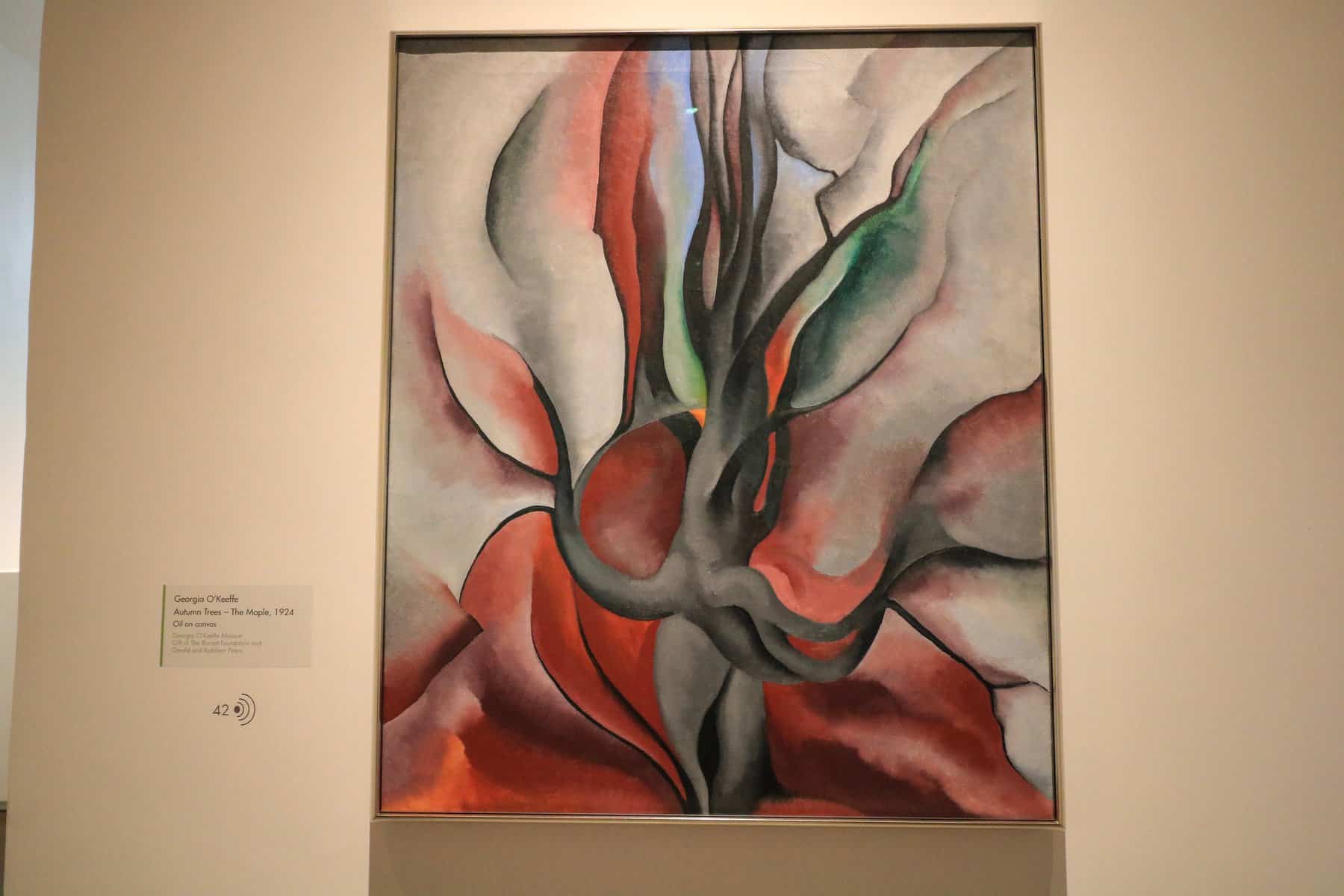 O'Keeffe's career as an artist spanned from 1906 until her death in 1986 at the age of 98. Once you view her art and learn more about her personality, you realize that she was a woman years ahead of her time.
She was fiercely independent and marched to her own path.
The museum features many paintings of O'Keeffe and dedicates her legacy to the world of art. So why is there a museum of her work in Santa Fe?
Well, O'Keeffe lived in New Mexico from 1929 part-time to eventually full-time up until her passing. The landscapes and nature that surround Santa Fe became famous subjects in her work.
Currently, her paintings have been auctioned as the highest for any female artist. Some of her flower paintings have been subject to having a sexual expression.
Thought to depict the vulva-esque area of a woman which is something O'Keeffe has vehemently denied. What do you think?
Make sure to see the short video of Georgia O'Keeffe's life and clips of her talking about her work. Expect to spend between 1 to 1.5 hours here including watching the short film.
Hours: Open daily from 10 am to 5 pm with the exception of closing at 7 pm on Fridays. The entrance fee is $13.00 per person.
Address: 217 Johnson Street, Santa Fe
8. Hiking In Santa Fe
There is no better way to see Santa Fe's gorgeous landscapes than to go for a hike.
You get in a good workout so you don't feel too guilty eating the yummy New Mexican cuisine.
There are plenty of Santa Fe hiking trails to choose from, but a few hikes that are great for the fall foliage are the Aspen Vista Trail and the Tesuque Trail.
Both of the Aspen Vista Trail & Tesuque Trail are hikes that are spectacular to go on in the fall when the aspen tree leaves turn a vibrant yellow.
You can hike either one or combine them for a long and tough hike. Remember that you are at 10,000 feet elevation so any hike will seem somewhat difficult.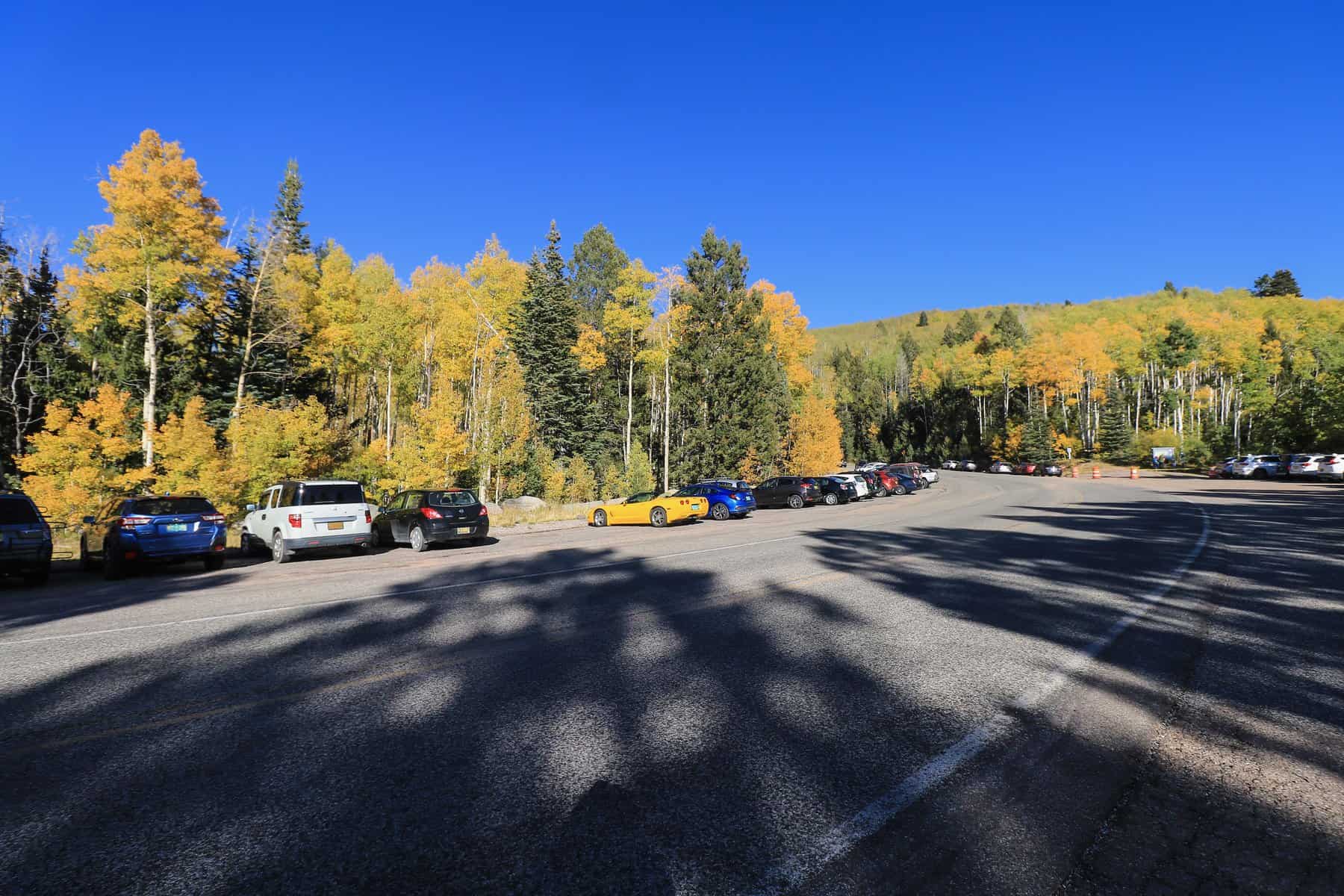 Aspen Vista Trail: This is a 4-mile hike that is fairly easy minus the fact that you are at high altitude. So, keep that in mind as it will likely feel harder.
You can go farther on this trail but a good recommendation is to turn around at the rocky overlook at the 2-mile mark. You can access the trail at the Aspen Vista Picnic Area that is after mile marker 13 on Hyde Park Rd.
Tesuque Trail: Right before the Aspen Vista Trail, this 5.8-mile trail (moderate) with an elevation gain of 754 feet. But if you are short on time, you can turn around at any time.
There are also tables that make for a great picnic spot. There are bathrooms located at the trailhead.
Note: Bring plenty of water and hydrate especially when at high altitudes. Expect it to take about 25-30 minutes to arrive at the trailheads from Old Town Santa Fe.
Tip: If you are looking for the best essential hiking gear for yourself or as a gift for someone, explore 45+ Awesome Gifts For Hikers & Adventurers.
9. Hike Dale Ball Trails @ Sierra del Norte Trailhead
If you can only pick one hike, the best hiking in Santa Fe would be the Dale Ball Trail area. The Dale Ball Trails system is over 20 miles of hiking trails with awesome views.
It is one that is both scenic and gets your heart rate up is the 2.5-mile loop moderate hike from the Sierra del Norte Trailhead.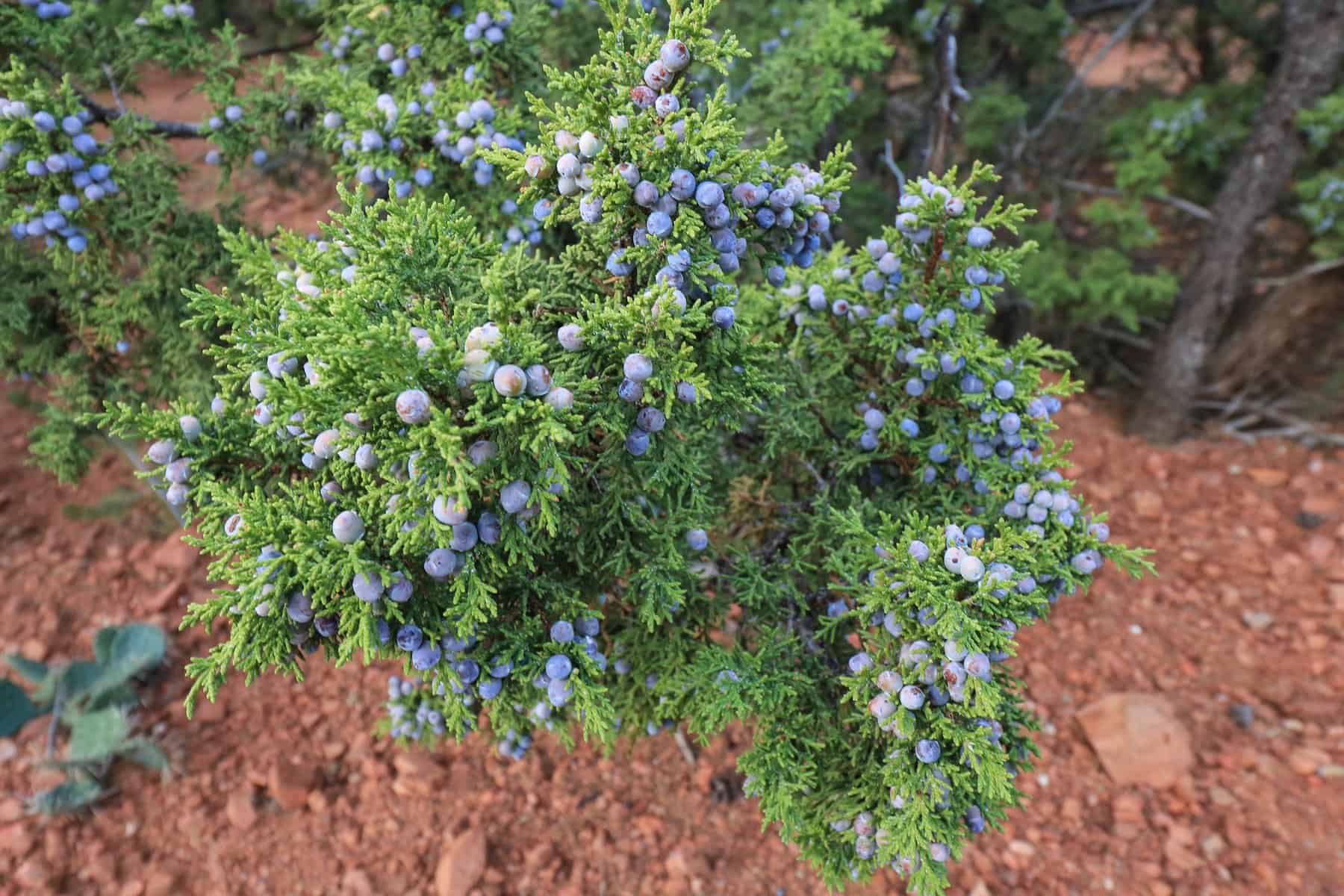 Much closer to Santa Fe than the hikes above, the trailhead is located off a dirt parking lot at the intersection of Hyde Park Road and Sierra Del Norte Rd.
What I love about this trail, is that it is a loop with new scenery the entire time. You get both the views looking out over Santa Fe and the mountains above.
It is a really well-marked trail if you follow the markers #1 through #9. Follow these and it will return you to the parking lot from the other side.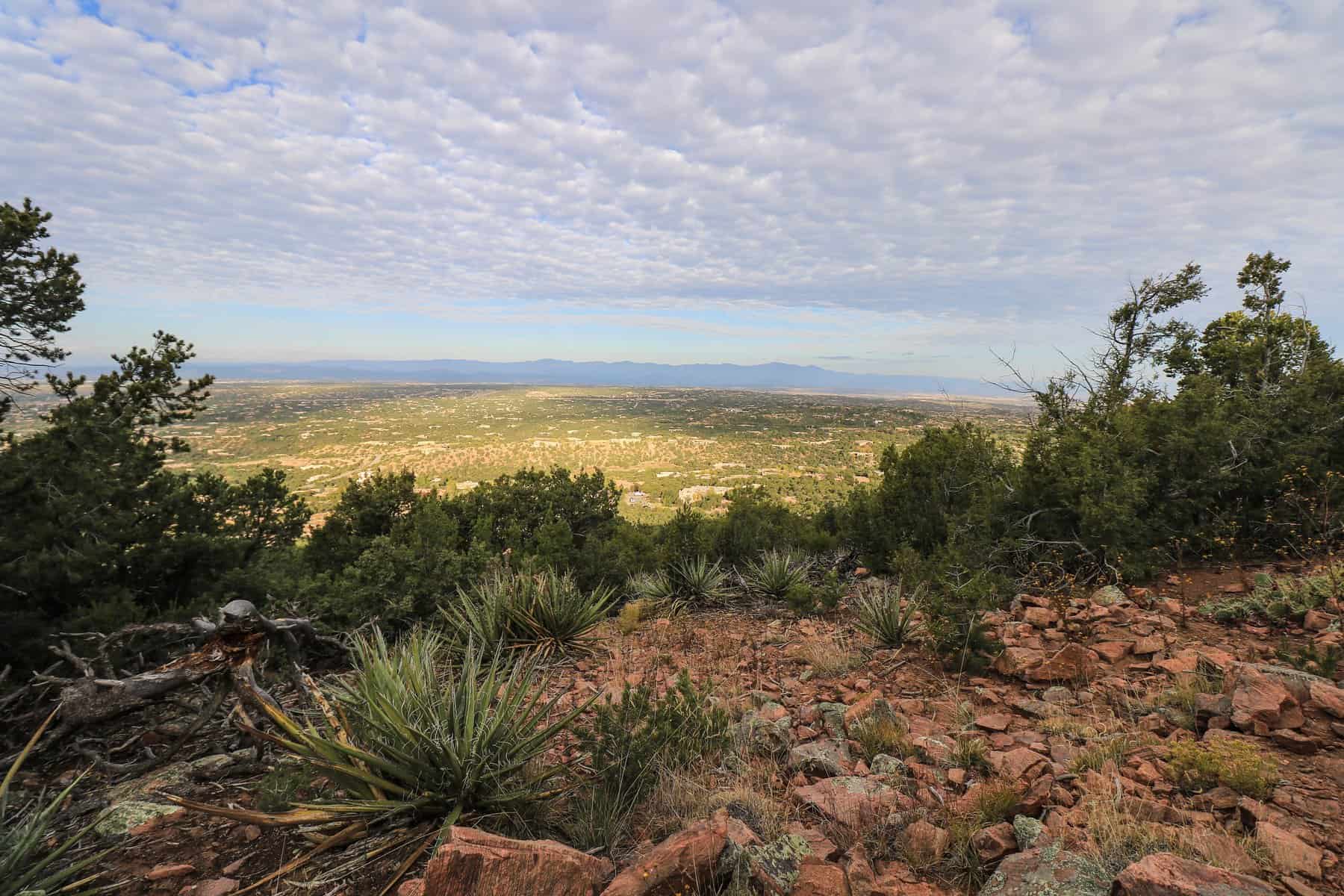 Go early right after sunrise and enjoy the breathtakingly beautiful clouds that look much like a painting of Georgia O'Keeffe!
Note: There are no bathrooms at the trailhead.
10. New Mexico State Capital (Roundhouse)
I bet you never thought of seeing an array of artwork at the state capital, huh?
Well, you would be surprised to learn that there is indeed an art museum inside the New Mexico State Capitol building known as the "Roundhouse". It is referred to as the Roundhouse because of its circular shape.
There are both permanent and temporary art exhibits on display throughout the Roundhouse and buildings next to it.
The artwork displayed is of artists from New Mexico and the Southwest showcasing paintings, photography, sculptures, and mixed media.
Hours: The Roundhouse is open Monday through Friday, from 7 am to 6 pm. A bonus is that it is free to the public to enter! Expect to spend about an hour here.
Address: 415 Don Gaspar Ave, Santa Fe
11. Cocktails @ La Fonda Hotel Rooftop Bar
A visit to the La Fonda Hotel is a must when in Santa Fe as it is the site of the oldest hotel corner in the United States.
Records document that where the La Fonda Hotel sits was previously an inn going back to the early 1600s.
The hotel you see today was built in 1922 and has a grand and vibrant décor true to Pueblo Revival Style.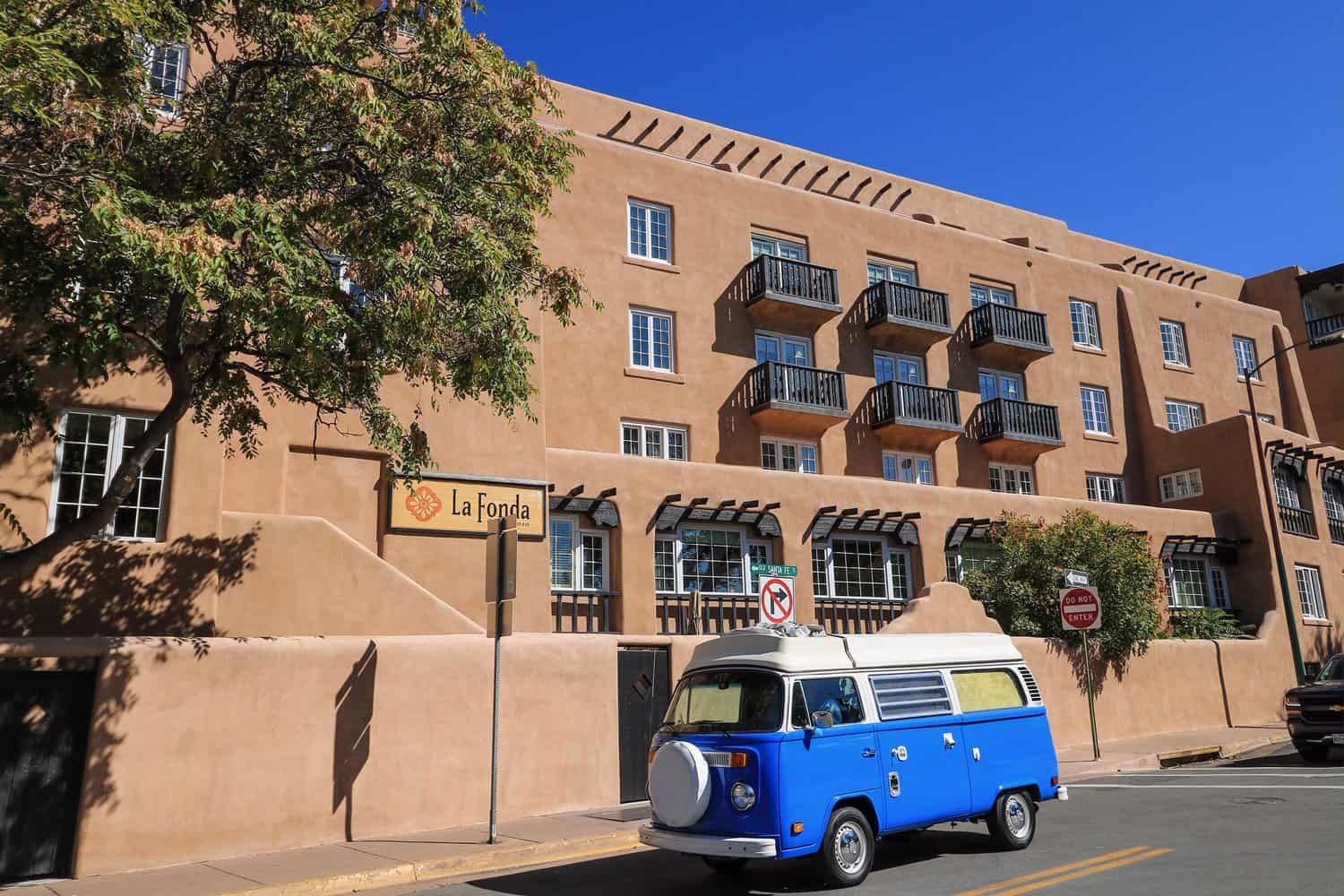 In 1925, Fred Harvey took over La Fonda and made it a Harvey House which became famous for the "Harvey Girls".
The Harvey Girls were excellently trained waitresses that were known for their class, elegance, and superior hospitality.
They also had to be single but it was an excellent job for women back then that gave freedom and a chance to travel.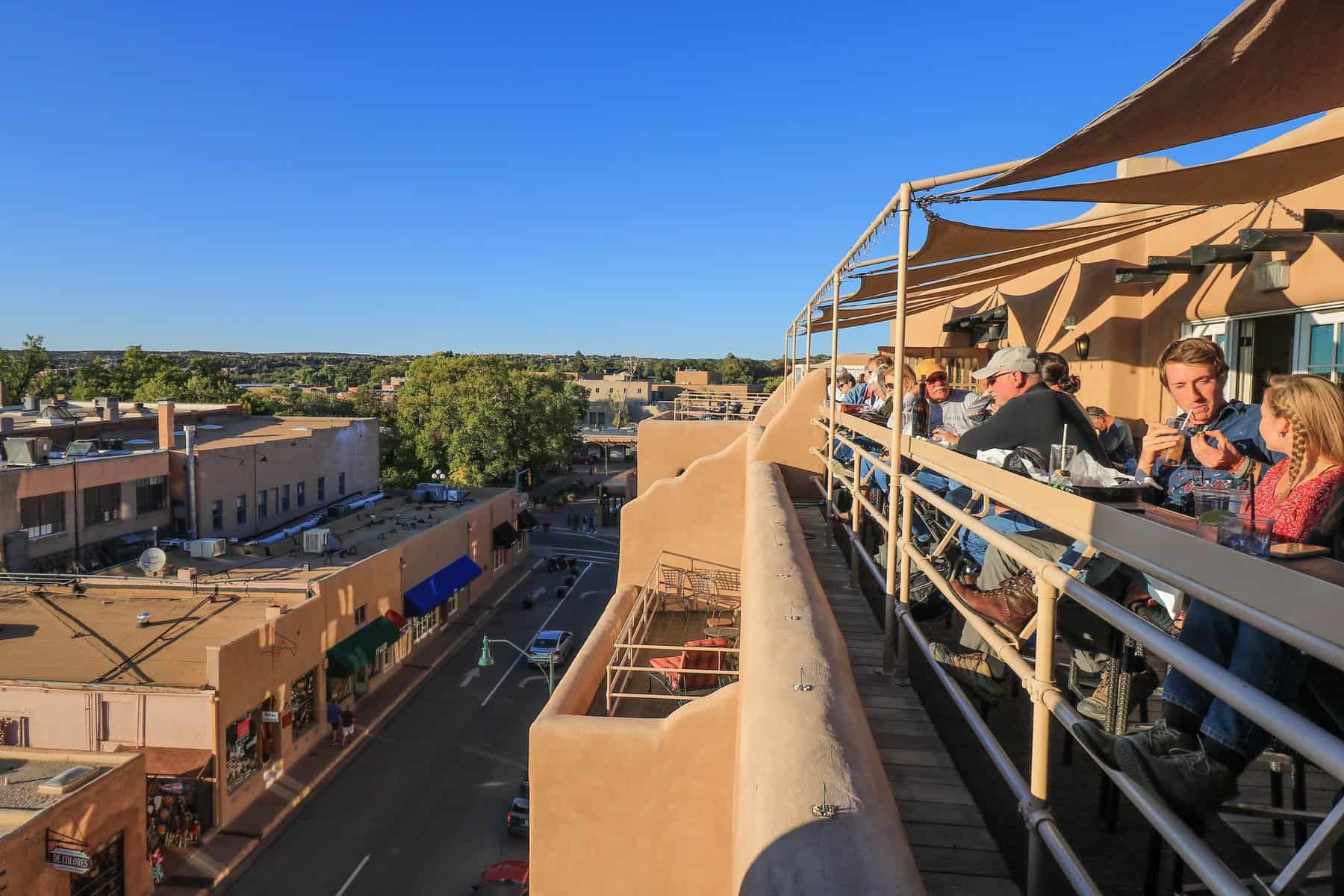 There went on to be more Harvey Houses (hotel and restaurant) along routes of train travel. They were in spots where travelers needed services throughout the southwest.
Harvey Houses were quite prominent and popular from the 1880s to the 1950s.
If you head up to the Bell Tower Bar on La Fonda's rooftop, you will be greeted with superb views of Santa Fe. It is the perfect spot to enjoy a drink and take in the high desert sunset.
Get there early as it gets packed and you don't have to wait up to 2 hours!
I got there at about 4 pm and walked right in. When I left, there was a 2-hour wait at about 6 pm (sunset was at 7 pm).
Hours: Open 3 pm to Twilight Monday through Friday but it opens at noon on the weekends.
Address: 100 E. San Francisco Street, Santa Fe
Discover Fun Tours In Santa Fe, New Mexico!
12. Visit Art Galleries
If you didn't know, Santa Fe is known for its art and art galleries! I knew it was famous for art but have never seen so many art galleries in one town.
It seems that there are several art galleries on every block to pique your interest.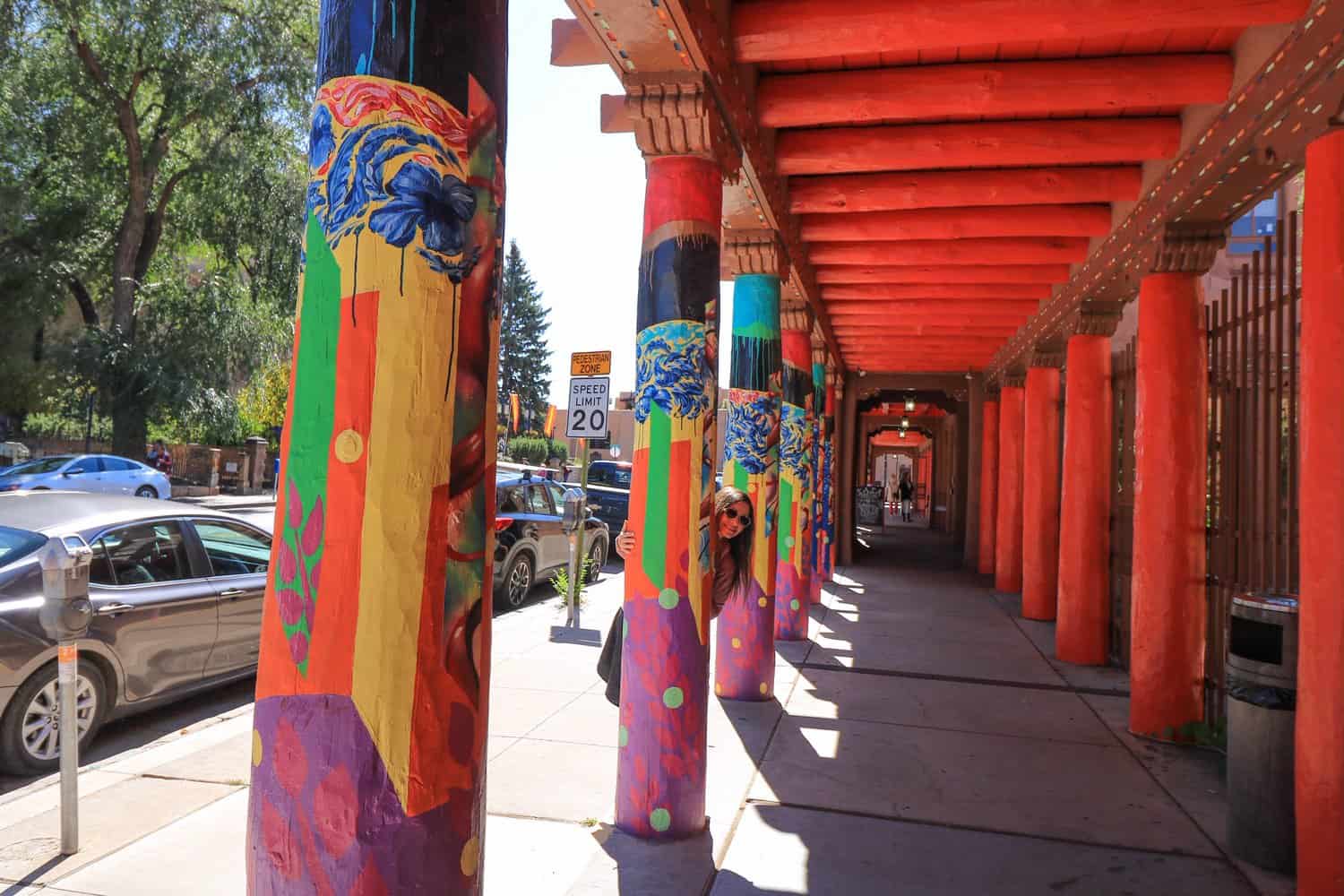 There are in fact well over 200 art galleries which is a lot for a population of about 83,000!
In the early 1900s, artists from all over began flocking to Santa Fe to admire its breathtaking landscapes.
To encourage people to visit and take pride in their "differences", Santa Fe imposed a strict building code. The building code made sure that all buildings and houses were in Pueblo Revival style.
I'm sure glad they did, as Santa Fe really stands out in its cohesive architecture and is a beautiful sight to see.
Although not an art gallery per se, Meow Wolf is a fun place where art and interaction come together. There are various art installations in different media that you can explore, touch, and interact with!
Note: You can find many of Santa Fe's art galleries along Canyon Road.
13. Indulge in New Mexican Cuisine
I always knew that New Mexican Cuisine involved spicy chile peppers and was different from the Mexican food I grew up with in San Diego, CA.
But I had no idea how incredibly mouth-watering and delightful it would be! I was on the hunt to try the best New Mexican food in Santa Fe and had a lot of enjoyment doing so.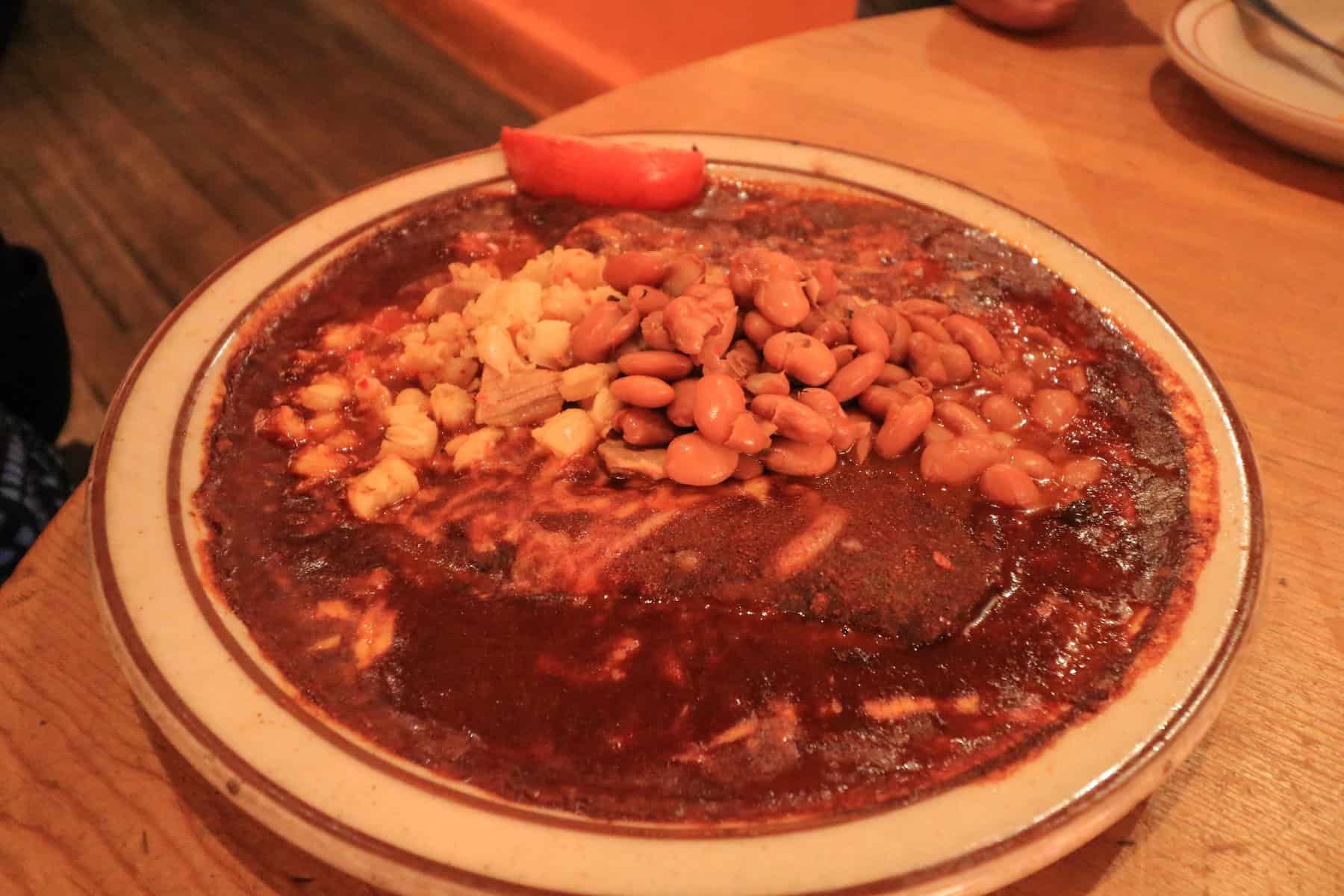 What makes New Mexican food so different is its use of spices, herbs, and New Mexican chile peppers that make for such unique flavors.
The chile pepper used in so many dishes is the Hatch Chile Pepper. Both green and red Hatch chile peppers are used, with the red being an aged green chile pepper.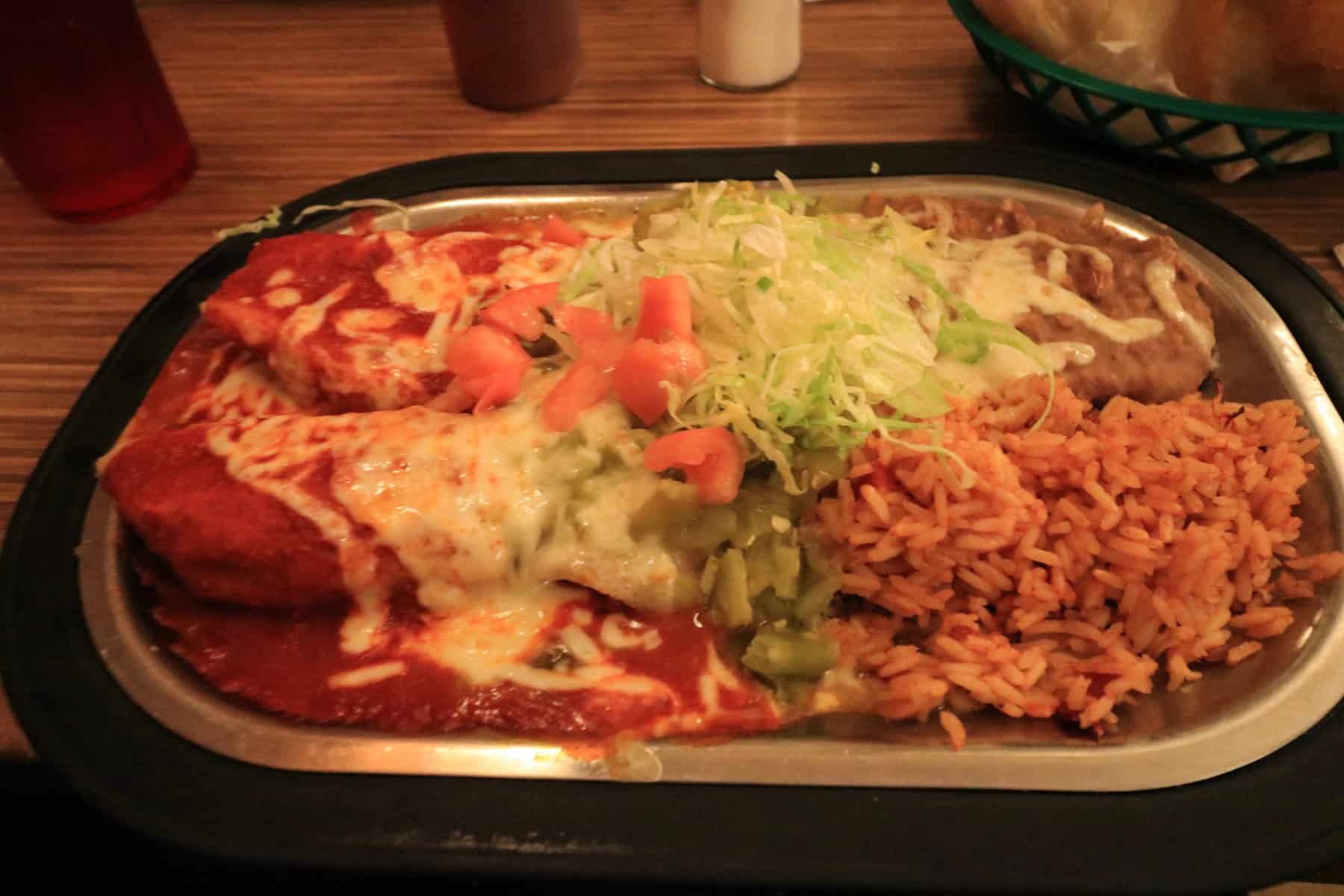 When ordering food in a restaurant you will likely be asked green or red sauce?
The locals will tell you to order it "Christmas" style. That is to get both green and red chile sauce on it!
But if you are not sure or you can't take a lot of heat in your food, order the sauce on the side. I love spicy food, and at a few places, it was almost hard to handle it was so hot.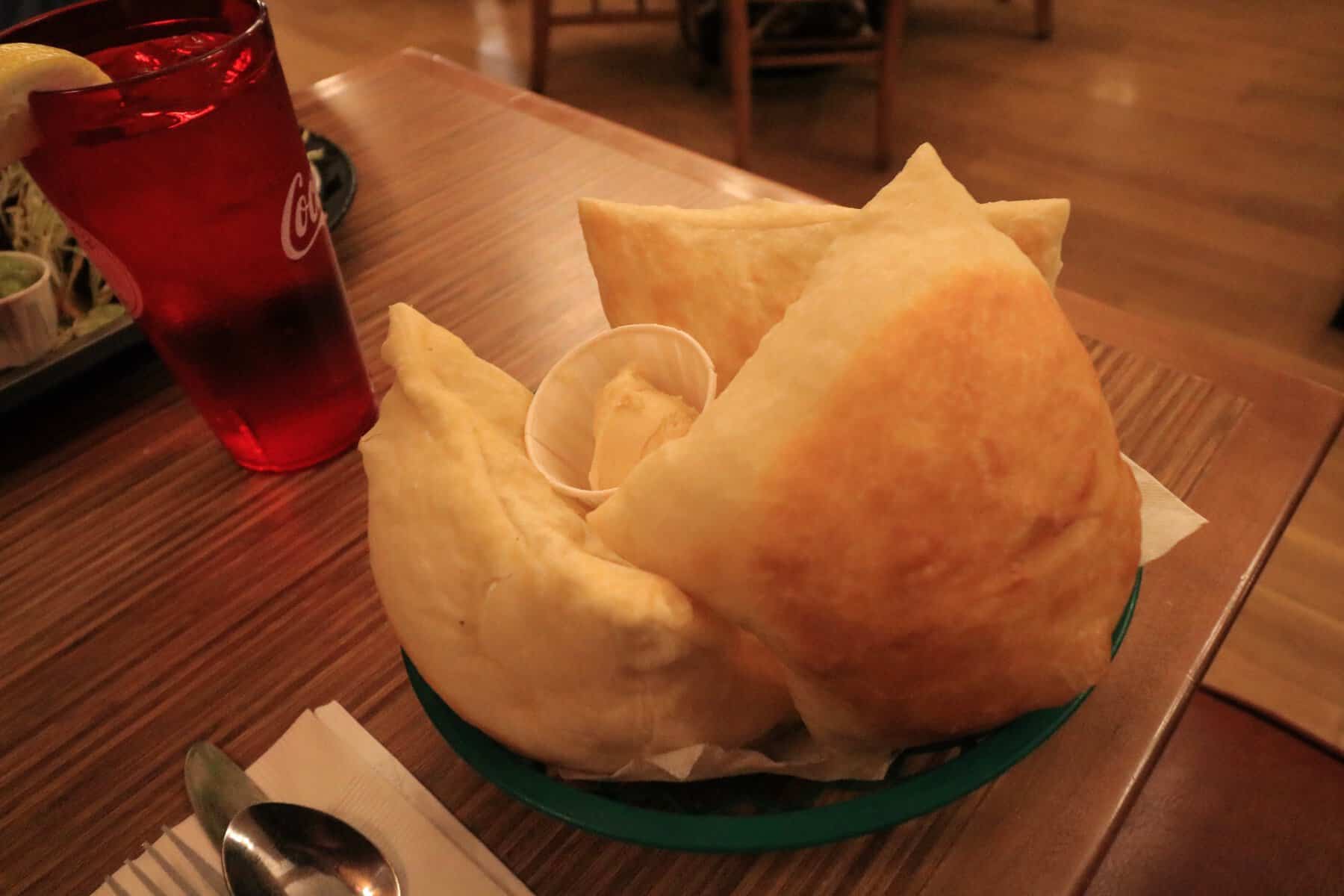 New Mexican food is a blend of Native American, Mexican and European cuisines that are very distinguishable after that first bite.
A few dishes that are yummy to try are enchiladas, burritos, chile stew, anything pork, green chile burger, posole, and sopapillas.
I think of sopapillas as more of a dessert as they bring it to your table after your meal. Lather the sopapilla (frybread) with butter and honey then sit back in heaven!
Some top-notch restaurants to eat at in Santa Fe are:
Tomasita's – best meal in all of New Mexico! On different nights I had the tamales with red chile sauce and chile relleno that were dynamite.
La Choza – sister restaurant to The Shed
Tia Sophia's – known for their breakfast burritos
Iconik Coffee – excellent coffee and a cozy place to enjoy it
Note: If you happen to love Margaritas, try your luck on the Margarita Trail that features 17 bars or restaurants that have their own signature margaritas.
Many claim their margarita to be the best in the world. You decide which one is the best! You can download the app so you can keep track of your drinking accomplishments.
14. Watch sunset @ Old Fort Marcy Park
Old Fort Marcy Park is a great place to watch the sunset overlooking the city of Santa Fe. Sitting up on the hill above Santa Fe, the fort was built in 1846 at the beginning of the Mexican-American War.
The Americans built Old Fort Marcy to protect troops in the event of an uprising.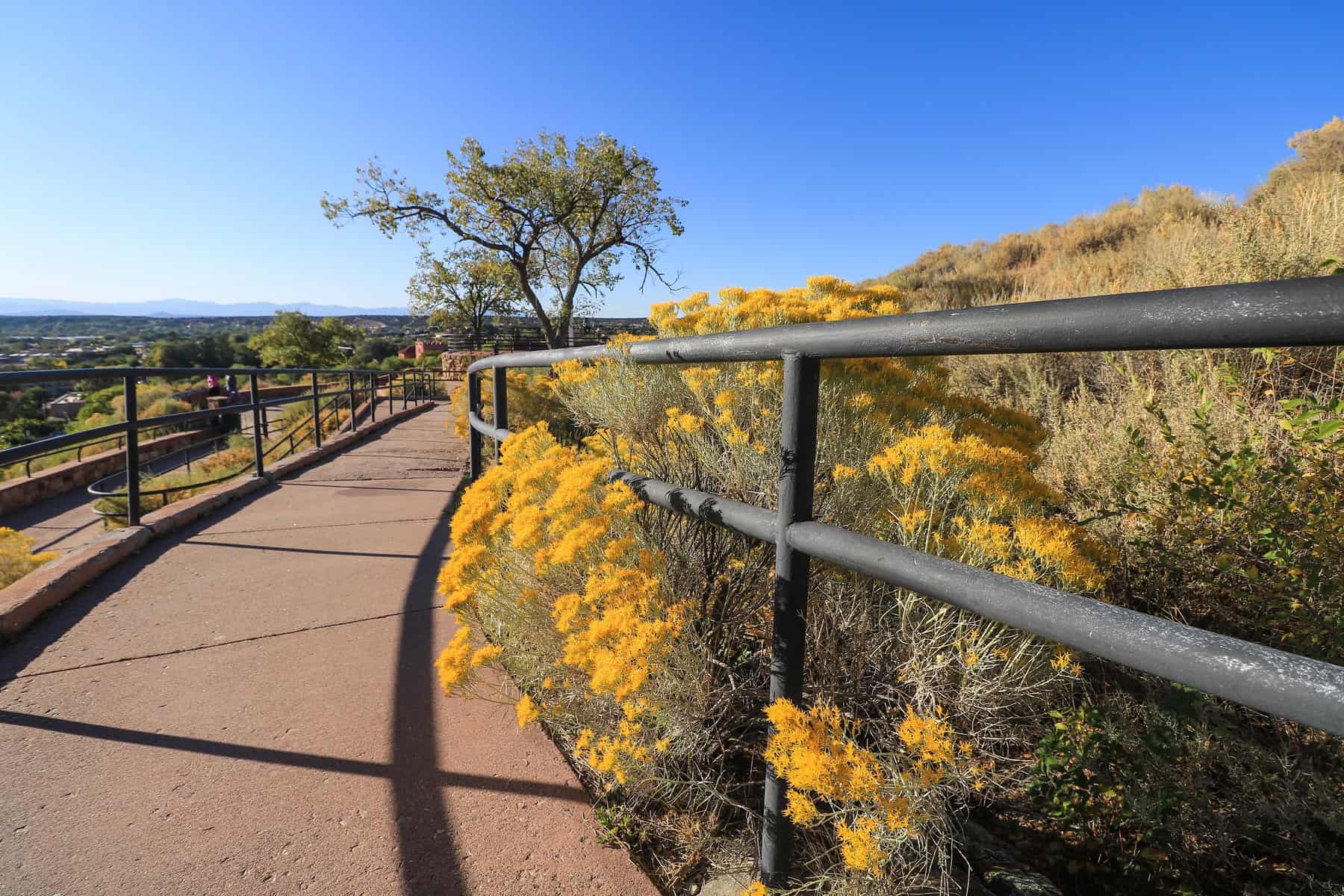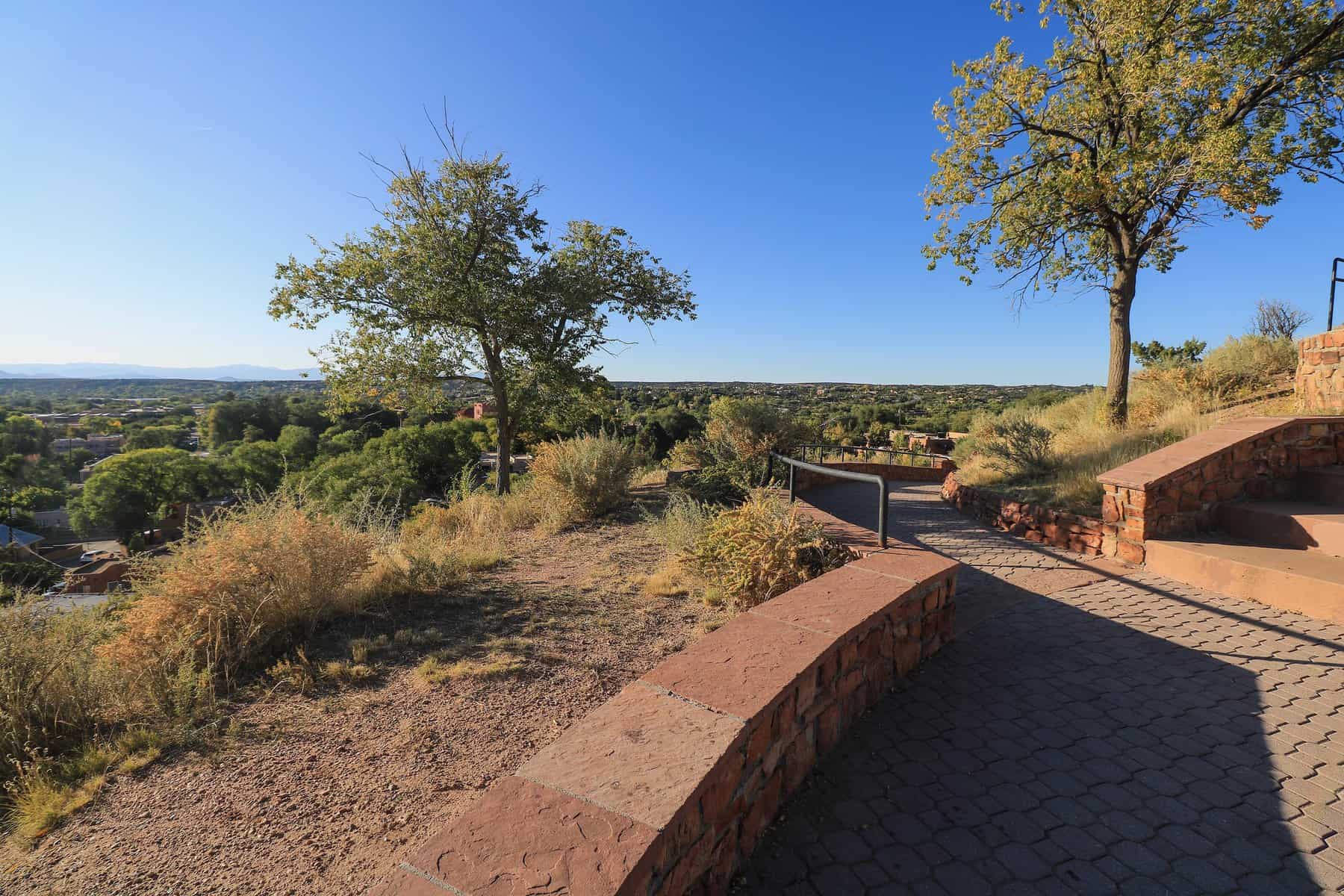 Its strategic position up on the hill allowed for them to see any potential attacks from a distance.
Today there are just mounds of ruins but a beautiful park to view Santa Fe from. You can either drive to the park or walk up from downtown Santa Fe. It will take about 15 mins to walk from the Santa Fe Plaza.
15. Sip A Cup Of Pinon Coffee
What is New Mexican Pinon Coffee? Pinon Coffee is coffee made with Pinon Nuts, a Spanish word for "pine nuts".
That is edible pine nuts from pine trees that are abundant in New Mexico and used frequently in New Mexican cuisine.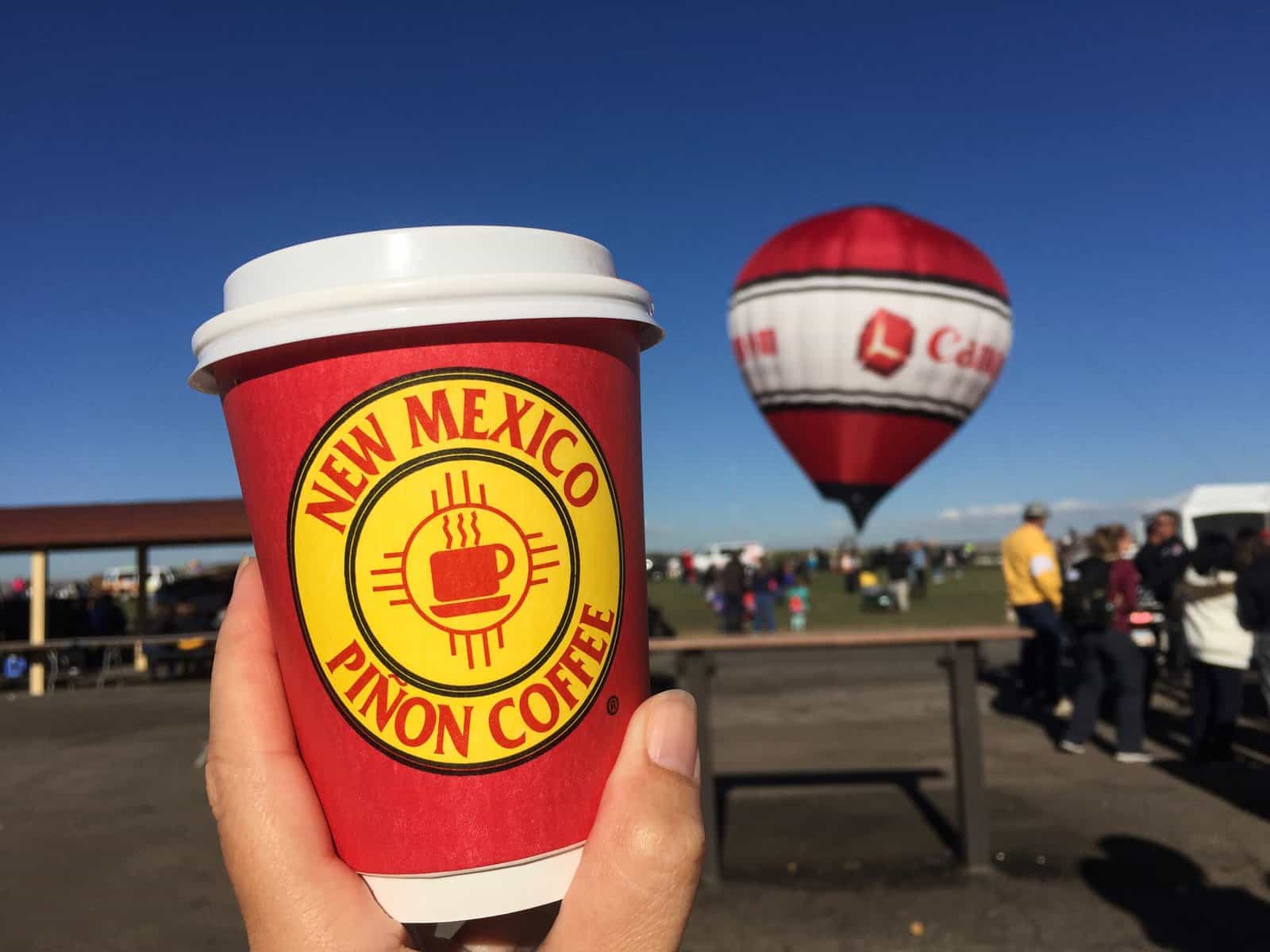 The pine tree that produces the pinon nut grows the best between 6,000 and 8,000 feet, an elevation similar to Santa Fe and nearby regions of New Mexico.
The coffee is made by combining roasted arabica coffee beans with roasted pinon nuts.
Pinon Coffee is usually a dark roast that has a rich nutty flavor that people either love or hate. I first tried it at the Taos Pueblo and immediately loved it.
Most coffee I can't drink black but Pinon Coffee is so good on its own that I don't need to add any milk. You can get a cup of a dark roast, medium roast or with flavors such as chocolate.
It is likely something you will only come across in New Mexico, so don't miss out on trying it. I liked it so much I purchased a few pounds of pinon coffee beans to take home with me!
You can find it at one of many New Mexico Pinon Coffee Company, Pinon Coffee House or at grocery store locations in New Mexico.
Best Time To Visit Santa Fe
There is a lot to see and do in Santa Fe year-round but spring through the fall will offer the best weather. It does get snow in the winter with cold temperatures of 20's to 40's.
Be aware that Santa Fe can get a lot of rain in the summers due to monsoon thunderstorms in July and August.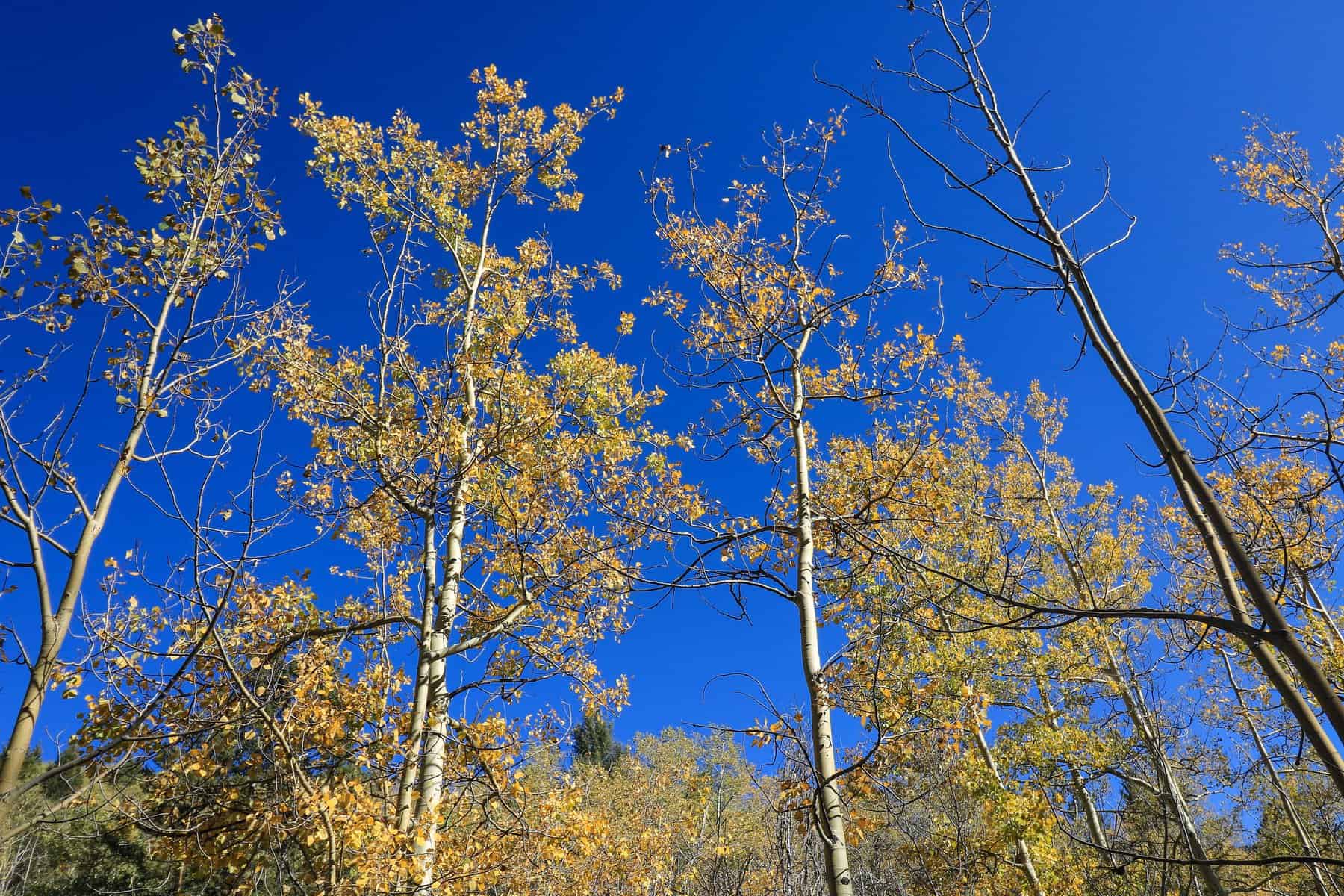 I think the fall (September & October) is a perfect time to visit Santa Fe as the temperatures are still nice, sunny and you can see the trees changing colors.
Not to mention if you visit at the beginning of October you can see the Balloon Festival in Albuquerque.
If you are flying in, the main airport that will also be the most economical to fly into is in Albuquerque. The airport in Albuquerque is Albuquerque International Sunport (ABQ).
From Albuquerque, it is an hour's drive to Santa Fe. To get ready for your trip, find the best deals on a car rental here!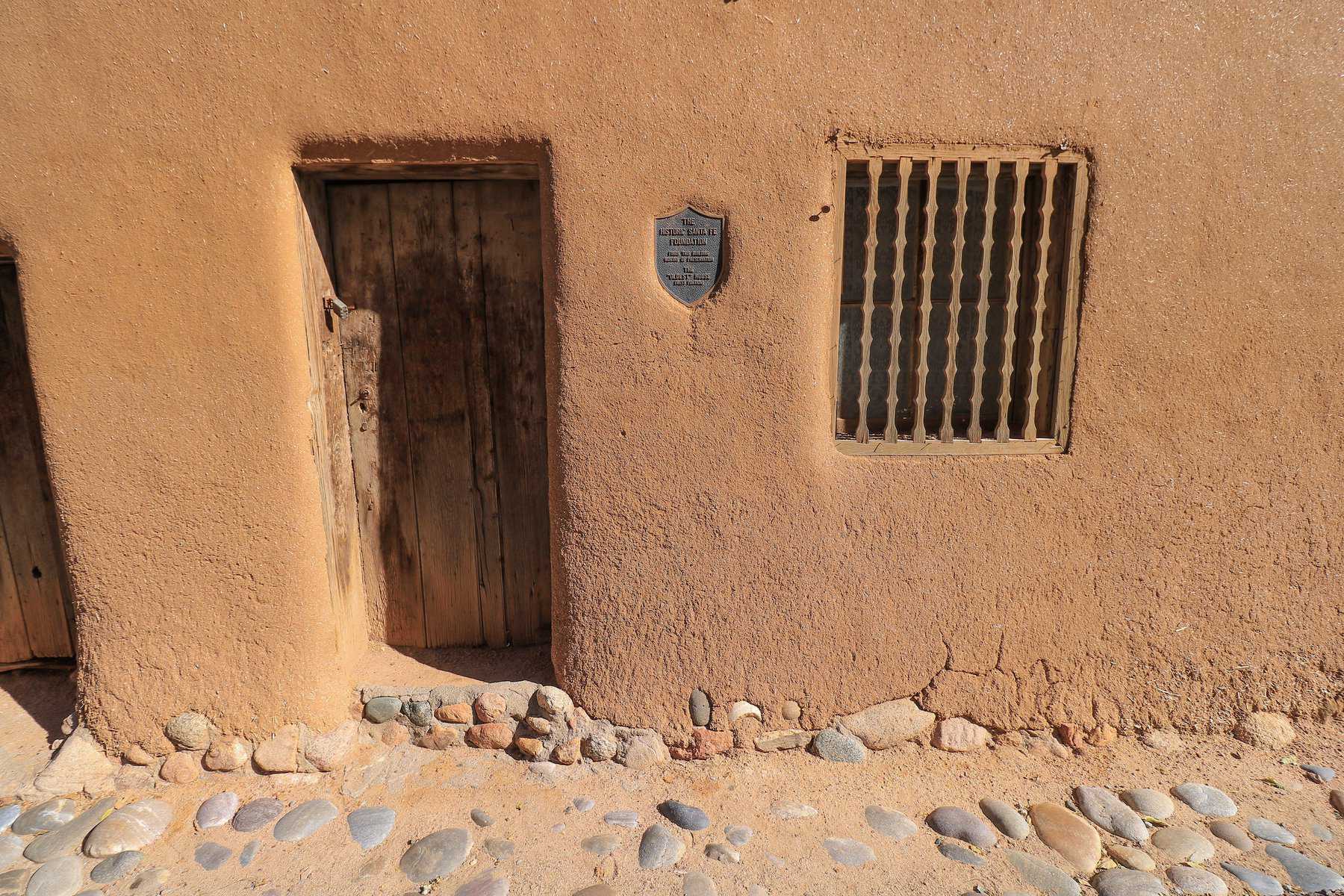 Where To Park
If you are staying at a hotel near the Plaza, you will likely park at your hotel. But if you are staying further out or plan to visit Santa Fe for the day, a good place to park is in a parking lot next to the Cathedral Basilica of St. Francis of Assisi (St Francis Cathedral).
Or there is a parking garage on the corner of W San Francisco Street and Sandoval Street. Both are within 2 blocks of the Plaza.
Get A PDF Of This Guide For Your Trip
For your convenience, you can download a copy of this guide for visiting Santa Fe, New Mexico or print it to take with you. It includes pictures and links within the article. It's ad-free and handy for on the go.
Got Travel Insurance?
I had always heard that it was wise to get travel insurance before going on a vacation but I thought it would be a waste of money. Well, I was wrong to ignore those recommendations! Granted for most trips, nothing goes wrong but it just takes one bad accident or hospital visit to change your perspective.
On a trip to Panama, I traveled with both of my parents. Although I suggested that we get travel insurance, my dad was adamant that his medical coverage would be enough. Long story short, he got severe pneumonia and was hospitalized for four days. It was the scariest few days. In the end, he was treated and we were on our way again but we lost out on a lot.
Because we had to cancel excursions, hotels, and activities, we were out that money. Plus, no reimbursement of medical bills. Since this trip, let's just say I will always purchase travel insurance for all those normal and random things that can go wrong. I have since used and trust these two travel insurance companies. Get a no-obligation quote from two trusted travel insurance companies for peace of mind on your next trip!
Enjoy your visit and I hope you find this list of the best things to do in Santa Fe, New Mexico helpful!
Looking For More Travel Inspiration?
7 Unique Day Trips From Santa Fe
The Ultimate Guide To The Albuquerque Balloon Festival
11 Top Things To Do In White Sands National Park For First Time Visitors
How To Spend The Best Weekend In Albuquerque
45+ Awesome Gifts For Hikers & Adventurers
15 Best Ways To Experience Chicago
Boston Itinerary: How To Spend 3 Awesome Days
11 Best Wineries In Fredericksburg, Texas That Are A Must To Try
Disclaimer: My post may contain affiliate links, which means I may receive a small commission if you click a link and purchase through that link. It won't cost anything to you to use these links but is very much appreciated. Thank you!