Disclaimer: Traveling Ness contains affiliate links and is a member of the Amazon Services LLC Associates Program. If you make a purchase using one of these links, I may receive compensation at no extra cost to you. See my privacy policy for more information.
23 Cool And Fun Oklahoma City Attractions That Are A Must To See
Wondering what to do in Oklahoma City on your first visit? In this guide, I'll share the best Oklahoma City attractions in the city known as the "Modern Frontier"!
Oklahoma City also referred to as OKC might not be the first city you think of visiting in the United States but it should be. You will find incredible restaurants, breweries, parks, and museums to name a few of the top things to do in Oklahoma City.
It has an interesting cowboy and western history blended in with all the modern touches and culture of any big US city.
OKC is a place where you can dress up or stay casual in your cowboy boots and fit in anywhere. And you will find a very warm welcome from the locals known as Okies.
Prior to this trip, I had never thought about visiting Oklahoma City but how wrong I was to put off visiting for so long. You will be pleasantly surprised at how cool and modern this once prairie land city is!
Where Is Oklahoma City?
Oklahoma City is in the state of Oklahoma located in the middle of the United States in a region known as the Midwest. It is also the biggest city in Oklahoma and the state capital.
If looking at a map, Oklahoma City is right in the center of the state of Oklahoma and 1.5 hours southwest of the next largest city of Tulsa.
The state of Oklahoma is landlocked on all sides with Texas, New Mexico, Kansas, Missouri, and Arkansas surrounding it.
The two largest cities in neighboring states are Dallas, Texas which is 3 hours south, and Wichita, Kansas 2.5 hours north of Oklahoma City.
A suburb south of Oklahoma City is the town of Norman that is known as a bustling college town for the University of Oklahoma.
Tip: You might even see Oklahoma City referred to as OKC and they are one and the same. Writing OKC is a lot easier and faster too!
What Is The Best Area To Stay In Oklahoma City?
There are three neighborhoods that I recommend staying in when visiting Oklahoma City for their prime location to a number of sights to see. The three areas are Downtown, Midtown, and Bricktown. I have selected the best choices in each neighborhood below.
Downtown
Sheraton Oklahoma City Downtown
The Skirvin Hilton Oklahoma City
21c Museum Hotel Oklahoma City
Midtown
Ambassador Hotel Oklahoma City
Bricktown
Hyatt Place Oklahoma City Bricktown
Hampton Inn & Suites Oklahoma City Bricktown
Holiday Inn Express & Suites Oklahoma City
Tip: If you have a sweet tooth and crave cookies, you can have them delivered to your hotel room! Insomnia Cookies located in Midtown will deliver to any hotel and late at night too!
What Is The Best Time Of Year To Visit Oklahoma City?
I visited Oklahoma City at the end of June and beginning of July and loved it but it was VERY hot and a little humid. That said, it didn't prevent me from having a great time!
In fact, I liked that I could maximize my time in the outdoor spaces as long as I had water to keep me hydrated!
But overall, if you don't want a sweat fest, the best months to visit are September, October, and November.
Next, I would recommend March, April, and May but keep in mind there are more thunderstorms at this time so bring an umbrella!
The summer months of June, July, and August can reach into the mid-90s with an occasional shower or two.
In comparison, the temperatures can drop to the low 40s in the winter and possibly snow although that is rare.
No matter what time of year you do choose, there is plenty of indoor and outdoor fun to be found for an awesome trip to Oklahoma City!
How To Get Around OKC?
You don't necessarily need a car to get around Oklahoma City with a few exceptions. If you are staying in the downtown area then you can walk to pretty much every Oklahoma City attraction on this list.
If you don't want to walk a ton, you can always grab an Uber or Lyft which I did a few times when my legs needed a break.
Another option is to hop onto one of Oklahoma City's Street Cars that can take you from one spot to another with ease.
The streetcars will take you to the major neighborhoods of Downtown, Bricktown, Automobile Alley, and Midtown. The streetcars run on a 4.7-mile loop making it simple to get around.
You can buy a day pass or pay per use. To view a map of where the streetcars go, go to the OKC Streetcar site.
If you are planning to see areas outside of Oklahoma City then plan ahead and find the best rates on a car rental!
Oklahoma City Tours
Bikes & Brews Tour – hop on a bike and cruise around OKC stopping at 5 breweries for some beer tasting!
OKC National Memorial & Museum – one of the top Oklahoma City attractions to explore exhibits, artifacts, and videos to pay tribute to the lives lost in the tragic bombing of 1995.
Indoor Skydiving – experience what it is like to skydive but indoors in a vertical wind tunnel!
Oklahoma City Scavenger Hunt – go on a fun tour of OKC finding landmarks, hidden gems, answering trivia, and more!
Tips For Visiting Oklahoma City
Carry a reusable water bottle or a filtered water bottle to stay hydrated especially in the summer.
Oklahoma City is a very walkable city, so come prepared with comfy walking shoes!
Have a travel umbrella or rain jacket on hand for those days when light or heavy rain may make an appearance.
In the downtown area, it is very safe to walk around and very clean! But like any city, caution going out late if you are traveling solo.
Use this travel clip to attach any jacket or sweater to your bag knowing you won't lose it!
Oklahoma City is a blossoming foodie town with several delicious options to choose from!
Taking the Oklahoma Street Car to get around the city is super easy.
Map Of Oklahoma City Attractions
Trip map created with
Wanderlog
, a trip planner app
Best Things To Do In Oklahoma City
1. Breakfast At Kitchen No. 324
There is no better way to start off your visit in a new city than with a phenomenal breakfast! That way you are fueled for the day and you can burn off those calories walking all over as you sightsee.
Without hesitation, this was my favorite breakfast while visiting OKC. Prior to visiting, I didn't have any expectations of whether the food would be great or not but how impressed I am!
I had no idea Oklahoma City had so many places to eat that would wow me! Kitchen No. 324 does not only have that elegant and beautiful interior but the food is even better.
I ordered the famous pancake that the waiter warned me was rather large for just one person. In my mind, I was thinking how big can one pancake be?
When it arrived, my jaw dropped and diners at the surrounding tables gawked and maybe drooled at how fabulous my one pancake looked.
Not only do they serve a very giant pancake, but it is over 1 inch thick with a slightly outer crispness and heavenly perfect sweet batter goodness on the inside.
Topped with the biggest slabs of salted butter and house syrup, the pancake at Kitchen No. 324 is the best pancake I have ever had!
I know I have heavily focused on the pancake but they have an awesome menu with other top breakfast selections that are served all day. And add an excellent cup of coffee and a Prairie Mary (Bloody Mary) you are set for the day ahead…
Note: Kitchen No. 324 is in one of OKC's most historic buildings that was home to Paul R. Braniff's airline company back in 1923.
Address: 324 N. Robinson Ave, Oklahoma City, Oklahoma 73102.
2. Oklahoma City National Memorial
Whether you are in Oklahoma City for a day or several days, make sure to visit the Oklahoma City National Memorial & Museum.
The memorial and museum are a beautiful tribute in remembering those lost to a horrific assault by domestic terrorists. The individuals that went to work at the Alfred P. Murrah Federal Building and nearby buildings were forever changed.
April 19, 1995
The morning of April 19, 1995, started out like any other spring day with people heading to work, dropping their kids off at the onsite daycare, or grabbing a cup of coffee.
Life at 9:01 am seemed normal but at 9:03 am life was forever changed. At 9:02 am the devastating bomb located in a car left by domestic terrorists took out a good chunk of the building and daycare.
I won't name these terrorists as I don't think they deserve more attention but you can learn more about their way of thinking and what led up to the bomb in the museum.
Sadly, 168 adults and children died leaving so many questions, an incredible rescue effort and healing ahead. The memorial is outside of the building and is one of the most touching and serene memorials I have ever seen.
The memorial consists of two gates on opposite ends, marking 9:01 and 9:03 am (before and after) with a long reflecting pool between them.
South of the pool is a series of chairs with American flags on the lawn, each one representing a life that was stolen that day.
When looking up towards the building you will notice a very pretty and healthy tree known as The Survivor Tree. The tree was practically destroyed in the bomb yet it survived and is a reminder that the people of Oklahoma City would survive and thrive after this day.
The museum beautifully provides exhibits, photos, artifacts, and live videos from that day. Don't be surprised if you get a little emotional as I know I did…
Visiting Info
Hours: The outdoor memorial is free and open 24 hours a day. At night the chairs are lit up. The museum is open Monday – Friday from 9:00 am to 5:00 pm, Saturday from 9:00 am to 6:00 pm, and Sunday from 12:00 pm to 6:00 pm.
Address: 620 N Harvey Ave, Oklahoma City, OK 73102.
3. Myriad Botanical Gardens
Myriad Botanical Gardens is a 17-acre urban park in downtown close to a lot of Oklahoma City attractions.
When you are walking through the lush and gorgeous gardens, it's hard to believe you are in a city. But if you look up towards downtown you can see the high-rise buildings that make a beautiful contrast to the surrounding nature.
Each section of the park has a different attraction with the main things to see are the Great Lawn, ornamental gardens, playgrounds, splash fountains, dog park, walking trails, and Mo's Carousel to name a few.
You can even take an outdoor yoga class out on the Great Lawn and stroll through the various gardens that are perfectly manicured and beautiful!
At the center of the park is the indoor Crystal Bridge Tropical Conservatory (224-foot living plant museum). You can walk among various tropical plants, a cascading waterfall, and a sky bridge.
Sadly, I didn't get to go inside the Crystal Bridge Conservatory as it is closed for renovations opening back up in the fall of 2022. But I know I'll go back as I can't wait to see the new update!
Overall, the Myriad Botanical Gardens is a magical nature oasis to enjoy!
Note: To visit Myriad Gardens is FREE as it is outdoors but if you want to visit the Crystal Bridge Tropical Conservatory there is a fee. But until the fall of 2022, the Crystal Bridge Conservatory is closed for renovations.
Park Hours: Open daily 6:00 am to 11:00 pm. Mo's Carousel is only open Friday & Saturday (12 pm to 8 pm) and Sunday (12 pm to 5 pm).
Address: 301 W Reno Ave, Oklahoma City, OK 73102.
4. Scissortail Park
As I explored OKC, I quickly became impressed with the layout of the city and the number of parks and outdoor spaces for everyone to enjoy.
For those of you who haven't visited in a while, Scissortail Park is a pretty new addition to downtown Oklahoma City opening in 2019.
As you step forward into Scissortail Park, you will notice how clean it is and the feeling of being surrounded by nature even though you are smack dab in a city.
There are numerous paths going in every direction which allows plenty of space for everyone to walk or run without feeling crowded. The park covers 70-acres so you can imagine it is a good size!
If you happen to be at Myriad Botanical Gardens, Scissortail is a short walk south of it. Scissortail is nestled in between the Myriad Gardens and the Oklahoma River.
Besides great trails, there is a lake, playground, picnic areas, a roller rink, dog park, sprayground, and a restaurant. You can even rent a pedal boat, canoe, or kayak and head out onto the lake!
Scissortail Park is also home to the Farmers Market held every Saturday from 9:00 am to 1:00 pm (April thru October).
And during nice weather, you might even be able to attend a concert in the park!
Scissortail Park Address: 300 SW 7th St, Oklahoma City, OK 73109.
5. Skydance Pedestrian Bridge
After spending some time in Scissortail Park, make your way to the southern edge of the park. You can't miss it as the highway will run parallel to the bottom portion of the park.
There is a path that leads up to a ramp to meet the beginning of the Skydance Pedestrian Bridge or what many refer to as the Scissortail Bridge.
The 380-foot long bridge is for pedestrians only crossing over Interstate 40 towards the Oklahoma River. You will likely see it well before you come upon it as the modern and abstract sculpture reaches 197-feet tall!
The scissor-like sculpture is to resemble the scissor-tailed flycatcher which is Oklahoma's state bird. It is a beautiful and unique bridge that has that wow factor when crossing it.
If you turn around back towards the park and downtown, you have a slightly elevated view of the skyline to enjoy!
At night the sculpture is illuminated and depending on various holidays or occasions it might be lit up in different colors.
Note: The bridge has a sensor to automatically turns on right past sunset and goes off at sunrise.
6. Oklahoma City Museum of Art
Before I had planned my road trip, the one thing I knew I wanted to see in OKC was the Oklahoma City Museum of Art.
That was my whole reason for wanting to visit Oklahoma City in the first place! Why might you ask?
Well, I am a huge fan of the artist Dale Chihuly who has a large exhibit of his works here. And it is one of the largest exhibits of his glasswork and drawings in the world!
Chihuly is known for his beyond breathtaking glass blowing on a scale most can't even imagine with colors that captivate you.
He is from the Tacoma, Washington area so you might have seen some of his pieces in that area. Or if you have been to the Bellagio in Las Vegas one of his masterpieces is hanging from the lobby ceiling.
Chihuly takes glass blowing and transforms it into incredibly large glass sculptures. Wandering through his exhibit you will be blown away by his talent and imagination to create these works of art!
Although I am gushing over the Chihuly exhibit, don't forget to tour the rest of the museum for top collections of art.
During my visit, I got to see the current exhibit, The Painters of Pompeii which has several pieces of art from ancient Roman times. Although this exhibit is temporary, check their website for upcoming exhibits that might draw your interest!
Note: If you're hungry, there is an excellent café that serves some great food, snacks, and drinks.
Hours: Open Tuesday, Wednesday, Thursday, and Saturday from 10:00 am to 5:00 pm. On Friday it is open from 10:00 am to 8:00 pm, Sunday from 12:00 pm to 5:00 pm. Closed on Monday.
Address: 415 Couch Drive, Oklahoma City, OK 73102.
7. Dine With The Best View Of OKC
Whenever I visit a new city for the first time, I enjoy finding a spot for dinner and/or drinks that have an excellent view of the city.
If you want a spectacular dinner and cocktails with an aerial view of Oklahoma City, then make a point to dine at VAST!
Located on the 49th floor of the Devon Tower, VAST is American fine dining with an elegant ambiance that won't disappoint.
I started my meal out with a delicious glass of red wine followed by a perfectly cooked steak, asparagus, and the most beautiful pouch of potatoes…
The views are vast in every direction and shared with an incredible meal, you can't pick a better spot in town. In one direction I could clearly see the Oklahoma City National Memorial and many places of interest with views of Bricktown to the right.
Overall, the service was top-notch with a very knowledgeable server in reference to the menu, wine and in answering any questions you have about visiting the city.
And you can say you have visited the tallest building in Oklahoma City! While you tour OKC, you will quickly notice the Devon Tower from almost any vantage point on the ground.
Address: 333 W. Sheridan Ave 49th Floor, Oklahoma City, OK 73102.
8. Have Fun In Bricktown
Bricktown is one of the newer or revitalized neighborhoods in Oklahoma City that has a lot of places to eat, bars, a ballpark, and river walk area.
Previously the historic Bricktown was an industrial section where railroad companies operated but over the years this area became abandoned resulting in empty buildings and warehouses.
Fast forward to today and they have been transformed into a very cool place to hang out and live. And as its name implies, many of the buildings you see are made of brick!
The revitalization began in the late 1990s with much of what you see today added over the past 10 years through a program called MAPS (Metropolitan Area Projects).
With funding from MAPS, the city has been able to add more Oklahoma City attractions for both locals and visitors to enjoy. These projects have made OKC beautiful and to compete as a premier destination with many activities to offer.
Bricktown is a popular entertainment district where you can find a nice outdoor bar or spot to grab something to eat, shops, a movie theater, a brewery, mini-golf, a bowling alley, and the Bricktown Canal.
Fun Fact: The Sonic fast-food chain is headquartered right here in Bricktown!
Note: Bricktown is a short 10 – 15 minute walk east of downtown and still considered part of the downtown area.
9. Take A Water Taxi Tour
Earlier on my road trip, I visited San Antonio, Texas and like many spent a lot of my time on the River Walk.
So, to my surprise, I was delighted to learn there was a river walk in Oklahoma City known as the Bricktown Canal!
As mentioned above, the neighborhood of Bricktown has been revitalized with new restaurants, shops, and businesses in the old warehouses.
The Bricktown Canal was created in 1999 and runs through Bricktown curving in between top attractions and trees on each side. The canal stretches 1-mile in length and is manmade.
There is no better way to experience Bricktown than by taking a water taxi tour on the canal! The tours last about 40-minutes providing a history of the area and talk about points of interest along the way.
Plus, it is a nice way to explore while relaxing at the same time! Water taxis take off about every 15 – 20 minutes and bring you back to the same spot you left from.
I recommend buying your tickets ahead of time as when I visited the ticket booth was temporarily closed but I could see down below that a tour was getting ready to take off. I ended up buying my tickets via my phone and hopping on that tour.
Address: 111 S. Mickey Mantle Drive, Oklahoma City, OK 73104 (across from the ballpark).
10. Centennial Land Run Monument
If you have taken the water taxi tour on the Bricktown Canal then you will have gotten a view of the Centennial Land Run Monument by boat.
The Centennial Land Run Monument is one of the most impressive monuments I have ever seen in the United States!
The monument celebrates the opening of the Unassigned Land in Oklahoma Territory and the Land Run of 1889.
For those that aren't familiar, in order to entice people to head west, people were given plots of land if they agreed to make the trek from the east. But this land had never been developed and was completely wild with no resources or cities up to this point.
In the area that is now Oklahoma City, people were given stakes with flags and at noon on April 22, 1889, about 50,000 people on horseback and wagons literally made a mad dash for the plot of land they wanted to settle.
I can't even fathom what that would have looked like in real life but an awesome movie that captures this day well is Far and Away (1992) with Nicole Kidman and Tom Cruise. It is about the journey building up to that day.
Located at the far end of Bricktown, the Centennial Land Run Monument has two parts, one on each side of the canal.
It is a larger-than-life bronze statue or a series of statues depicting that day when people charged to stake out their land. It is the largest set of bronze sculptures in the world created by the artist Paul Moore.
There are 45 statues that look as if they are frozen in time from that day covering 365 feet long and up to 16 feet high!
While looking up at each statue, I could almost feel the ground rumbling with the pounding of 50,000 people on horseback determined to get their free land…
Fun Fact: People that staked out and settled a piece of land before they were supposed to, were considered land thieves or "Sooners". You might hear someone that attends the University of Oklahoma and their sports teams referred to as the Sooners!
Address: 200 Centennial Ave, Oklahoma City, OK 73102. Parking is available there.
11. Visit AN OKC Brewery
On one slightly rainy afternoon, I searched for any cool breweries nearby that I could escape to until the rain subsided.
To my surprise and delight, I came upon Vanessa House Beer Company. Since my name is Vanessa, I couldn't resist visiting and sampling some beers!
Upon entering Vanessa House, I immediately felt like I was transported back to the 80s and early 90s which was when I was a kid/teenager.
The décor has comfy chairs, a couch, tables, and video games from the 80s and 90s along with artwork, books, and figurines that brought back instant nostalgia.
My beer came on an old floppy disk coaster for those of you that remember those! And on an old school TV, the original Jurassic Park played which just added to the fun atmosphere.
I assumed that a woman named Vanessa owned the brewery but found out that 5 guys own it! These 5 friends lived together in the same house on Vanessa Drive in Norman, OK.
To other friends, they always referred to their house as the "Vanessa House", hence its name!
I fully enjoyed trying a few beers, all with playful names. And I might have left with some beer, shirt, glasses, and stickers as I can joke that I own a brewery with my name…
Although I didn't go to any other breweries during my stay, a few that come recommended are:
Stonecloud Brewing Company
Anthem Brewing Company
Elk Valley Brewing Company
Bricktown Brewery
Tip: The all women-owned Equity Brewing Company opened up in the summer of 2021 in Norman, Oklahoma. It is just 30 minutes south of OKC, so stop by if you are in the area!
Vanessa House Address: 118 NW 8th Street, Oklahoma City, OK 73102.
12. Search For OKC Art Murals
If you love searching out the hottest street art, then you are in luck as Oklahoma City has some great art murals! As you have likely noticed, street art is becoming more and popular in cities across the globe.
They not only allow artists to express themselves for all to appreciate but their work draws people into neighborhoods that might not have otherwise been visited.
Street art can be a boost for tourism and a way for a community to express themselves through art.
Going on a hunt for the coolest art murals upon arriving in OKC is a fun adventure as there are murals popping up all over!
Although you can find art murals all around Oklahoma City, there are a few neighborhoods that you want to make note of during your visit.
The main areas of Oklahoma City to see the most street art are in:
Downtown & Arts District
Midtown & Automobile Alley
Paseo & Uptown 23rd District
Bricktown
Western Avenue
Plaza District
Note: Some of these murals are further out so you would need a car or could hop into an Uber/Lyft to reach.
13. State Capitol Building
The Oklahoma State Capitol is located in Oklahoma City a few minutes northeast of downtown and the only capital to be surrounded by oil wells in use still today.
The Capitol building is home to the house of government for the state of Oklahoma and the different executive branches since 1917.
As you walk up to the capitol building you are met with a grand building in Greco-Roman style architecture, that holds 650 rooms, and is 11 acres of floor space.
And in 2002, a dome was added to the top of the capitol building which adds to its powerful presence. Its outer façade is made of white limestone and Oklahoma pink granite.
Inside the capitol building is exquisite paintings, murals, and incredible craftsmanship with the base of the dome adorned with gold letters of the donors who funded the dome project.
On the capitol grounds but north of the capitol building is the Oklahoma War Memorial that has four walls showing scenes from WWI, WWII, the Korean, and Vietnam wars.
Hours: Tours are available Monday – Friday from 9:00 am to 3:00 pm and are free. But at the time of this posting tours are currently on hold. Check the capitol website for current updates.
Address: 2300 N Lincoln Blvd, Oklahoma City, OK 73105.
14. The Underground Tunnels
One of the more unique things to do in Oklahoma City is to wander the network of Underground Tunnels.
In the OKC downtown area, there are a series of tunnels and skywalks where you can walk from point A to point B but underground! They provide a path connecting major buildings and parking garages and it is FREE to access.
The tunnels originally called the Conncourse were built in 1974 but got an overhaul in 2006. Walking underground in very hot or very cold weather is a nice option as you can avoid the extremes above ground.
In recent years, different shades of neon lighting, art installations, historical photos, and exhibits have been added throughout each corridor. There is a pink, green, orange, yellow, blue, purple, and red tunnel.
You can even find cafes, a post office, and various businesses along some of the corridors. Depending on where you are, there are a handful of places to access the underground tunnel so I recommend you look at this map to help you navigate.
The main entry points to enter the Underground Tunnels are:
Sheraton Oklahoma City Downtown
Leadership Square
BancFirst
Dowell Center Parking
Robert S. Kerr Office Building
101 Park Ave
Broadway-Kerr Parking Garage
Note: I entered via the Dowell Center Parking Garage and took the stairs to the very bottom. All access points will be in the basement of a building or lowest level of a parking garage.
Hours: Open Monday – Friday from 6:00 am to 8:00 pm. Closed on Saturday and Sunday. On any major federal holidays, they are closed too.
15. Wheeler Ferris Wheel
Wheeler Park is a short 5 – 10 minute drive south of downtown Oklahoma City located both on the north and south side of the Oklahoma River.
The park has many trails, ball fields, and plenty of outdoor space to explore. On the south side of Wheeler Park are the Wheeler Ferris Wheel and the huge OKC letters.
At this side of Wheeler Park, there are swings, hammocks, picnic tables, and a place to get some food. And you might occasionally see with food trucks too!
But the highlight is going on a ride on the Ferris Wheel or taking photos with the OKC letters. The Wheeler Ferris Wheel was originally located at the Santa Monica Pier before moving to Oklahoma City!
Whether you are up top on the Ferris Wheel or on the ground, you have fantastic views of OKC's skyline across the river.
Depending on the time of year you might be able to attend one of the events held at the park near the wheel. Activities range from yoga, a bike festival, concerts or attending a private event like a wedding.
Tip: If you bring your own food, they will provide picnic blankets for you to use!
Ferris Wheel Hours: Open Tuesday – Thursday from 4:00 pm to 9:00 pm, Friday from 11:00 am to 10:00 pm, Saturday from 8:00 am to 10:00 pm, and Sunday from 12:00 pm to 9:00 pm. Closed Monday.
Address: 1701 S Western Ave, Oklahoma City, OK 73109.
16. Drinks At The Rooftop O Bar
Who doesn't enjoy having a cocktail on a rooftop bar with an awesome view of a city skyline? Well in Oklahoma City that spot is at the O Bar at the top of the Ambassador Hotel Oklahoma City.
The Ambassador Hotel is located in Midtown which is a great section of the city for incredible restaurants, bars, cafes, and art murals.
The O Bar is on the 7th-floor rooftop of the hotel with a direct view of the downtown Oklahoma City skyline. Although it isn't the highest building, there is nothing blocking your view so it is perfect to appreciate OKC.
The O Bar is a prime setting to have a cocktail, some bites to eat, and embrace the modern frontier vibes of this growing city. And if you time it right you can capture a stunning sunset…
Tip: If you are looking for a place to stay, the boutique Ambassador Hotel Oklahoma City is a top pick!
Hours: Open daily from 4:00 pm to midnight.
Address: 1200 N Walker Ave, Oklahoma City, OK 73103.
17. The Cowboy Museum
If you like anything related to cowboys and the western way of life then Oklahoma City is one of the best places to learn about its history.
The National Cowboy & Western Heritage Museum is northeast of the downtown area, about a 12-minute drive.
The Cowboy Museum is the number one museum in America if you want to learn the history of cowboys and how the American West got its start.
Since 1955, the museum has been collecting Western art, artifacts, and creating exhibits for the public to learn about America's Western history.
Fun Tip: If you are on Instagram, follow @nationalcowboymuseum as it is a fun account! The head of security is a cowboy himself and handles social media for the museum in a fun way.
Hours: Open Monday – Saturday from 10:00 am to 5:00 pm and on Sunday from 12:00 pm to 5:00 pm. There is also a Museum Grill restaurant on site for lunch (11:00 am to 2:00 pm).
Address: 1700 NE 63rd Street, Oklahoma City, OK 73111.
18. The Overholser Mansion
The Henry & Anna Overholser Mansion was built in 1903 in the Heritage Hills neighborhood just 5 minutes north of downtown Oklahoma City.
At the time when Henry Overholser, known as the "Father of Oklahoma City" purchased 3 lots of land, people couldn't fathom why they would want to live "so far" from the city.
The Overholser Mansion was the first mansion to be built in OKC and why it has so much historical importance to the city.
When you stand in front of the mansion you will notice the striking architecture in a Queen Anne and Chateauesque style. And at the time it was built it was completely different from the prairie homestead or craftsman style of housing.
Henry & Anna's daughter later inherited the house but after her passing, her husband sold the house to the Oklahoma Historical Society. A lot of work was put into the house to preserve its historic value and open it up for the public to enjoy.
You can take a tour, by reserving a spot at 10:00 am, 12:00 pm or 2:00 pm Tuesday – Friday. On Saturdays no reservations are needed, just show up between 10:00 am and 3:00 pm.
Tours are self-guided and last between 45 minutes to 1 hour. There are special guided tours but refer to the Overholser Mansion website for more info.
Hours: Open Tuesday – Saturday from 10:00 to 2:00 pm. Closed on Sunday and Monday.
Address: 405 NW 15th Street, Oklahoma City, OK 73103.
19. Spirit Of The Buffalo Hunting
One thing that impressed me about Oklahoma City is the amount of art in the form of sculptures or statues. It seemed that on every block I covered I would spot an eye-catching piece of art.
One example is the Spirit of the Buffalo that was initially planned to be a temporary project to raise money for the city in 2004. Across various places around OKC statues of buffalo made of fiberglass are colorfully decorated by artists.
Going "buffalo hunting" in search for the different buffalo became quite popular with both locals and tourists, so they became permanent!
At one time buffalo once roamed the prairie lands of Oklahoma but today, the only ones you will see are these statues.
There are around 30 buffalo statues plus a handful of other fun and vibrant statues such as a huge cowboy boot, Rocky the guitar, and Tux the penguin.
Most of the pieces of art you will encounter are part of the Nature Conservancy of Oklahoma.
20. Catch An Oklahoma City Dodgers Game
One of the best things to do in Oklahoma City during baseball season is to attend an Oklahoma City Dodger game! The OKC Dodgers are a Minor League team and a Triple-A affiliate for the Los Angeles Dodgers.
The Oklahoma City Dodgers can be found playing at the Chickasaw Bricktown Ballpark in Bricktown right near the Bricktown Canal since 2015.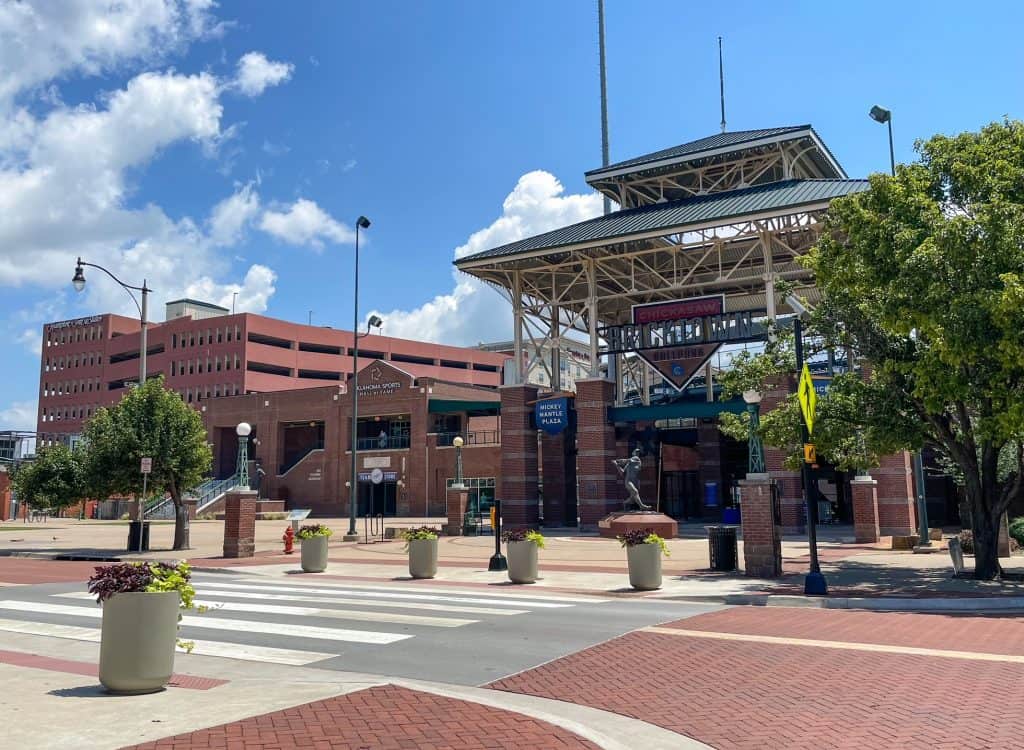 At each entrance of the ballpark, you will be greeted by a statue of a legendary baseball player that in some way has a connection with Oklahoma. There is a statue of Mickey Mantle, Johnny Bench, and Warren Spahn.
The ballpark can host up to 9,000 fans per game with the season running from April through September. Throughout the year there are other events held at the ballpark you can attend such as concerts and festivals.
Address: 2 S Mickey Mantle Dr, Oklahoma City, OK 73104.
21. Enjoy A Spa Day
I bet when you think of Oklahoma City you never imagined spending the day at a Scandinavian spa! Udander is a Scandinavian steam and sauna spa in the heart of downtown Oklahoma City.
If you are looking to relax, you can sit back in an aromatherapy steam room, soak in a hot tub, or a dry sauna.
And if your body is needing a little more attention, book a massage or facial so that you leave feeling rested and rejuvenated!
Hours: Open Tuesday – Wednesday from 9:00 am to 4:00 pm, Thursday – Saturday from 9:00 am to 6:00 pm, and Sunday from 12:00 pm to 4:00 pm. Closed Monday.
Address: 131 Dean A McGee Ave #105, Oklahoma City, OK 73102.
22. Play At Lake Hefner
Located just 30 minutes northwest of the downtown area of Oklahoma City is Lake Hefner. Lake Hefner is a reservoir built in 1947 and named after the mayor at the time, Robert A. Hefner.
Lined with 18 miles of shoreline, Lake Hefner is a convenient place to escape and relax. Although you can't swim in the lake, you can fish, go sailing, kayaking, or paddleboarding (SUP).
At the Lake Hefner Boathouse, you can find rentals and even sign up for sailing lessons. Bet you never thought you could sail in a land-locked state huh?
If you would rather get your legs moving, there is a 9.8-mile paved trail that takes you around the lake. The trail is welcome to walkers, runners, cyclists, and skating.
There is also plenty of open park space for picnics, playgrounds, volleyball courts, and baseball fields.
One of the most photographed spots at Lake Hefner might be the lighthouse. It has the look of a lighthouse you would have seen in New England in the 1700s.
The lighthouse stands 36 feet tall at the East Wharf and is a beautiful sight to see at sunset.
Note: Dogs are allowed but need to stay on a leash.
Address: Lake Hefner Pkwy, Oklahoma City, OK 73120.
23. Urban River Rafting
If you are looking for a little adventure, then hop into a raft and take off down the urban rapids in Oklahoma City!
I didn't have time to do this activity but I can't wait to go back and give it a try as I have done white water rafting a few times and loved it.
Just a few minutes from downtown is a white water and kayak center with RiverSports. And these rapids will get your adrenaline pumping on Class II to Class IV rapids.
Your raft guide will give you an overview and instructions on what to expect before taking the plunge. Anyone over 8 years old and weighing at least 55 pounds is welcome to join!
Is Oklahoma City safe?
Yes! I was traveling alone and did not once feel unsafe or uncomfortable navigating around the city.
That said, I didn't go walking about late at night as in any city in the country. Not smart to be out late in a new city when traveling as a single female in general.
Overall, I was quite impressed at how clean, beautiful, and safe Oklahoma City felt and would highly recommend anyone to visit!
Have a fun time exploring the best Oklahoma City attractions during your stay!
Got Travel Insurance?
Don't leave home without travel insurance as you never know what might happen on a trip! It is always when you least expect it that something can go wrong like getting sick, in an accident or cancellation of some sort. Get a no-obligation quote from two trusted travel insurance companies for peace of mind on your next trip!
Looking For More Travel Inspiration?
17 Fun Things To Do In Hot Springs, Arkansas For First Timers
15 Fun Things To Do In Lafayette, Louisiana's Cajun Country
25 Best Things To Do In Birmingham, Alabama You Don't Want To Miss
Ultimate New Orleans Bucket List: 35 Fun Things To Do In NOLA
Perfect 3 Day Weekend In San Antonio Itinerary For First Timer's
11 Best Wineries In Fredericksburg, Texas That Are A Must To Try
7 Amazing Waterfalls In Alabama That Will Take Your Breath Away
15 Famous Things About Chicago You Must See
10 Best Things To Do In South Dakota
Allbirds Review: The World's Most Comfortable Shoes?
Disclaimer: As an Amazon Associate and a participant of other affiliate programs, I may earn from qualifying purchases in this post. This means that if you make a purchase through one of these links, I might receive a commission at no extra cost to you. Thank you and it is greatly appreciated!