Disclaimer: Traveling Ness contains affiliate links and is a member of the Amazon Services LLC Associates Program. If you make a purchase using one of these links, I may receive compensation at no extra cost to you. See my privacy policy for more information.
Boston Itinerary: How To Spend 3 Awesome Days
Looking for the best things to do in Boston, aka "Beantown"? It might be best known for its clam chowder, Fenway Park, baked beans, strong Irish ties, the Boston Marathon, patriotism, and some of the best universities and hospitals in the United States. If I sparked your interest, then continue reading for the perfect Boston itinerary!
Wandering along the cobblestoned streets and squares, you get the big city feel of Boston with its mix of old and new that complement each other well.
With numerous outdoor recreation options, fantastic restaurants, shopping, and entertainment, you will find plenty of Boston attractions to see.
Tip: If you plan to see many Boston attractions, consider getting a Go Boston Pass which has up to 55% off several top attractions.
Throughout the post, I will highlight which sights are included in the pass. You can customize it for 1, 2, 3, 5, and 7 days depending on how long your stay is!
Where Is Boston?
Boston is the capital of Massachusetts and sits on the east coast of the United States. It is located in the region referred to as New England.
New England as a whole is known for its vibrant and breathtaking fall foliage during the September and October months.
The city of Boston is an excellent city to explore with its position right along the ocean and the Charles River. For this reason, Boston has incredible seafood with clams and lobster as being favorites.
Massachusetts is north of Connecticut and Rhode Island, east of New York, and south of Vermont and New Hampshire. As you can see it has a close proximity to many other states!
If you are flying into Boston, book your flight to Boston Logan International Airport (BOS) which is about 15 – 30 minutes depending on traffic from downtown Boston.
Why not search for the best flight deals and book your trip today!
A Little History On Boston
No, I won't bore you with a history lesson but there are some fun and unique points of interest in Boston's history. You might be wondering what is with the nickname "Beantown"?
Well, when the city was getting its start, sailors coming into the bay noticed that Bostonians loved their beans baked in molasses. As they say, the rest is history…
I'm really summing it up when I say that Boston is the location of several events that led to the American Revolution and eventually America's independence from the British on July 4th, 1776. It played a very influential part in the success of the American Revolution.
Boston is the capital of Massachusetts and part of the original 13 colonies established in what is now the United States. Following the pattern of being one of the first, Boston has the first:
Subway in the United States
Public park in the U.S.
Fig Newton cookies were named after the neighborhood of Newton (love these)!
Dunkin Donuts is from here
Baseball park in America
Home to the Boston Cream Pie creation
You won't find a "Happy Hour" in Boston, against the law…
Boston was named after a town in England
Where To Stay In Boston
Determining where to stay in Boston might depend on what you are there for or what you want to see the most. For example, if you are there for work staying near the conference center might be most ideal.
There are several great areas to stay in but if you are on vacation then I recommend staying in or near Back Bay, Boston Common or Theater District.
These three areas are centrally located in downtown Boston and close to the majority of sites to see. A more cost-effective alternative that isn't too far and in a lovely area is Cambridge. Cambridge is the neighborhood where Harvard University is along the Charles River.
Discover Fun Tours In Boston To Take!
Map Of Boston's Must-See Spots
Here is a map of all the sights listed below to make planning easier for you!
Trip map created with
Wanderlog
, a road trip planner
The Best Boston Itinerary
Day 1 In Boston
Boston Common
Boston Common is such an excellent spot to start your tour of Boston as it is the most central area of the city and a beautiful park. It also happens to be the oldest city park in the United States, dating back to 1634.
The park has served as a gathering place for the people, a grazing location for cows, and even the site of public hangings up until the early 1800s.
Today the 50-acre park is a great place to go for a walk, get in a run or play ball games in the green oasis amidst the bustling city. What makes Boston Common a little more famous is that it is the beginning of the Freedom Trail.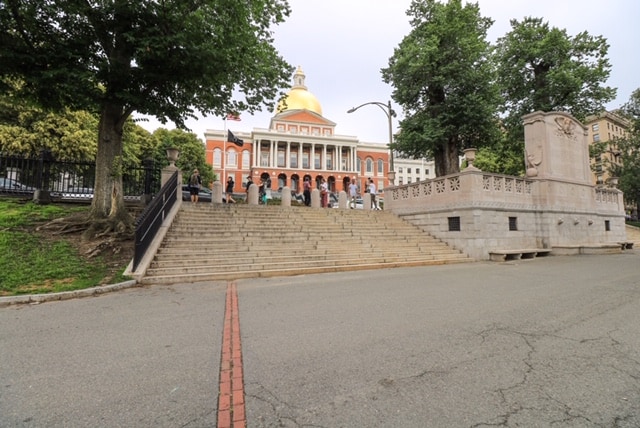 I'll talk more about the Boston Freedom Trail as I go through the itinerary but make sure to walk over to see the Massachusetts State House along the Beacon Street side of the park.
You can't miss it with its dome that is gilded in gold. It is a gorgeous building as it should be since it is the state capital.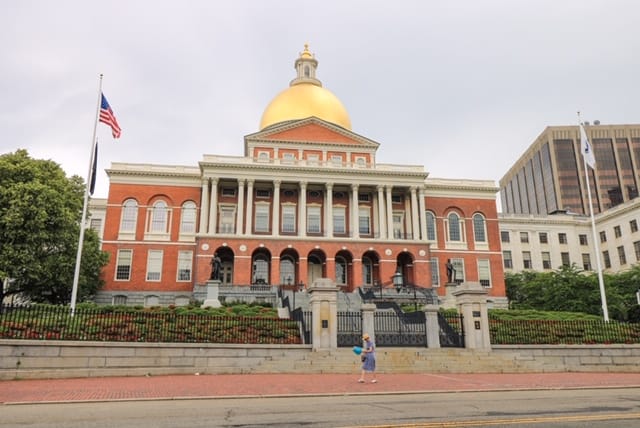 Note: For the longest time I referred to it as "Boston Commons" but only recently realized there is no "s"!
Tip: You can find a Boston Visitor Center along the edge of the park on the corner of Tremont Street and Temple Place.
Public Garden
Directly across from Boston Common is the Public Garden with Charles Street separating the two. 
Established in 1837, a few hundred years after Boston Common the Public Garden is a favorite spot of mine.
There is a charming and tranquil atmosphere with ponds, flowers, bridges, swans, and plenty of areas to have a picnic. It looks like it could be a movie set and actually has been the backdrop for many shows and movies.
Designed with a Victoria-era feel, you can not only see real swans and ducks but take a relaxing ride on a Swan Boat.
It takes you on a tour of the lagoon, under the Lagoon Bridge, and around Mallard Island. If you have the Go Boston Pass then a Swan Boat Tour is included!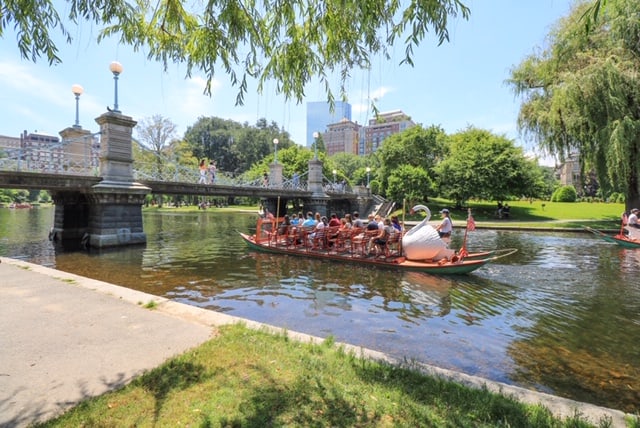 Another popular site to see especially with kids is the "Make Way For Ducklings" statues. It is a momma duck with her ducklings located near the corner of Charles St and Beacon St area of the park.
The statues are inspired by the children's book "Make Way For Ducklings" by Robert McCloskey. It is about a duck family living in the park.
Boston Freedom Trail
The Freedom Trail is a 2.5-mile long path that takes you on a trek into America's history seeing the most notable landmarks in downtown Boston.
But what exactly is the Boston Freedom Trail you might ask? The trail takes you past 16 important sites from the American Revolution War that started in Boston in 1775.
For those that need brushing up on history, the American Revolution was the war that established the United States. It was the independence from Great Britain and overthrowing British rule over the 13 colonies.
Most people start the walk at Boston Common and end it at Bunker Hill although you could easily do it in reverse. Walking the Freedom Trail is go at your own pace unless you are taking a tour.
If you plan to stop and go inside some of the attractions then I would allow between 4 – 6 hours including a stop for lunch. But you could easily take your time and spread out over two days depending on what interests you.
I will select a handful of the sites that should be a must to see but here are all 16 in order starting from Boston Common.
Boston Common
Massachusetts State House
Park Street Church
Granary Burying Ground
King's Chapel Burying Ground
Benjamin Franklin Statue
Old Corner Bookstore
Old South Meeting House
The Old State House
Site of Boston Massacre
Faneuil Hall
Paul Revere House
Old North Church
Copp's Hill Burying Ground
USS Constitution
Bunker Hill Monument
Tip: Grab a free map of the Freedom Trail from the Visitor Center in Boston Common or Faneuil Hall.
If you prefer taking a guided walking tour that focuses on providing you with plenty of history of Boston then consider signing up for the Boston Historic Walking Tour!
Note: No map, no problem! Follow the red brick trail from one site to another that is clearly marked. You can't miss it and likely many others will be following it too!
Granary Burying Ground
As mentioned above as part of the Freedom Trail, this is one stop not to miss. It might sound odd but I think it is such a beautiful cemetery.
There is obviously a darkness to being around so many buried people but it makes me wonder about the lives of those that call it home. If only we could hear their stories!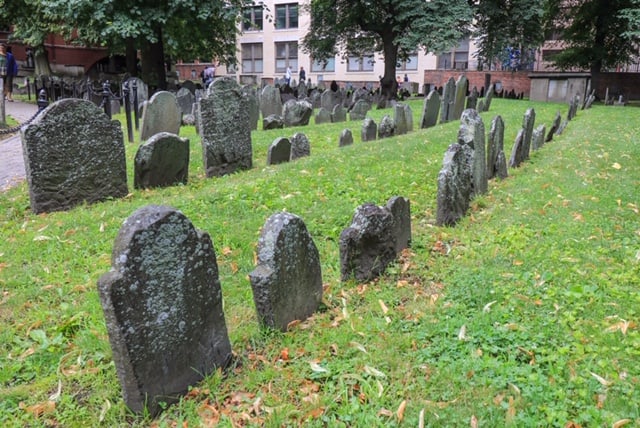 Established in 1660, Granary Burying Ground has some very well-known citizens resting here.
You can see the graves of Benjamin Franklin's parents, Paul Revere, John Hancock, Samuel Adams, and those who lost their lives in the Boston Massacre.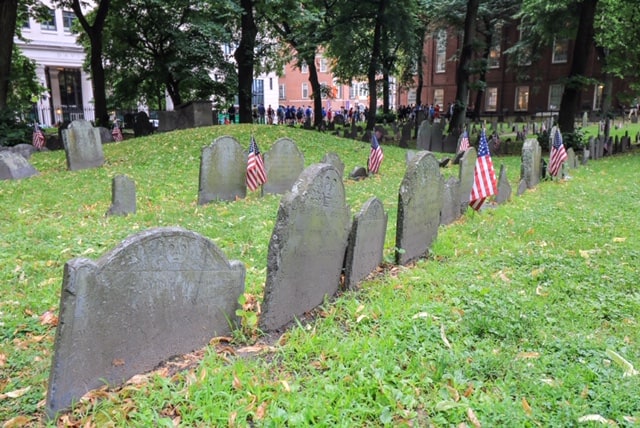 It is estimated that there are over 5,000 people buried here but not the same amount of headstones.
The headstones are said to have been moved around over the years. You can see the age of the headstones as many are remarkably simple with the engraving barely visible.
Faneuil Hall
Built in 1742, Faneuil Hall is famous for the fact that it is the site of America's first town meeting and also known as the "home of free speech".
It was a place where people could come together to speak their minds and served as a marketplace. Two notable events in 1764 were the protests against the Sugar Act and the Stamp Act.
Today, Faneuil Hall still serves as a marketplace with places to eat and plenty of shopping to do.
This is a great place to take a break and grab some lunch as there are many options to choose from. Although a separate building, choose from several food options in the Quincy Market building.
The Quincy Market is right behind Faneuil Hall and all part of the Faneuil Hall Marketplace. Although the Quincy Market is much newer than Faneuil, it is still a notable building to admire.
If you are a seafood lover then be prepared to get a cup of clam chowder or fresh oysters!
Make a note of looking up to see the grasshopper copper weathervane on the top of Faneuil Hall. Why a grasshopper?
Well when Peter Faneuil built it, he basically copied the one above London's Royal Exchange. The grasshopper symbolizes "commerce" which has taken place at Faneuil Hall all these years!
Tip: Another great lunch spot is the Union Oyster House which is along the Freedom Trail a few minutes past Faneuil Hall. Established in 1826, the "ye olde" Union Oyster House has a great atmosphere and great clam chowder. It is said to be one of the oldest operating restaurants in the U.S.!
Paul Revere's House
After filling your belly with New England specialties, continue on the Freedom Trail to visit Paul Revere's House.
Thought to be built in 1680, this house is where the famous Paul Revere lived and happens to be the oldest building in downtown Boston.
Paul Revere was one of the most well-known patriots during the American Revolution.
He was also a businessman and a craftsman that is famous for his midnight ride on a horse in 1775 to alert his fellow colonists that the "British were coming".
His actions (and others that were never mentioned) gave the American colonists an advantage and eventually what assisted in America's Independence from Britain.
You can see the monument or statue of Paul Revere riding his horse in the nearby Paul Revere Mall. It is on the opposite end of the mall (park) in front of the Old North Church along Hanover Street.
Tip: With the purchase of the Go Boston Pass, your ticket into Paul Revere's House is included!
Bunker Hill
After you cross over the Charlestown Bridge (that crosses the Charles River), make your way over to the Bunker Hill Monument.
As you walk over to the monument at Bunker Hill, don't miss out on passing through Winthrop Square.
Winthrop Square is a charming little park that has very adorable houses lined around it. About two blocks from Winthrop Square you will see the prominent Bunker Hill Monument standing atop "Bunker Hill".
This hill really is Breed's Hill but someone during that time got the hills mixed and well the name Bunker stuck…
The monument rests on the site of where the first battle sparking the American Revolution began and known as "The Battle of Bunker Hill".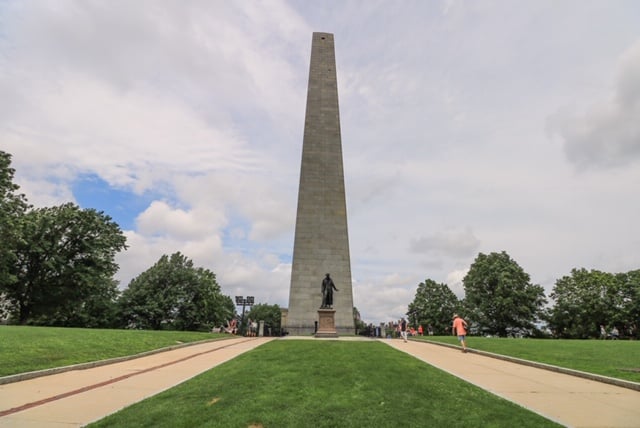 This battle set the tone of the war and showed that the colonists had the ability to take on the British and win.
The Bunker Hill Monument is an obelisk standing at 221-feet tall and open for the public to climb the 294 steps.
There is no elevator so be prepared to burn some calories from that clam chowder! There is also a museum across the street in case you want to learn more about the battle here.
North End
After visiting Bunker Hill and the USS Constitution, head back the way you came and go to Boston's North End.
If you didn't realize it, you walked through a portion of this Italian neighborhood earlier on the Freedom Trail.
As you walk down Prince Street towards the heart of North End, take a few minutes to see Copp's Hill Burying Ground (part of the Freedom Trail sites).
On the opposite side of the street enjoy the very slim or "Skinny House" that is a treat to see as one of the skinniest houses in the United States.
This is one of my favorite neighborhoods in Boston as it just has that historic feel to it and I can never get enough of cobblestoned streets! This is a great place to grab some dinner especially if you have a weakness for Italian food or a Lobster Roll.
There is much debate on the best Lobster Roll in town but one of the best is at Neptune Oyster.
Come with patience and a snack in your bag as there will likely be a wait for this delicious meal. Overall, this is a neighborhood to wander, get some awesome food, and follow the footsteps of history.
Tip: Looking for some dessert? Meander over to Mike's Pastry shop at 300 Hanover St. known for some of the best cannolis!
Explore The Best Tours In Boston!
Day 2 In Boston
If you didn't make it through all of the Freedom Trail then continue where you left off this morning. If you walked it all then continue on this Boston itinerary!
Beacon Hill
Even if you haven't been to Boston, you will likely have seen photos of Beacon Hill. It is photographed a lot for its incredible beauty and idyllic cobblestoned streets that you can't help but smile as you walk along them.
The picturesque neighborhood is bordered by the Charles River on one side with Boston Common and North End on the other side.
This is a great area to start off your day by grabbing a coffee or breakfast and taking to the adorable streets bathed in charm.
Beacon Hill is the oldest neighborhood in Boston with visibly distinct red-bricked houses, wrought-iron touches, and the American Flag hanging proudly throughout.
One of the most popular streets to walk through is Acorn Street. It is a short cobblestoned street that is probably one of the most photographed streets in the United States.
If you visit, do be respectful and not bother the residents or do a "photo shoot". Admire, take a few photos and keep walking…
Another area to explore is Louisburg Square that is surrounded by some of the priciest homes in all of Boston. Not surprisingly there have been some famous residents in this posh neighborhood!
If you want to learn more about Beacon Hill's fascinating history, read A Historic Stroll Thru Boston's Beacon Hill by Beyond The Miles Travel. There are so many interesting tidbits of history that you will love and have a greater appreciation for Beacon Hill.
Tip: If you plan on taking the Boston Historic Walking Tour then it will cover Beacon Hill on it!
Note: I found out after my last visit about the Gibson House which is an old house that is now a museum and showcases life back in the late 1800s and early 1900s. If you are interested you can find out more info on their website here.
Charles River Esplanade
When the weather is nice, one of the best places to visit in Boston is taking a stroll along the Charles River Esplanade.
The Esplanade is a 17-mile grassy stretch, an outdoor park, and paths for walking, running or riding a bike along the Charles River.
Not only do you get gorgeous views of the river but you can see boats sailing by and enjoy the breeze coming off the water.
During the summer months, you can even catch an outdoor concert or movie at the Hatch Shell.
Keep in mind, that there are only a few places to cross over the high trafficked Storrow Drive.
You can enter and leave any way you wish. I entered via the Charles Street bridge and exited on the Dartmouth Street bridge. It gave me the opportunity to enjoy a large section of the park.
The most popular pedestrian bridges to cross near downtown are:
Blossom Street where there is a pedestrian bridge from the Mass General Hospital campus.
Charles Street which will drop you off near the Community Boating Building.
Arlington Street takes you across the Arthur Fielder pedestrian bridge and drops you near the Hatch Shell.
Dartmouth Street that will lead you to the lagoon prior to getting to the river's edge.
Tip: With the Go Boston Pass, a Charles River Cruise is included in the pass!
Newbury Street
As you leave the Charles River Esplanade, take a quick tour of Marlborough Street which runs parallel to the river. Marlborough is the first main street you will cross over after Storrow Drive.
You will get to view beautifully crafted brownstones (houses) as you walk. It is residential so there isn't anything to do but admire the scenic street.
Next, make your way over to Newbury Street which is an extremely popular street and an excellent area to grab some lunch. Newbury Street runs parallel to Marlborough Street separated by Commonwealth Ave.
Known for shopping and restaurants Newbury Street is an enchanting area to relax and indulge a bit.
One place that I really enjoyed eating at is Stephanie's on Newbury. It is a prime spot to sit on the outdoor patio weather permitting and do some people watching.
They serve what is called upscale American food with salads, burgers, clam chowder, and plenty more to satisfy everyone in the group!
Copley Square
After lunch head over to Copley Square that is a public area in what is known as the Back Bay neighborhood.
It is also just a street away from Newbury Street so it is close by! It is surrounded by Trinity Church, The Boston Library, Old South Church, and hotels.
Copley Square has an artsy atmosphere with street performers entertaining you in every direction. It might have something to do with the square being named after an artist John Singleton Copley.
During spring through fall, it is a great place to get takeout lunch and enjoy watching people passing by and you might find a farmers market here!
Trinity Church
Trinity Church was built in 1733 but later burned down in the Great Fire of Boston in 1872.
The church you see today was completed in 1877 in a Richardsonian Romanesque architectural style. I love seeing the history of the old church with the modern buildings surrounding it.
Boston Public Library
Although I have been to Boston countless times, I hadn't ever been to the Boston Library until my most recent visit. Several people told me it was stunning inside and worth visiting. Let's just say I am so glad I listened to them!
The Boston Public Library might be my new favorite spot in Boston as I am a huge book lover.
The interior looks more like a palace than the libraries I'm used to seeing. It has a well-manicured outdoor courtyard with seating to relax with a book or just enjoy the peace.
Opening to the public in 1854, it is the third-largest library in the United States.
You will see marble staircases, chandeliers, and incredibly large statues of lions! If you feel like a caffeine pick me up or a bite to eat, there is a tea room and café that you can pop into.
You are free to walk around and view the various rooms and their grandeur. But if you would like to learn more about the history, then consider taking an art and architecture tour that is free and lasts about an hour. For up to date info on the tour times, visit their website here.
Prudential Observatory
In the Prudential Center, there are many options for shopping and eating but take a ride up to the Prudential Skywalk Observatory for epic views of downtown Boston.
On the 50th floor of the Prudential building, the Skywalk Observation deck offers 360-degree views of the city below.
With the Go Boston Pass, your ticket up to the Skywalk Observatory is included in the pass!
It is a great spot to take in after your second day of sightseeing. Depending on the time of day, you might want to visit the Reflection Pool located behind the Prudential Center and next to the Christian Science Plaza.
The Reflection Pool looks gorgeous in the afternoon with the Prudential building in the background. If you love taking photographs then you will love it.
There are numerous restaurants to choose from in and near the Prudential building but one I love that isn't too far is The Salty Pig (130 Dartmouth St).
Prudential Address: 800 Boylston St, Boston
Reflection Pool Address: 93-105 Falmouth Street, Boston
Explore Fun Tours In Boston To Take!
Day 3 In Boston
Start out your third day in Boston with a good cup of coffee and a yummy bite to eat at Tatte Bakery & Café. There are several locations around the city so you should have no trouble finding one close to your hotel.
Cambridge
Although not technically in the city of Boston, Cambridge is just across the Charles River. As it is so close and easy to get to, I include it in the best things to do in Boston.
Cambridge is home to Harvard University and MIT which are some of the best universities in the United States and very elite.
Oh and if you haven't had your coffee and breakfast yet, there is a Tatte Bakery & Café in Cambridge too (1288 Massachusetts Ave, Cambridge)!
I wouldn't say there is a ton to do in Cambridge but I really enjoy walking around Harvard's campus as the buildings are some of the oldest in America.
Harvard was established in 1636 and no shock that it is the first university in the United States.
As you cross Harvard Yard, notice all the aged red-bricked buildings surrounding the Yard. To find out more tidbits of fascinating history, consider taking a Crimson Key Tour. The hour-long tour is free of charge so why not! Check out tour info here.
After passing through Harvard Square outside of campus, you can see Harvard crew teams practicing on the Charles River. You will most likely see in the spring and fall as Harvard is quite famous for their crew!
Tip: If you are ready for lunch, get what might be one of the best burgers at Mr. Bartley's Burgers and also featured in the movies Good Will Hunting and The Social Network.
Fenway Park
If you plan to visit Boston between the months of April and September seeing a live Boston Red Sox baseball game at the iconic Fenway Park is a must.
Fenway Park is the oldest ballpark in the United States built in 1912 and has an Americana nostalgia to it.
Even if there are no games during your visit, you can walk around the ballpark and take in the history of this famous landmark.
It has even been nicknamed "America's Most Beloved Ballpark".
If you want to take a Fenway Park tour (it's included with the Go Boston Pass) and learn about the history, tours are offered year-round but times vary depending on the game schedule.
About a 5-10 minute walk from Fenway is the Back Bay Fens that is an urban park. So, if you are looking for a bit of nature this is the spot as there is also a rose garden to wander in.
Address: 4 Jersey Street, Boston
Samuel Adams Brewery
If you like beer and the making of it, then you will enjoy visiting the Samuel Adams Brewery just minutes from downtown Boston.
Most refer to the beer as "Sam Adams" for short and named after one of the founding fathers of the United States.
Hop in an Uber, Lyft or take the T's (metro) Orange line to the Stony Brook Station and get there in minutes.
The brewery might be the most famous for its Boston Lager using a recipe that goes back many generations of Jim Koch's family. Koch started this brewery out of his home and opened it to the public in 1988.
Take a tour of the brewery to learn how the beer is made and get three tastings at the end! The tours are Monday through Saturday.
But if you don't have time to take a tour and just want to taste, there are two Tap Rooms. One is located at the brewery and the other is the Faneuil Hall Tap Room at 60 State Street, Boston.
Address: 30 Germania Street, Boston. For current Brewery and Tap Room hours, visit their website, here. Or if you purchase the Go Boston Pass then your tour ticket will be included!
Bonus Suggestions
At this point, you have completed the best things to see on a Boston itinerary, congrats! If you saw everything and have more time, consider visiting a museum or taking a unique tour. Here are some bonus suggestions of places to visit in Boston!
Boston Tea Party Museum & Ships – visiting this museum on the water will take you back into time of the famous event that altered American history. The big night of destroying "the tea" is re-enacted as a rebellious period in 1773 leading up to the American Revolution.
Isabella Stewart Gardner Museum – this former house of Isabella Stewart Gardner was an art collector who happened to have incredible pieces and some of which are reportedly stolen. Although the crimes have not been solved, the picturesque home (looks more like a Venetian palace) serves as a museum with Asian, European, and American art (included with the Go Boston Pass).
         Note: The museum is on the edge of Back Bay Fens and near Fenway Ballpark.
Rose Kennedy Greenway – is an urban oasis along the Waterfront, North End, and the Financial District with garden landscapes, beer gardens, food trucks, and plenty of open space to walk.
New England Aquarium – Located on the wharf and close to the Greenway above, this is a popular thing to do with kids (included with the Go Boston Pass).
Duck Boat Tour – It might be a little bit corny but the Duck Tours are fun in that it takes you on a tour of Boston both by land and water! Yep, it is a special type of vehicle that can drive right into the water and float (included with the Go Boston Pass).
Best Places To Eat in Boston
Boston has so many excellent places to eat that I can't possibly name them all here! Although you can find any cuisine in Boston, it is probably best known for its seafood and Italian food.
And make sure you try a Lobster Roll which is a New England favorite and one I miss having in California.
I have eaten at all of these restaurants except for the rooftop bar and can highly recommend them based on my experience. Bon appetite!
Union Oyster House – 41 Union Street, Boston
Neptune Oyster – 63 Salem Street, Boston
The Daily Catch – 323 Hanover Street, Boston
Giacomo's Restaurant – 365 Hanover Street, Boston
Mike's Pastry – 300 Hanover Street, Boston
Stephanie's on Newbury – 190 Newbury Street, Boston
The Salty Pig – 130 Dartmouth Street, Boston
Sweetgreen – 659 Boylston Street, Boston
Life and Alive Organic Café – 431 Boylston Street, Boston
Tatte Coffee – several locations
Lolita's Cocina & Tequila – 271 Dartmouth Street, Boston
Liberty Hotel – Used to be an old jail and a great place for drinks! 215 Charles Street, Boston
Wagamamma – 100 North Avenue, Boston (Seaport neighborhood)
Mr. Bartley's Burgers – 1246 Massachusetts Ave, Cambridge
The Hourly Oyster House – 15 Dunster Street, Cambridge
Rooftop @ Revere Hotel – drinks with a view at this rooftop bar! 200 Stuart Street
Dona Habana – 811 Massachusetts Ave, Boston
Tip: If you are a foodie and want to check out the best foods that Boston is known for then consider one of these two food tours! The Boston Italian Food Tour takes you to Boston's North End for a tasty array of Italian foods that are a must to try. It is a 2-hour walking tour.
For a longer in-depth food tour, take the Boston North End to The Freedom Trail Food Tour which is a 5-hour tour. You will get to try the best Italian staples as the previous tour and more! Plus both tours include a lot of fun history too.
How To Get Around Boston
Boston is a city that is easy to get around on foot if you are focusing on the downtown area.
Plus, walking is the best way to see unique places on your way to your next destination. For those locations that are maybe too far apart, I recommend taking the T.
The T is Boston's subway or metro system that can take you to where you need to go both near and far. For a detailed map of the T lines, you can get a map from a Visitor Center or view on MBTA's website.
While you are in the city I would discourage getting a rental car as you won't need one and parking is very expensive.
If you do plan to take some day trips then maybe add those on at the end of your trip or vice versa and rent a car then. Find the best car rental deals here!
Another great option for getting around is to purchase a ticket for the Boston Trolley Hop-On Hop-Off.  And if none of those sound appealing, there is always an Uber or Lyft to take you to your destination!
When To Go
The best time to visit Boston is from the spring through fall months. That is when the weather is at its prime and no fear of it being freezing cold.
Boston can have cold and snowy winters so unless you have an event to attend, I would probably stay away during those months.
If you have ever been to New York City or Philadelphia, the weather is pretty similar for the most part. Like any other city, the summer months can get crowded but the weather is ideal for so many outdoor activities.
The fall months are some of my favorites months as the temperatures are still nice, fewer crowds and you might get to see the leaves begin to change colors on the trees! New England is definitely the place to be if you want to go leaf-peeping in autumn!
Start planning your trip to Boston and explore the best flight deals today!
Got Travel Insurance?
Don't leave home without travel insurance as you never know what might happen on a trip! It is always when you least expect it that something can go wrong like getting sick, in an accident or cancellation of some sort. Get a no-obligation quote from two trusted travel insurance companies for peace of mind on your next trip!
Looking For More Travel Inspiration?
15 Best Ways To Experience Chicago
15 Best Things To Experience In San Diego
10 Things You Must Do in Downtown Los Angeles
15 Best Things To Do In Santa Fe, New Mexico
11 Best Wineries In Fredericksburg, Texas That Are A Must To Try
15 Ultimate Things To Do In Dubrovnik
The Best Places To See In Jaipur The Pink City
Disclaimer: My post contains some affiliate links and as an Amazon Associate, I may receive a small commission if you click a link and purchase through that link. It won't cost anything to you to use these links but is very much appreciated. Thank you!