Disclaimer: Traveling Ness contains affiliate links and is a member of the Amazon Services LLC Associates Program. If you make a purchase using one of these links, I may receive compensation at no extra cost to you. See my privacy policy for more information.
The Best Locations To Photograph Chicago
Whether an amateur or professional photographer, anyone traveling to the "Windy City" will find endless locations to photograph Chicago that are unique and worth capturing. Some of the best places to take pictures in Chicago are of its stunning skyline and architectural marvels that will delight any photographer.
Chicago stands out from other big cities as it has the perfect combination of both a big city vibe and a calming outdoor serenity with its lakes, parks, and rivers.
Visiting the best Chicago photography spots is an awesome way to explore the places and history that make this city stand out.
Listed below are the best places to take pictures in Chicago that capture the beauty and memorable sights of the city. To find out what other attractions to see while visiting, read my post 15 Famous Things About Chicago You Must See.
Take a Tour!
If you are not familiar with the downtown Chicago area then consider taking this walking tour where you will learn a lot about Chicago's history, culture, and architecture. Plus you will get to visit some of the places I recommend below!
Tip: Since you will be doing a ton of walking, having a super comfortable shoe that also looks great with anything you wear is important. This pair of walking shoes is perfect for scouting out places to photograph as they will keep your feet feeling great!
Map Of Best Photo Spots In Chicago
Best Places To Photograph Chicago
1. Millennium Park
Millenium Park is the most visited attraction in they city and one of the most popular Chicago photography spots to capture. It is also a great place to jumpstart your exploration of the city. Located in the heart of downtown along Michigan Ave, it is nestled between architectural marvels and Lake Michigan.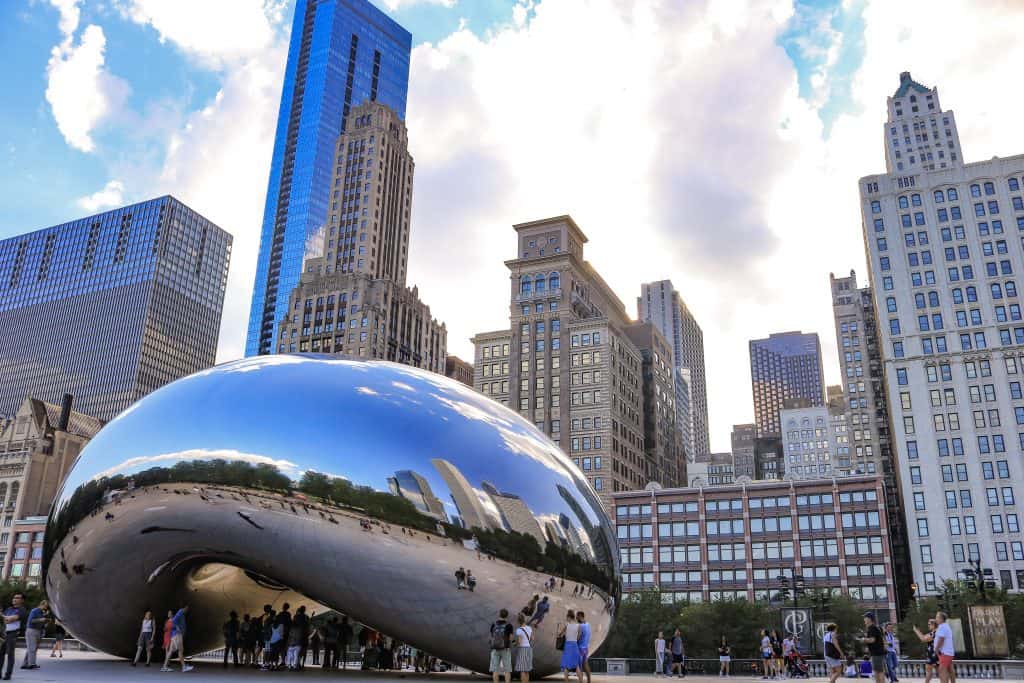 Wander the beautiful gardens and have fun taking photos of Cloud Gate or better known as "The Bean". It is a sculpture in the shape of a bean where you can see a reflection of yourself or the city skyline! In an attempt to avoid an insane number of people in your photo go very early or in the evening.
A few steps away is the Crown Fountain featuring two towers merging art with water. It is especially popular with kids as a place to cool off in the summer heat.
2. North Ave Beach
Whether you are looking to hit the beach (yes, it is technically the shores of Lake Michigan) or enjoy a run along the waterfront, North Avenue Beach is a destination must.
Other than the two reasons mentioned above, it is one of the best places to view and photograph the city skyline, especially in the early morning to watch the sunrise.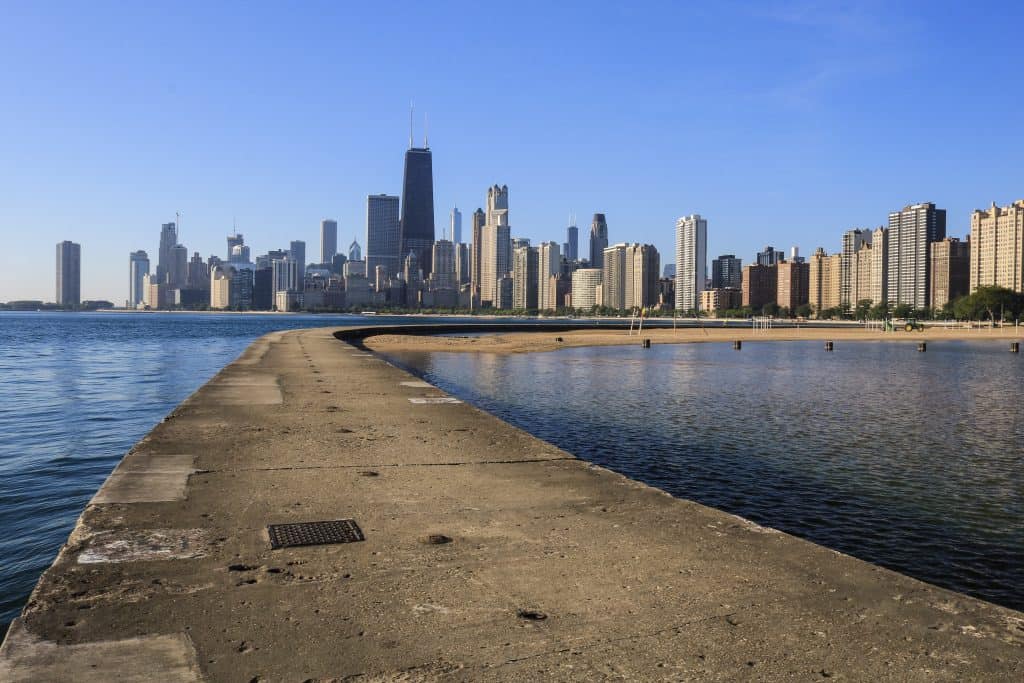 I recommend walking out to the end of the jetty for a spectacular panorama of Chicago's cityscape especially if you are into photography.
The easiest way to reach North Ave Beach is by a Uber/Lyft rideshare or renting a "Divvy" bike from many locations in the city.
3. Rookery Building
The draw to photograph the Rookery is the beautiful and ornate staircase inside. The Rookery was built in 1888 but received a major facelift by the famous architect Frank Lloyd Wright in 1905.
From the outside, it doesn't look like anything too fancy but once you walk inside you will be in awe of its grandeur.
It is a masterpiece and an example of one of Chicago's first commercial skyscraper. To get the full history and access to areas of the building, book a tour with the Frank Lloyd Wright Trust.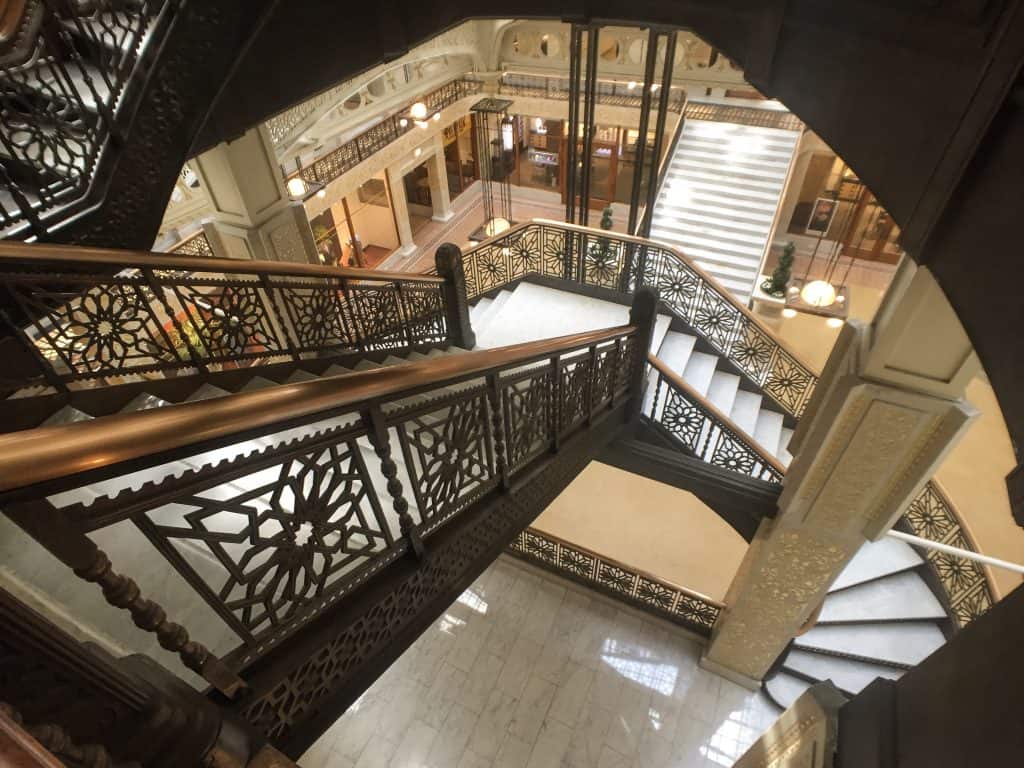 Tip: Tours are only Monday through Friday so plan your trip accordingly if you plan to visit. There are two different tours and depending on the day will determine which one you take.
I recommend taking the Rookery Light Court + Burnham Library tour on Mondays and Wednesdays.
Location: 209 South LaSalle Street, Chicago
4. Chicago Riverwalk
The Riverwalk is an excellent place to wander as the path is 1.25 miles long steps below street level along the Chicago River. You get to see up close and personal the busy boating life on the river and plenty of places to grab a bite to eat or drink.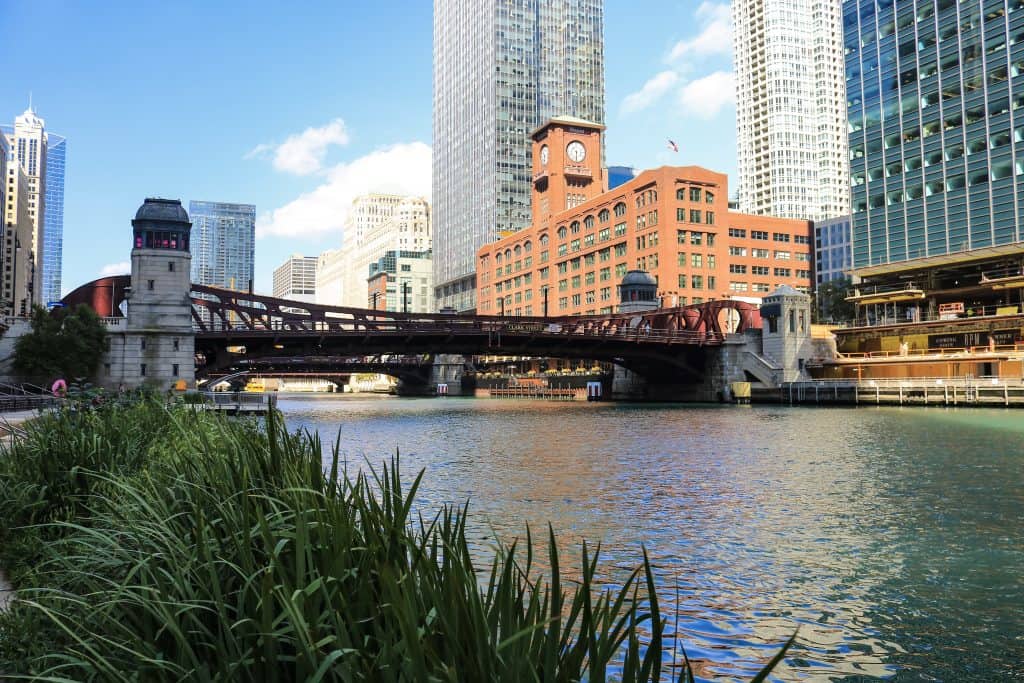 Sit back to take a break from the hustle and bustle of the streets above and enjoy the view of some of Chicago's most famous buildings known for their architectural feats.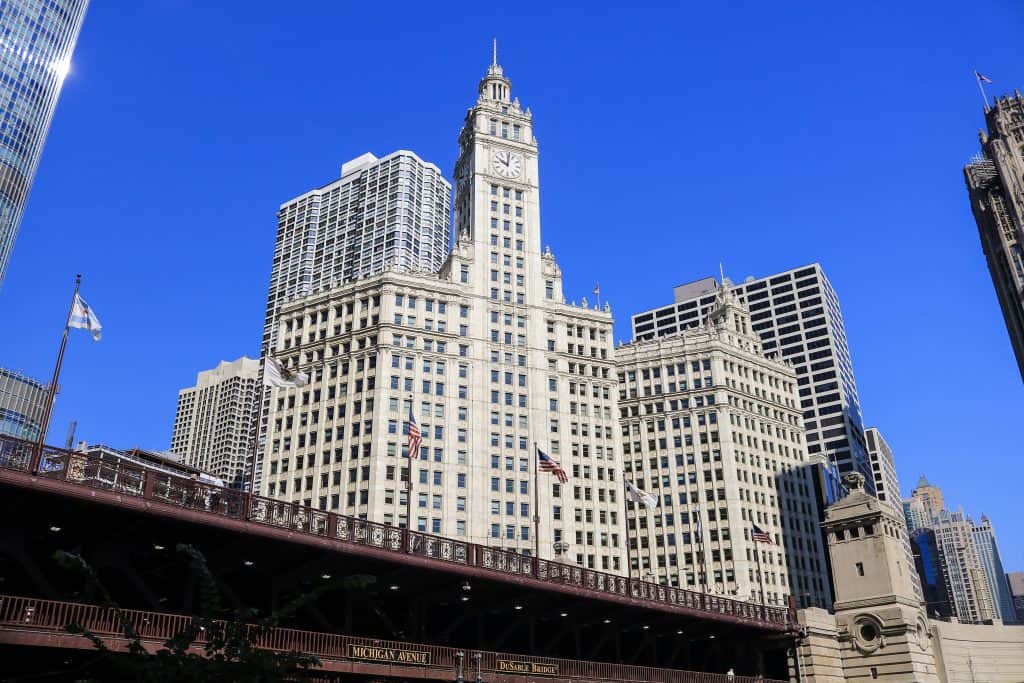 Plus, if you are like me and love bridges, there are many wonderful bridges to photograph too!
5. South Pond Pavilion (Lincoln Park Zoo)
On the edge of the Lincoln Park Zoo is the South Pond Nature Boardwalk which is an oasis in the city and has many photo opportunities. It is a great place to walk, run or just take in the Chicago skyline. I especially liked capturing the skyline framed by the South Pond Wooden Pavilion.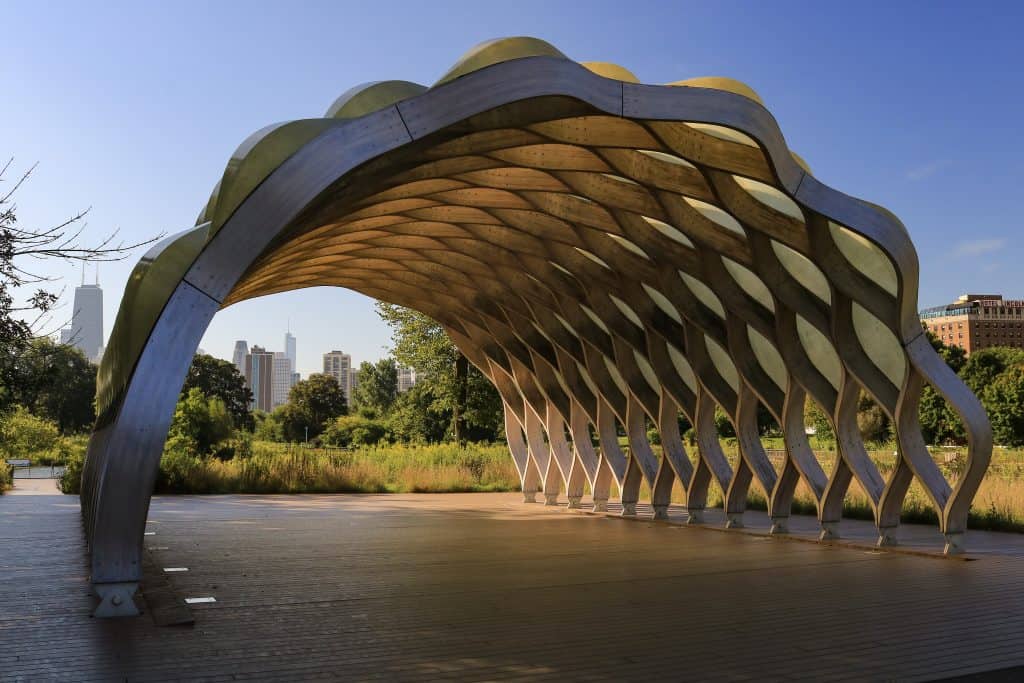 Since it is on the outer edge of the zoo, access is free. If you are up for some walking, it is a nice leisurely stroll from North Avenue beach.
Location: At the South Pond along the Nature Walk, outside of the Lincoln Park Zoo.
6. Milton Lee Olive Park
The entrance to Olive Park is a few minutes walk north of the Navy Pier and easy to do both while there. There is a long walkway that is lined with beautiful trees that makes a great background to any photo.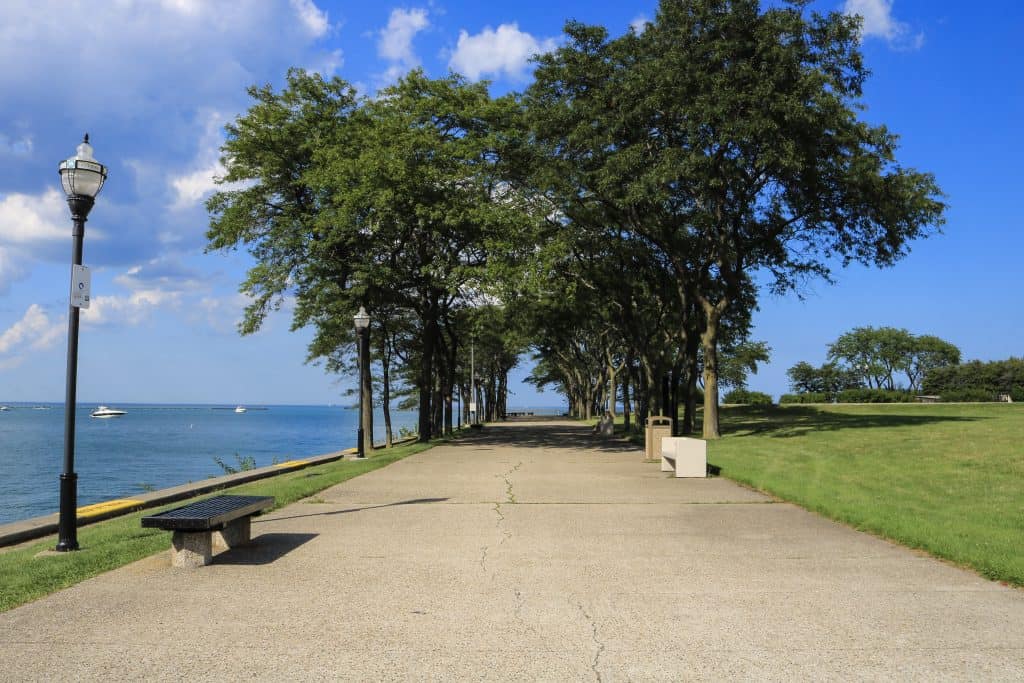 As you get halfway down, to the left is a deck jutting out onto Lake Michigan that offers views of the skyline including the famous John Hancock building. I found this park to be lovely and very quiet which can be a welcomed retreat from the noise of the city.
7. Drinks On A Rooftop Bar
Hands down a prime way to see the beauty of Chicago is with a birds eye's view from a rooftop bar. It is a great way to capture some stunning views and have a yummy cocktail to go with!
There are many to choose from but a few that I love is Cindy's which is located up top of the Chicago Athletic Association Hotel and provides views of Millennium Park, Lake Michigan, Grant Park and more.
In contrast, for a view of life on the Chicago River, head over to the London House rooftop bar to view famous high-rises, beautiful architecture and the boating action along the Chicago River. The best time to relax on one of these rooftop bars is near sunset as the lighting is magic.
8. Grant Park & Buckingham Fountain
Grant Park is known as "Chicago's front yard" and a rather impressive one at that! Just a short walk over from Millennium Park, it is situated along Lake Michigan hosting gardens, museums (The Field Museum and Art Institute of Chicago), the Shedd Aquarium and views of Chicago's skyline.
In the heart of Grant Park is Buckingham Fountain. It is a gorgeous fountain, one of the largest in the world and features water displays throughout the day running April to October.
Note: If you are visiting in the winter months, the fountain won't be any running water as its too cold!
9. Wabash Art Corridor
One of my favorite things to photograph in a city is urban mural art and if that is your thing also, check out the Wabash Art Corridor that is home to several murals adorned on various buildings.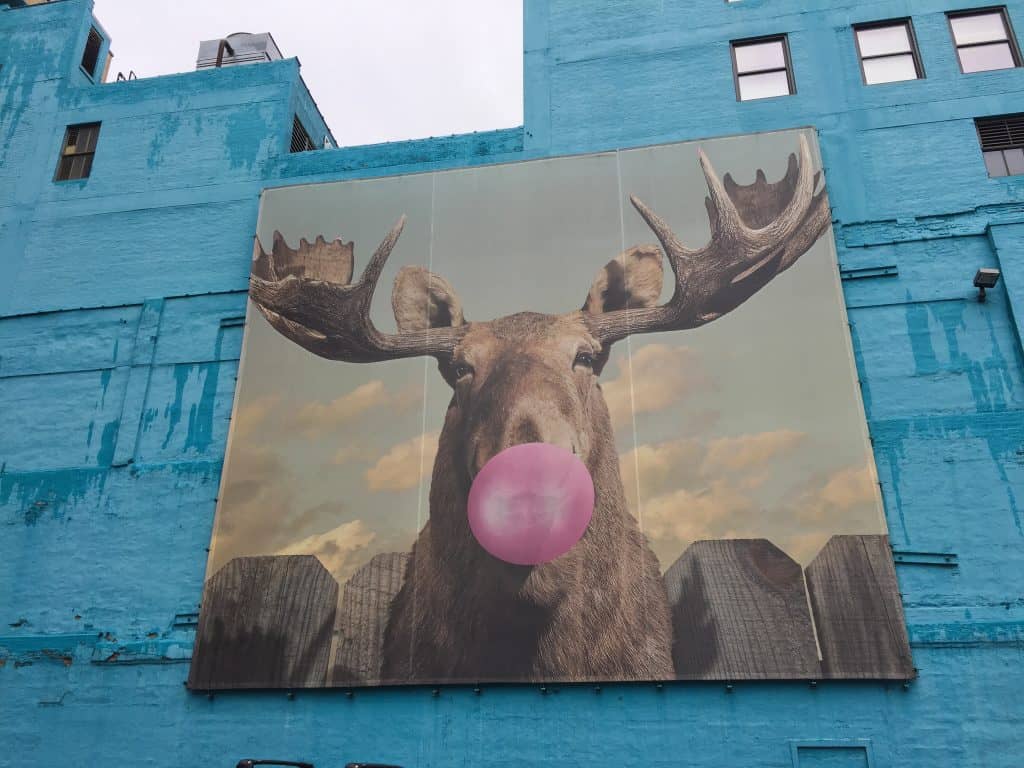 It provides students an opportunity to be creative in art on buildings in the South Loop area of downtown along Wabash Avenue. The "Moose Bubblegum Bubble" caught my attention the most with its colorful and playful feel.
Location: You can find this mural at 33 E. Congress Avenue (and Wabash Ave) in a parking lot. It can also be seen while riding the L train around the Loop.
10. Willis Tower Skydeck
The Willis Tower or formerly known as the Sears Tower (and what most still call it today) rises at 110 stories and is the tallest building in Chicago. With incredible views of Chicago, you can see on a clear day, four states (Indiana, Wisconsin, Michigan and of course Illinois).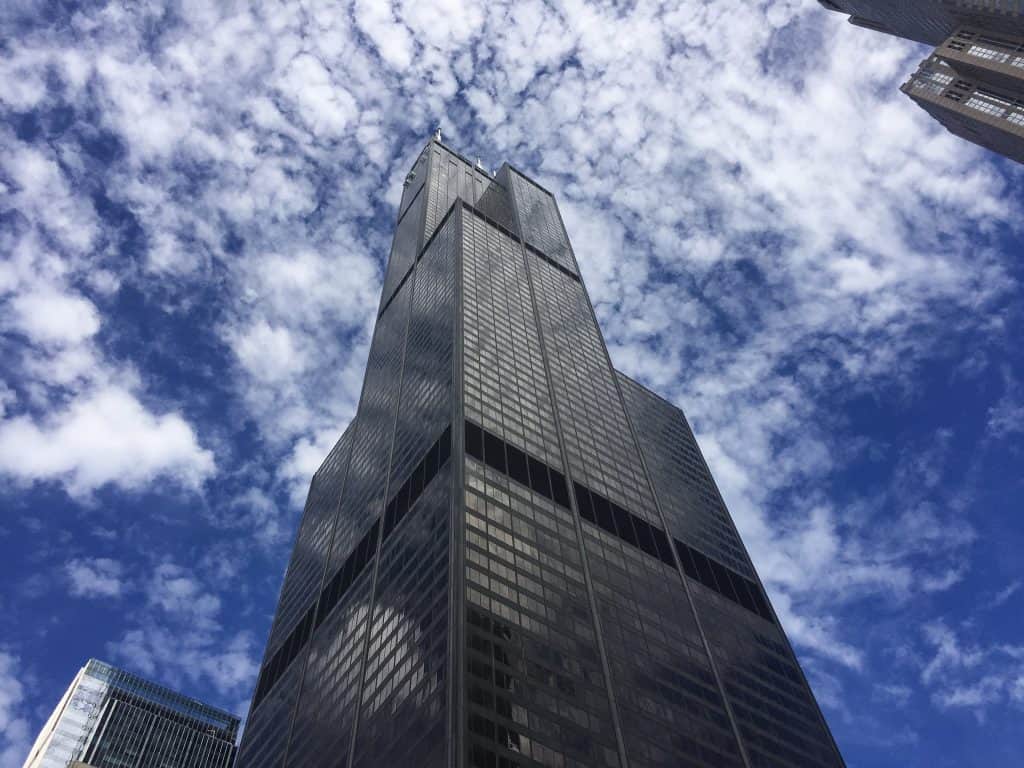 In more recent years, the draw to the Willis Tower is the Skydeck up on the 103rd floor that has two Ledge glass balconies that extend four feet outside of the tower! It looks more like a glass box and is terrifying to see the street 1,353 ft below but can't be missed!
If you plan to visit many attractions in Chicago, consider purchasing the Go Chicago Pass where you get discounts on several top attractions. Visiting the Willis Tower is included too!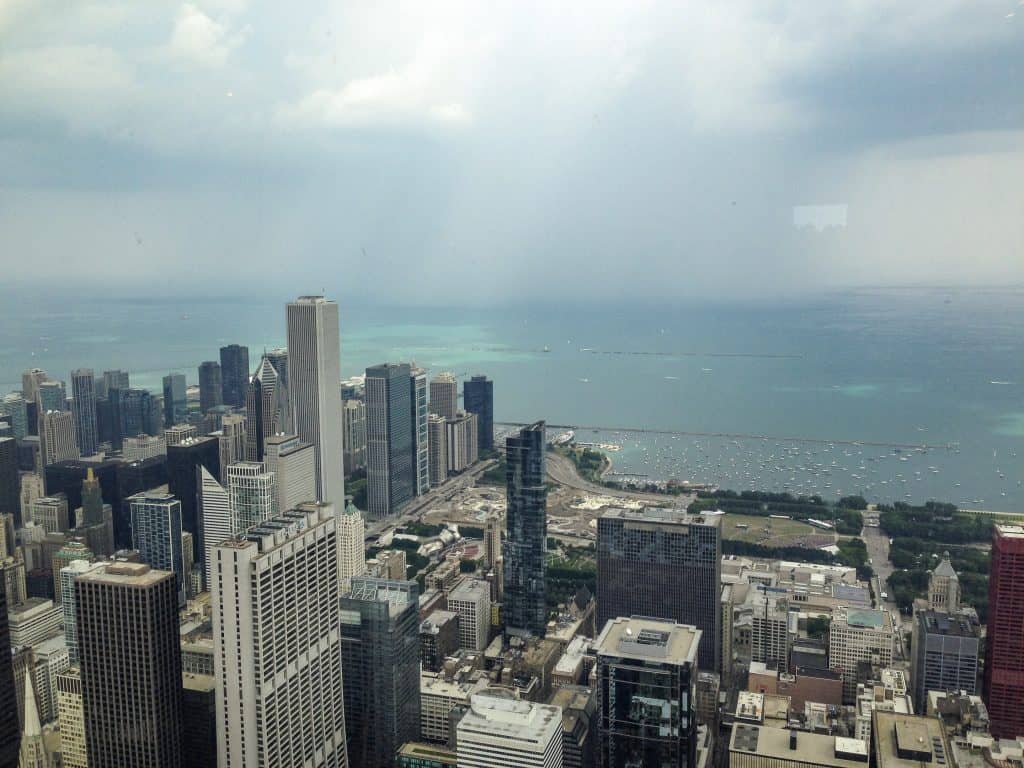 Tip:  To capture a side view photo of yourself, have someone take your picture from the other Ledge for a different perspective.
11. 360 Chicago
360 Chicago is an observation deck on the 94th floor of the John Hancock Building is and located along the Magnificent Mile about a block north of the Chicago Water Tower.
As of 2018, the name "John Hancock" has been removed and as of this post, it doesn't have a name but rather referred to by its address of 875 N Michigan Ave.
But I have a feeling we will all still call it the John Hancock building… If you don't want to waste time standing in line, get your ticket to go straight up to the 360 observation deck!
The observation deck offers breathtaking views to photograph Chicago's skyline and Lake Michigan. And if you are feeling adventurous, opt to purchase a ticket for Tilt in combination with your general admission ticket.
Hence its name, visitors grip a window pane as it "tilts" 30 degrees out 1,000 feet high over Magnificent Mile!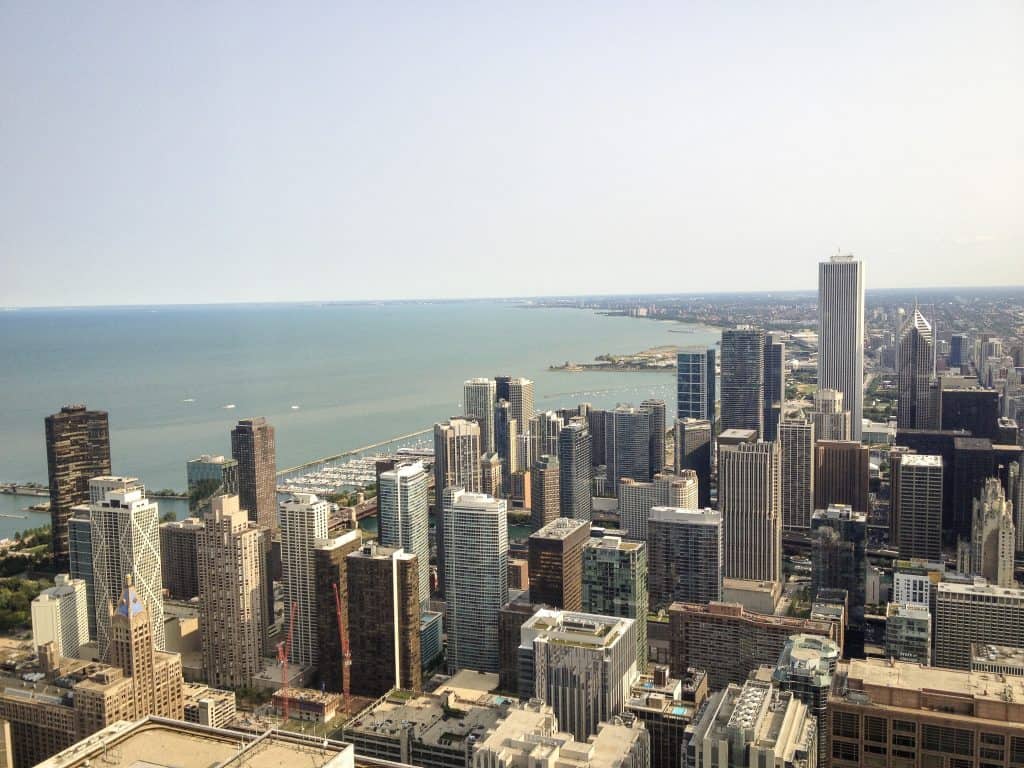 Tip: I suggest heading up to the Signature Lounge on the 96th floor to enjoy a cocktail and stunning views galore over the dining room.
12. Chicago Theater Marquee
Even if you have never visited Chicago, you most likely will recognize the theater's marquee with "Chicago" lit up in lights. It has been featured in many shows and movies.
Whether you see it by day or night, it's appealing to see from the exterior and even better if you are lucky enough to catch a concert or show. Capturing the Chicago sign lit up in lights at night is a great excuse to practice night photography.
Tip: If you buy the Go Chicago Pass that includes huge discounts on many attractions, the Chicago Theatre Tour is covered in that!
13. "L" Train S-Curve
If you are looking to photograph Chicago's above ground "L" train, its best viewed on an S-curve of the "Loop" in downtown Chicago. A good vantage point is from up top on the 7th floor of the  Mart Parc Garage located on the corner of Wells and Kinzie streets.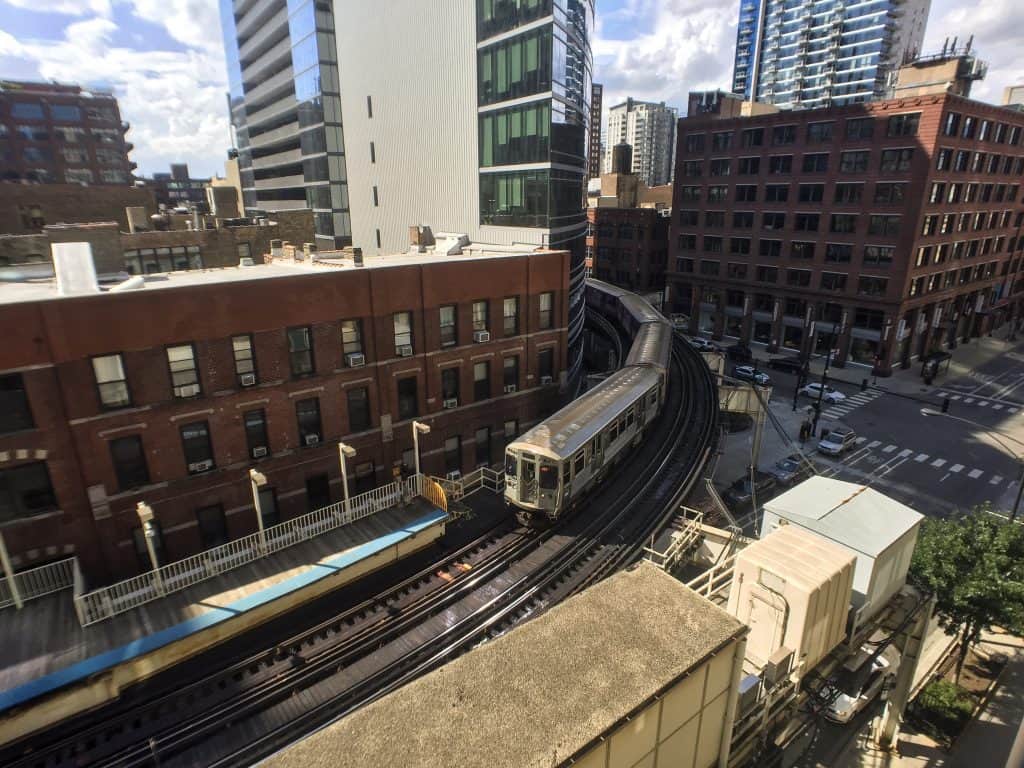 Be patient as you might have to wait in between trains to glimpse the "L" going by. If you have a tripod, it is a cool spot to practice long exposure with if you are there at dusk or evening.
14. On Lake Michigan
Viewing the entire Chicago skyline, Navy Pier and beaches from a boat on Lake Michigan is pretty awesome. Depending on the size of your group, renting a boat might be worth doing.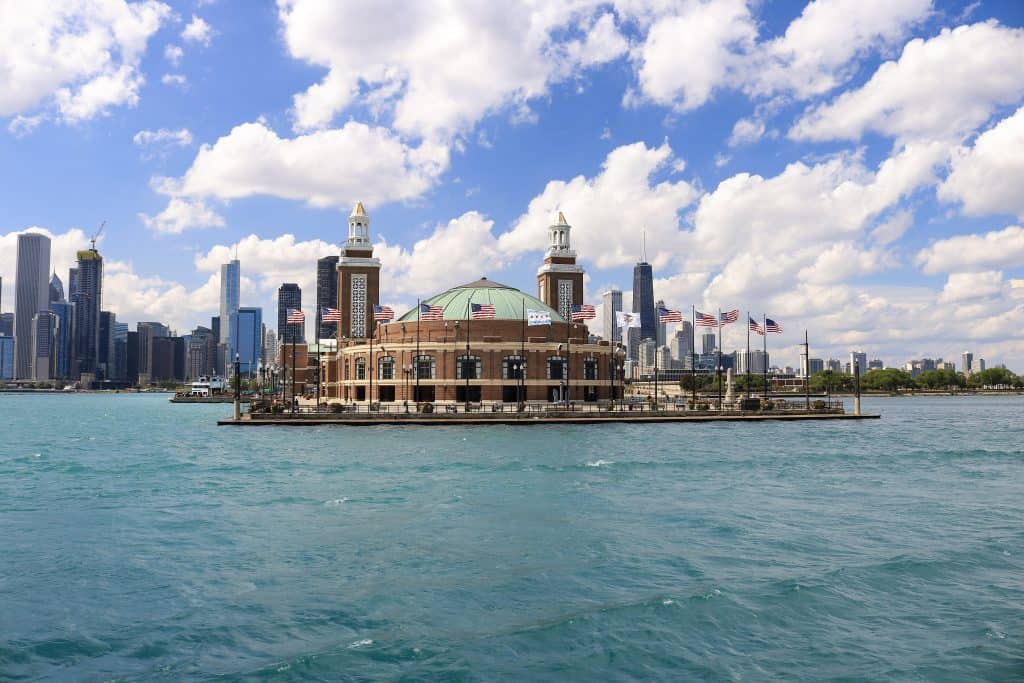 But if you are like me and traveling solo, I took the Chicago Lake Tour and it was awesome on a sunny day.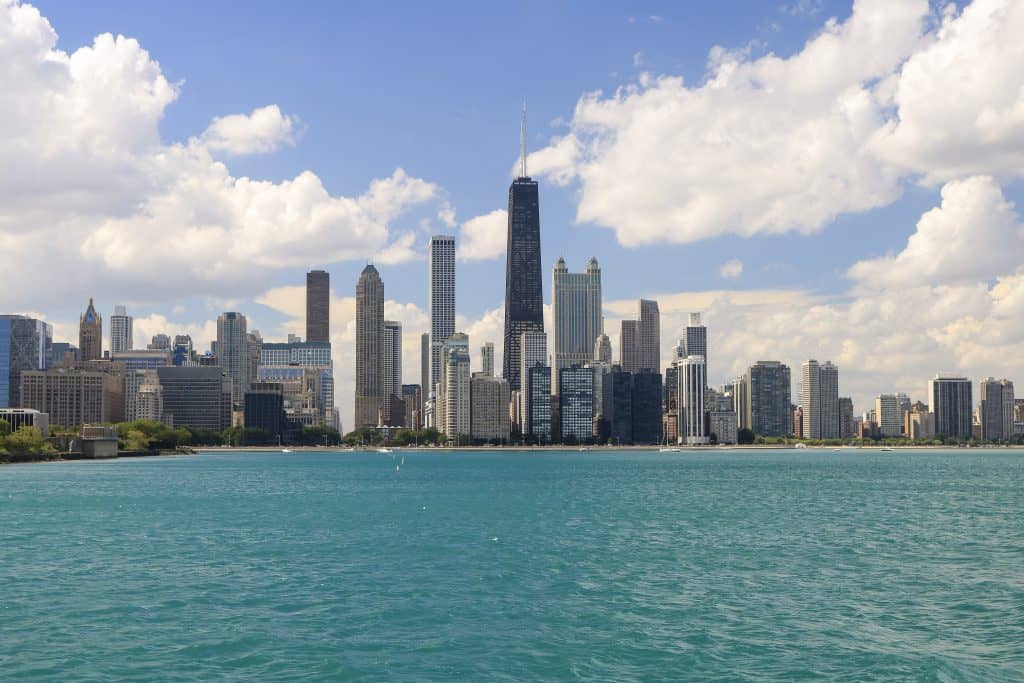 The tour takes you out onto Lake Michigan where you get to see the city skyline and learn some Chicago history! There are many opportunities to photograph Chicago from several angles which is a bonus.
Where To Stay In Chicago
If you want to be near all the downtown attractions with easy walking access, staying around the Chicago Loop or along Magnificent Mile are the best options. There are many hotels to choose from but my favorite so far might be the Palmer House.
The Palmer House is located in the Loop and is a luxurious hotel filled with so much interesting history. Plus, it is a Hilton hotel which means I got points for staying there! Even if you don't stay there, go visit the lobby and grab a drink at the bar to marvel at the stunning ceilings and décor.
A few other hotels that offer a luxury stay with great location are The Westin Michigan Avenue and the Hilton Chicago.
How To Get To Chicago
If you are visiting Chicago, you are likely staying in the downtown area around the "Loop" which is the most central region of downtown. There is a debate on why it is called the Loop. It's said that the "L" CTA Train (elevated train/subway) travels in a loop around the central downtown with eight stops.
There are many options to reaching downtown such as hailing a taxi or scheduling an Uber/Lyft. But if you don't have a ton of luggage, I recommend taking the L train (subway) as it is much cheaper and quicker.
You can catch the L train from both Midway International (MDW) and O'Hare International (ORD) airports.
Take the Orange Line CTA train from Midway International Airport to downtown Chicago. The fare costs $2.50 (one way) with a 20-25 minute travel time. Or take the Blue Line CTA train from O'Hare International Airport costing $5.00 (one way) with a 45 minute ride.
I have only taken the L CTA train from Midway, so here is step-by-step directions: Once you get your bags, look for signs that say, "CTA trains" or "Trains to the City" and head that way. To make it easier, follow the painted "orange" line that will lead you to automated vending machines to buy a Ventra ticket. I purchased a round-trip ticket for $5.00.
Hop on the train heading to downtown and exit on one of the 8 stops on the Loop. They are Harold Washington Library-State/ Van Buren, La Salle/Van Buren, Quincy, Washington/Wells, Clark/Lake, State/Lake, Washington/Wabash or Adams/Wabash.
Start planning for your trip to Chicago and explore the best flight deals today!
Looking For More Travel Inspiration?
15 Famous Things About Chicago You Must See
11 Best Wineries In Fredericksburg, Texas That Are A Must To Try
Allbirds Review: The World's Most Comfortable Shoes?
17 Fun Things To Do In Orange Beach, Alabama On Your First Visit
15 Best Things To Do In San Diego
How To Spend The Best Weekend In Albuquerque
Boston Itinerary: How To Spend 3 Awesome Days
10 Best Things To Do In South Dakota
Got Travel Insurance?
Don't leave home without travel insurance as you never know what might happen on a trip! It is always when you least expect it that something can go wrong like getting sick, in an accident or cancellation of some sort. Get a no-obligation quote from two trusted travel insurance companies for peace of mind on your next trip!
Disclaimer: My post may contain affiliate links, which means I may receive a small commission if you click a link and purchase through that link. It won't cost anything to you to use these links but is very much appreciated. Thank you!