Disclaimer: Traveling Ness contains affiliate links and is a member of the Amazon Services LLC Associates Program. If you make a purchase using one of these links, I may receive compensation at no extra cost to you. See my privacy policy for more information.
5 Best Plantations Near New Orleans, Louisiana That Are A Must To See
The plantations near New Orleans are more than lavish mansions and gorgeous gardens but filled with history and stories to be told. Wondering which New Orleans plantations to visit? In this guide, I share the best plantations in Southern Louisiana to explore on your next trip.
Visiting the plantations in New Orleans and anywhere in the South, you will learn about the complex and dark history that is entailed.
Plantations have been romanticized in movies for their decadence, architecture, and sipping Mint Juleps.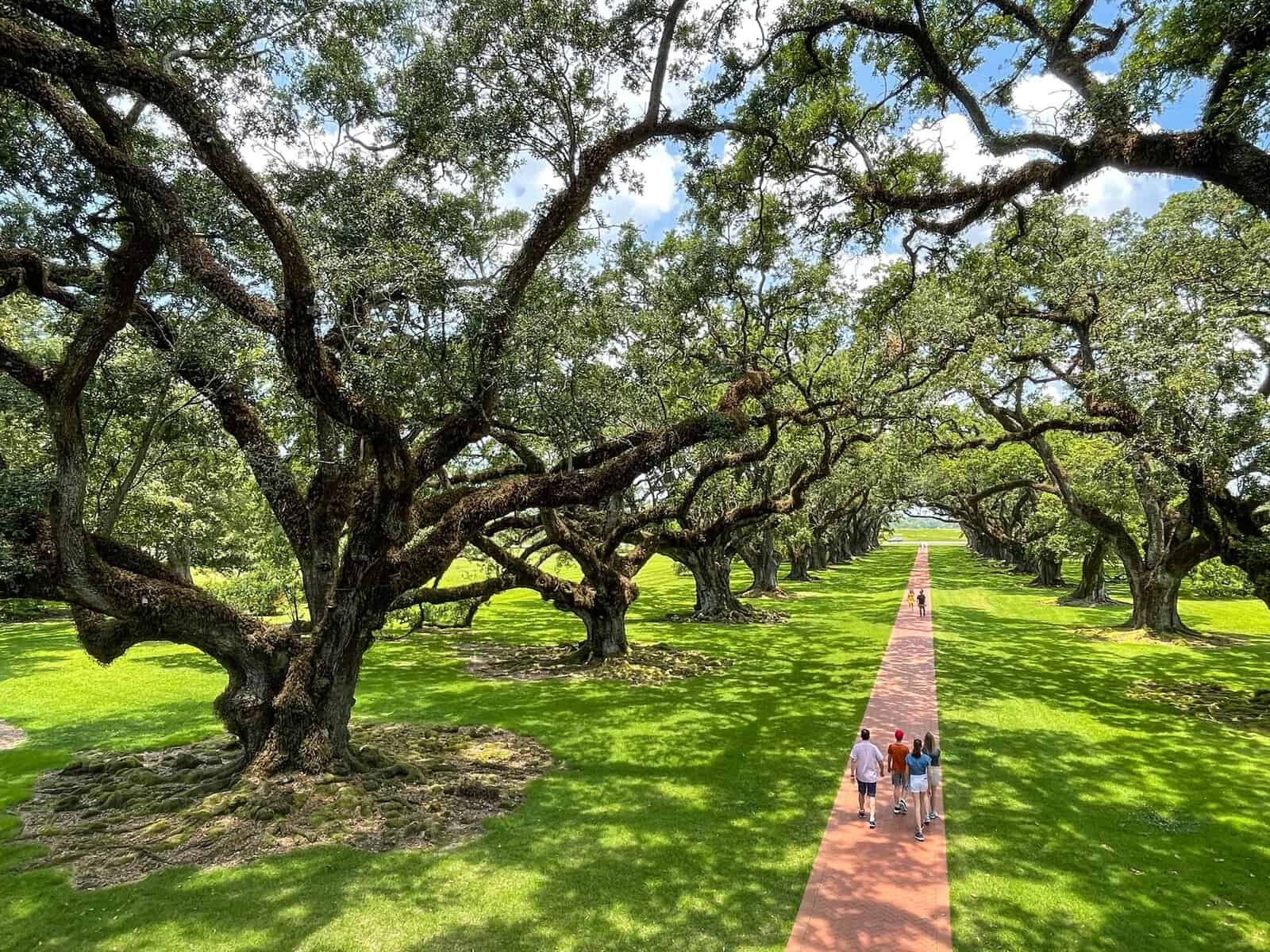 And yes, no question did I find the plantations beautiful! But it was incredibly educational to hear the facts and perspectives of those enslaved.
They are stories I had never heard before and I felt honored to hear their voices and leave with a new understanding.
Where Is New Orleans?
New Orleans (NOLA) is located in Southern Louisiana on a crescent-shaped piece of land right along the Mississippi River and minutes to the Gulf of Mexico.
Louisiana is tucked between Texas to the west, Mississippi to the east, and Arkansas to the north.
New Orleans is considered part of the South and the Gulf Coast of the United States.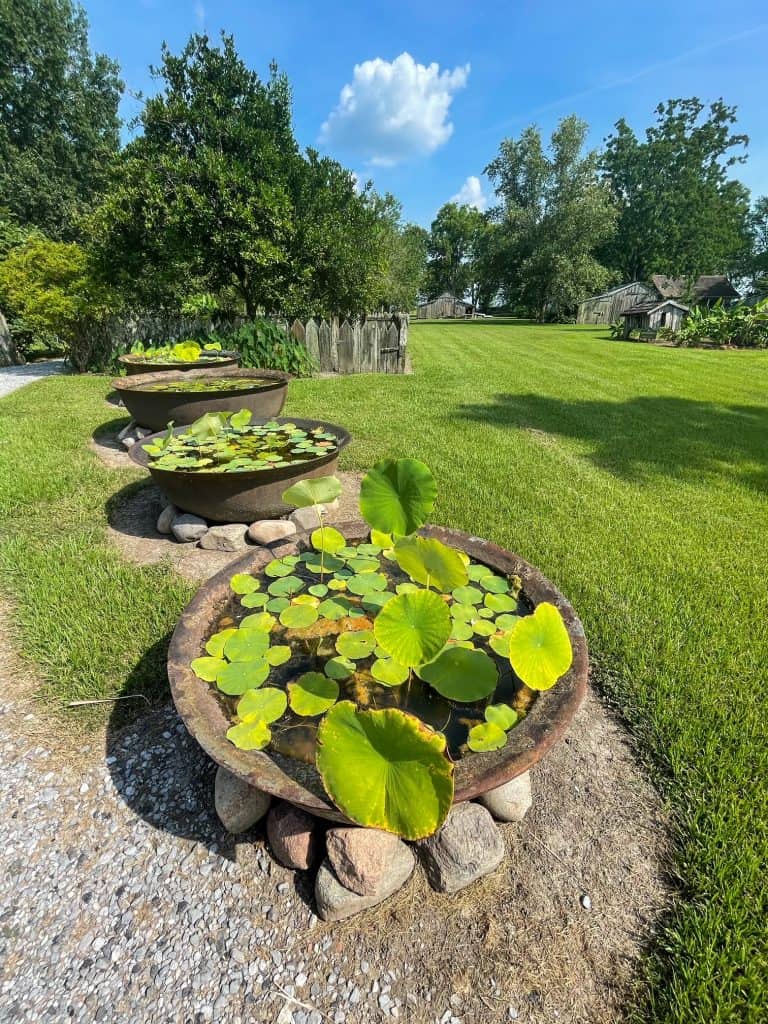 All the plantations that I list in this post are anywhere from 40 minutes to 1.5 hours away from the French Quarter of New Orleans.
When looking at the map, all the plantations are along each side of the Mississippi River west of New Orleans.
How To Get To New Orleans
If you are flying into New Orleans, the best airport to fly into is Louis Armstrong New Orleans International Airport (MSY).
Do you need a car in New Orleans? If you plan to stay primarily in New Orleans, you can easily do without renting a car and choose walking, the streetcar, or an Uber/Lyft to get around.
But if you plan to see surrounding areas or want to visit a plantation or nearby city of Lafayette then yes renting a car is best.
Search For The Best Car Rental Rates Today!
If you would rather take a tour to the plantations and avoid getting a car, keep reading to find out more info on tours.
If you are on a road trip or driving in from another state, the drive times from the following cities are:
Note: If you are looking for what to do in New Orleans, check out Ultimate New Orleans Bucket List: 35 Fun Things To Do In NOLA!
Brief New Orleans Plantations History
During the 1800s, the area along the Mississippi River where all of these plantations are located happened to have had the most millionaires of any region in the United States.
With the usage of slave (free) labor it isn't surprising why the plantation owners were making such a good profit.
One of the main reasons there was such a high concentration of plantations along the Mississippi is due to the very fertile land.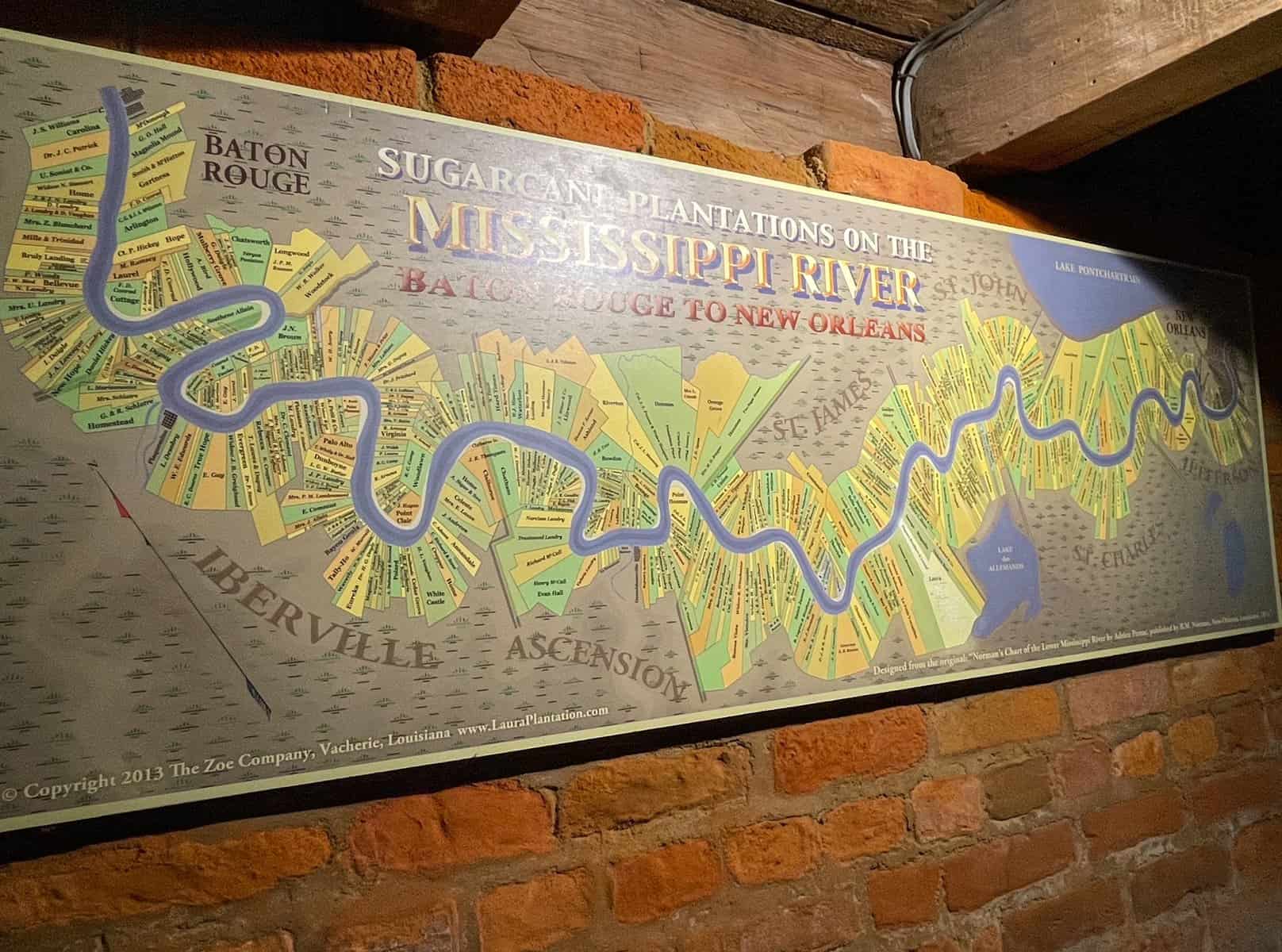 With great soil, growing a variety of crops was profitable. The star crop in the Mississippi River Valley was sugarcane.
In the South, sugar was often referred to as "white gold" as crops of it usually led to becoming very wealthy.
Keep in mind that prior to the early 1700s, there were hardly any Africans in the South. But that all changed once ships of indentured servants (slaves) were brought from West Africa to work, build, and develop the plantations beginning around 1720.
Slaves became the workforce that made these plantations profitable with only the owners seeing the profit.
In contrast, slaves lived in primitive housing, were not treated well, and lacked the freedom that most of us take for granted.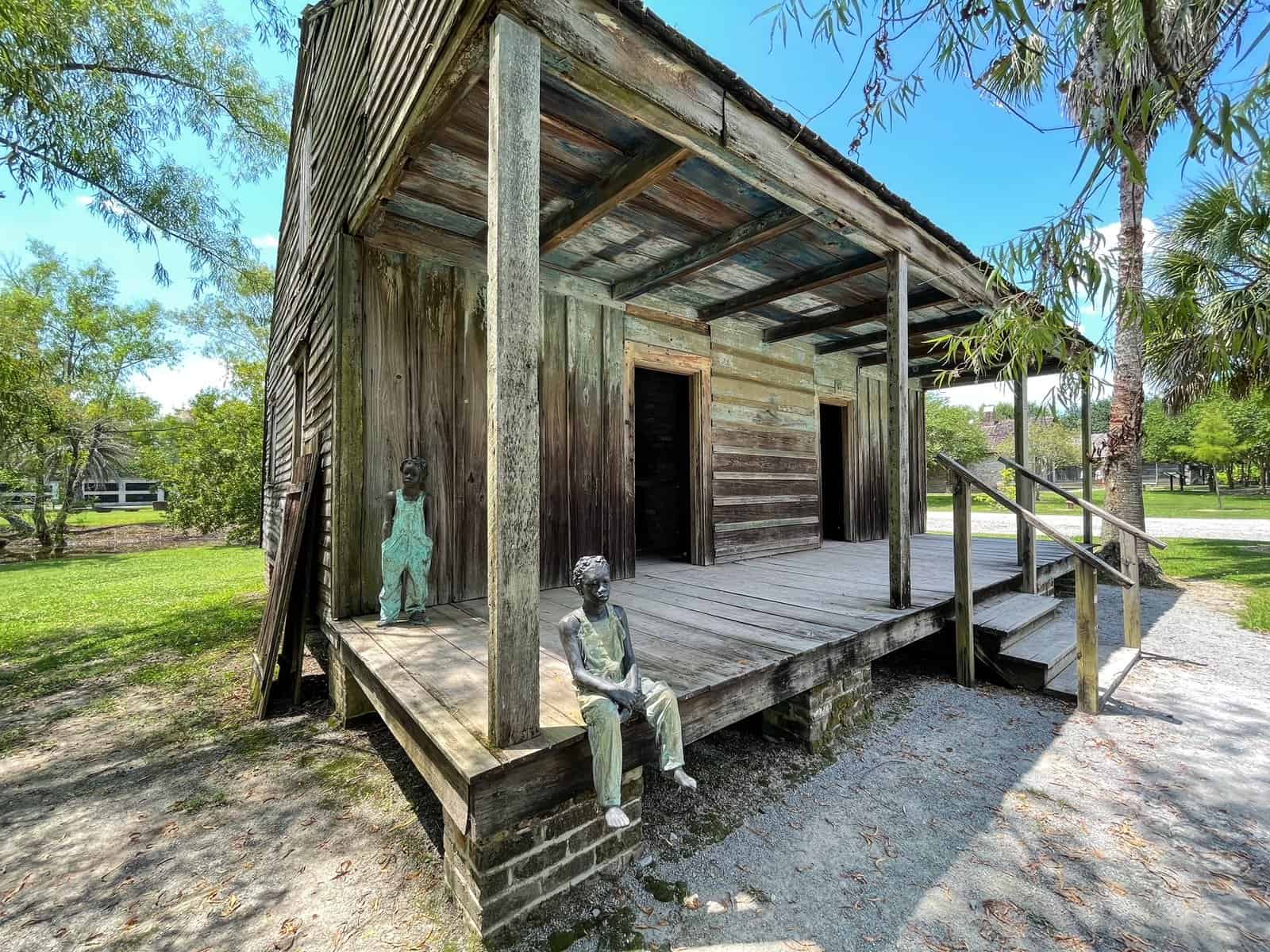 The stories that I found both heartbreaking and the most interesting to hear were those of the slaves, not the plantation owners themselves.
Note: You may hear the term antebellum which refers to the time before the Civil War In the United States.
The reason the term antebellum or the Antebellum South has a negative connotation is that it was a period where slavery was legal and a lot of wealth was built on the backs of slaves.
Anything built in the antebellum era was done so by slaves who had no choice in the matter.
Where To Stay In New Orleans
There is an unlimited number of hotels to choose from but staying within walking distance of great restaurants, bars, and New Orleans attractions is key.
The three areas I would recommend staying in New Orleans are the French Quarter, CBD (Central Business District), and Lower Garden District.
Here are the top places to stay in each neighborhood:
French Quarter
Central Business District (CBD)
Lower Garden District
Can I Stay Overnight On A Plantation?
Yes, you can! If you like staying overnight in unique locations, you can spend the night on a plantation right here in Southern Louisiana.
The Inn at Houmas House has a number of charming cottages on the plantation property for you to stay.
Another option is the Oak Alley Restaurant & Inn. They have multiple cottages just steps from the sights at the plantation! Read more about each of these plantations below.
Best Plantation Tours In New Orleans
If you happen to have a car, you can tour each of these plantations at your leisure which I recommend.
But if you don't have a car, then these tours are excellent options for seeing the top New Orleans plantations! Each of the following tours includes transportation and entry into the plantation.
Whitney Plantation Tour – visit the plantation and transportation to and from New Orleans.
Oak Alley Plantation Tour – a half-day tour of the plantation and transportation to and from NOLA.
Laura Plantation Tour – a half-day tour of plantation and transportation to and from New Orleans.
Houmas House & Destrehan Tour – a full day of touring two plantations plus lunch and transportation.
New Orleans Destrehan Plantation Experience – entrance to visit the plantation and transportation.
Oak Alley Plantation & Airboat Swamp Tour – this is a great option as you get a combo of visiting a plantation and going on an airboat ride!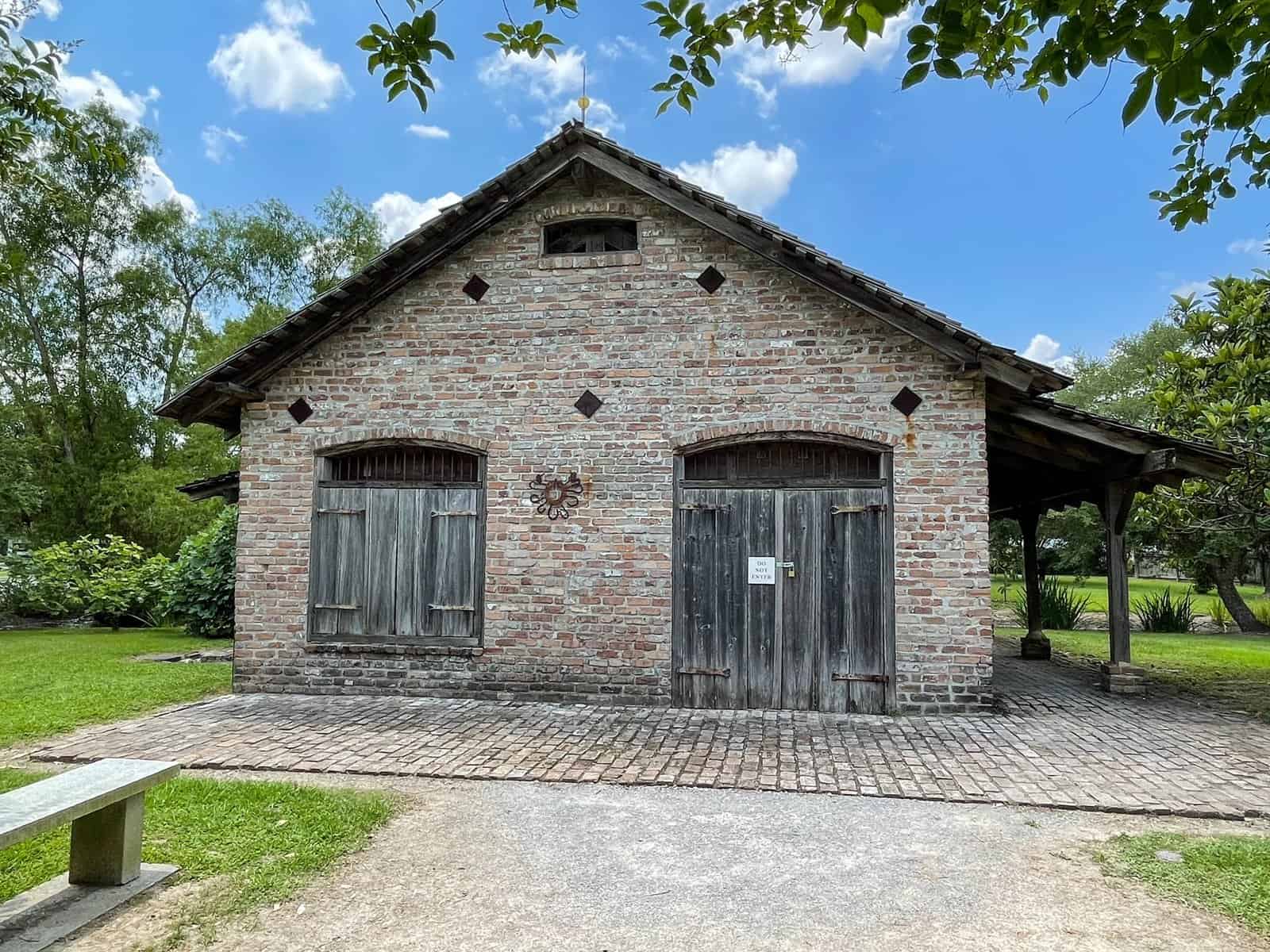 Plantations Near New Orleans Map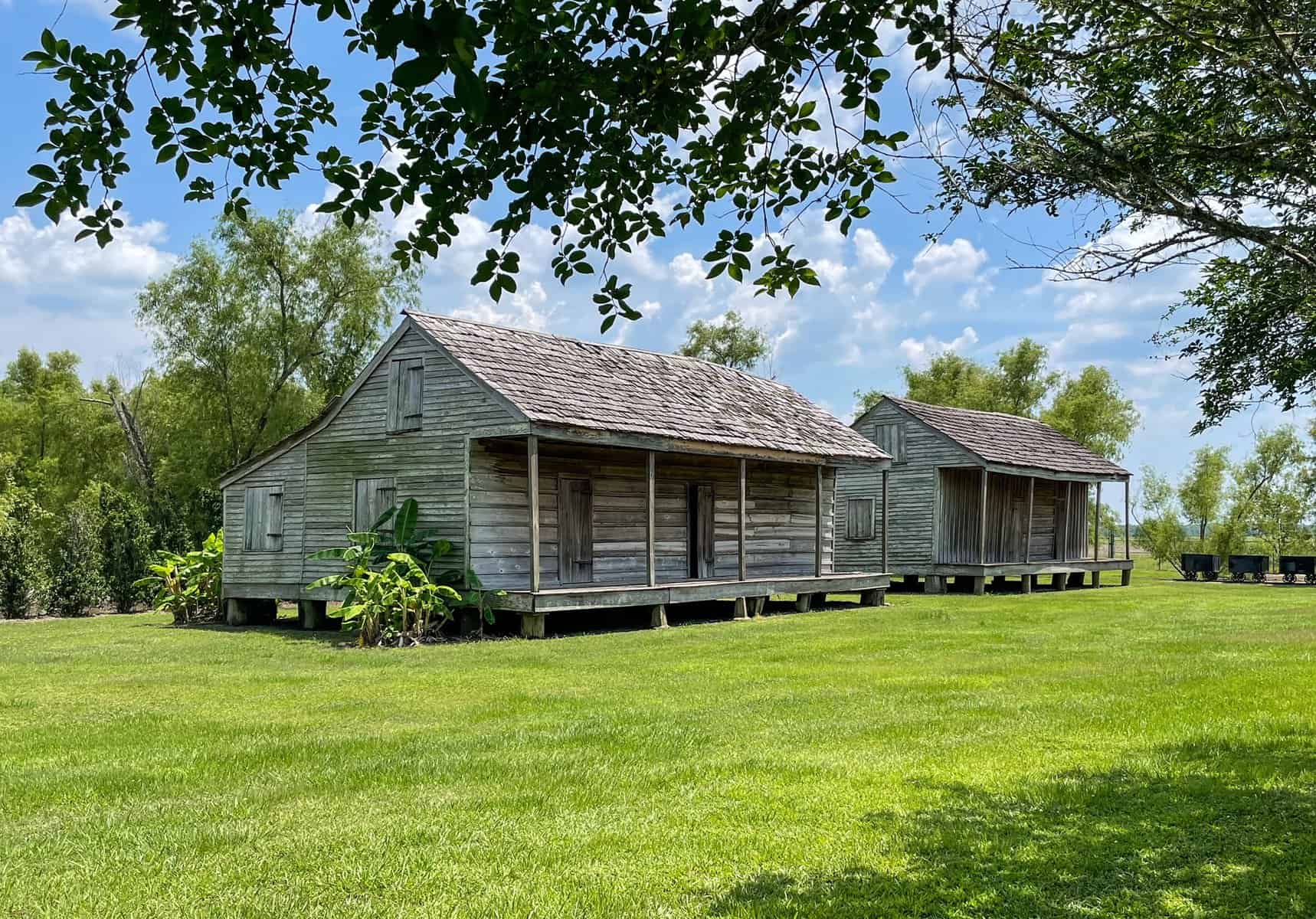 Best Plantations Near New Orleans To Visit
1. Whitney Plantation
Of all of the plantations, I think the Whitney Plantation has done the best job of focusing on the life of slaves rather than on the plantation owners.
At the entrance, there is a small museum where you get your ticket before heading out on a self-guided tour with an audio headset.
As you begin your tour, start with pressing #1 and follow the numbers around the plantation. Take the time to stop and listen to the significance of what you are seeing.
While walking the grounds, you will see the Antioch Baptist Church, the Slave Quarters, where they worked, and the Wall of Honor.
You will quickly learn about slavery in the South and how the success of the sugarcane plantation in Louisiana would never have occurred if it wasn't for those enslaved.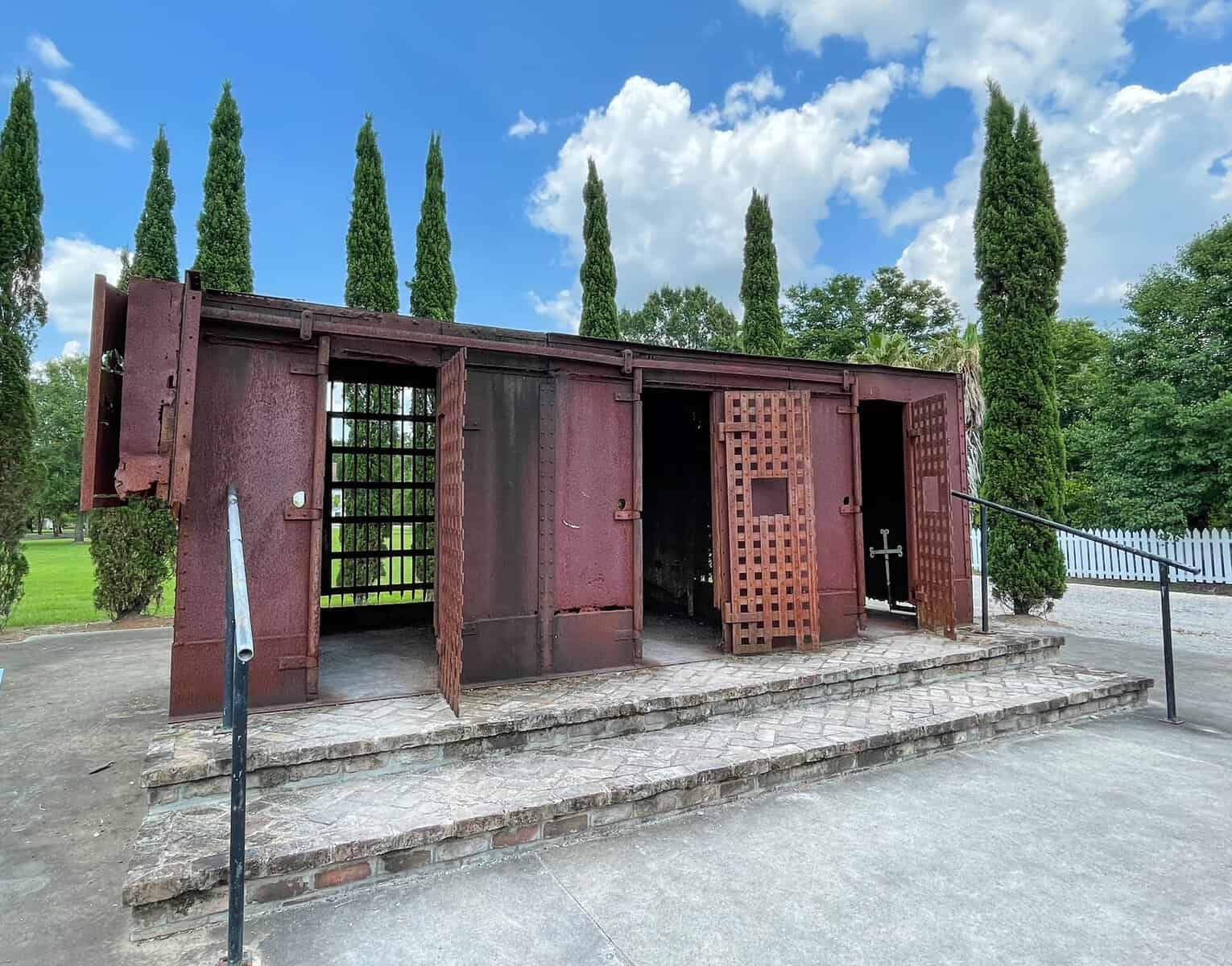 Opening to the public in 2014, the Whitney Plantation had during its operation around 350 slaves living and working on the plantation.
Many realize that adults were slaves, but I think many forget the children. At Whitney, you get a glimpse into what it would have been like for a slave child.
It is a life no child should ever have to experience… As you can imagine, many didn't make it past childhood.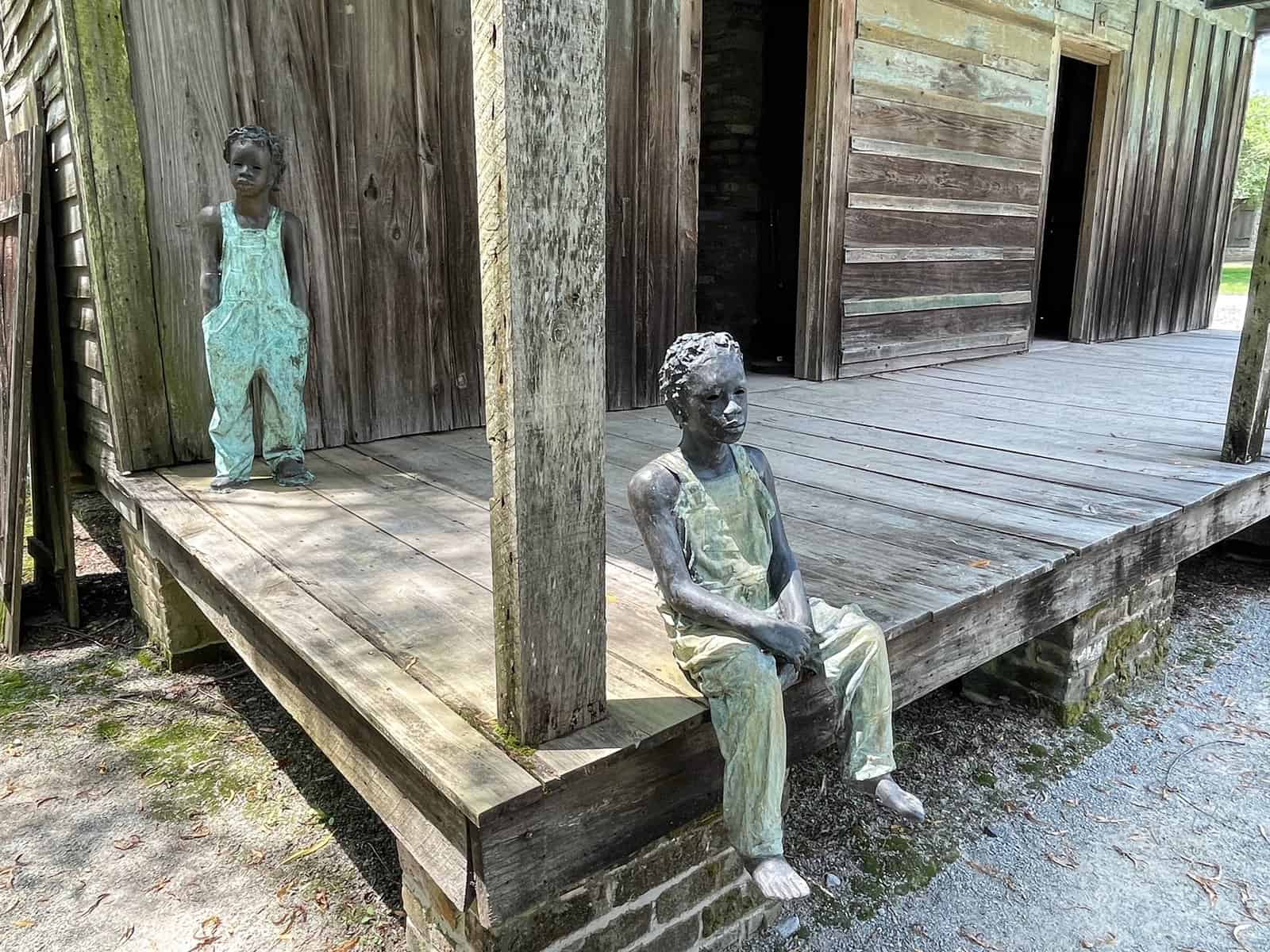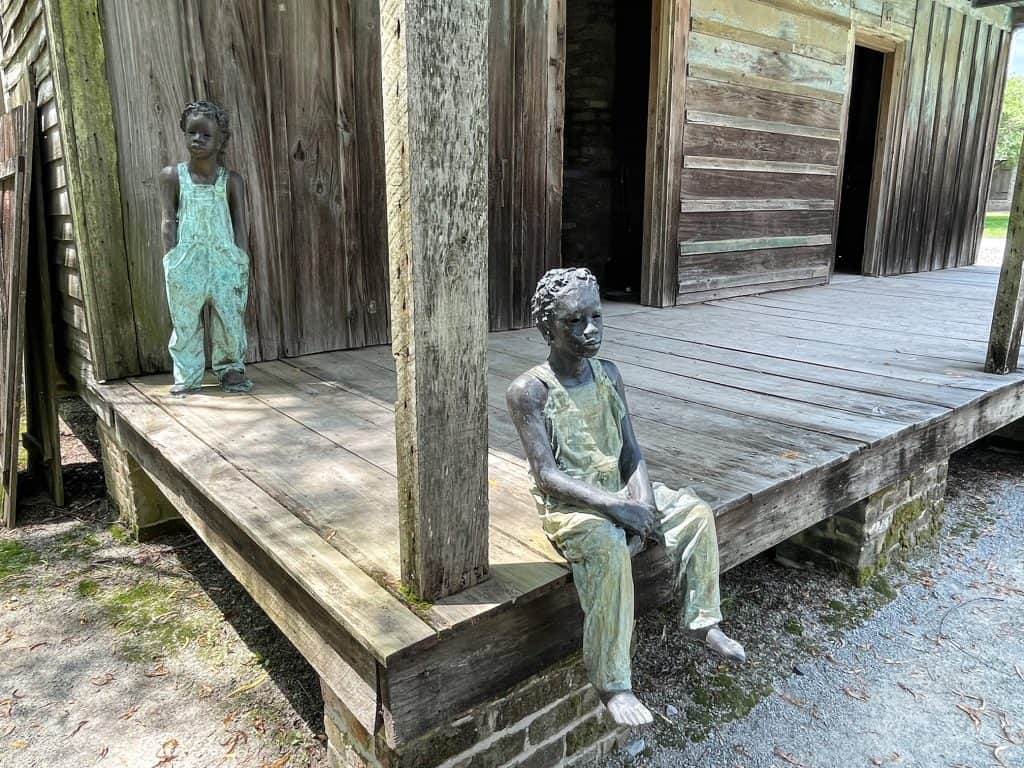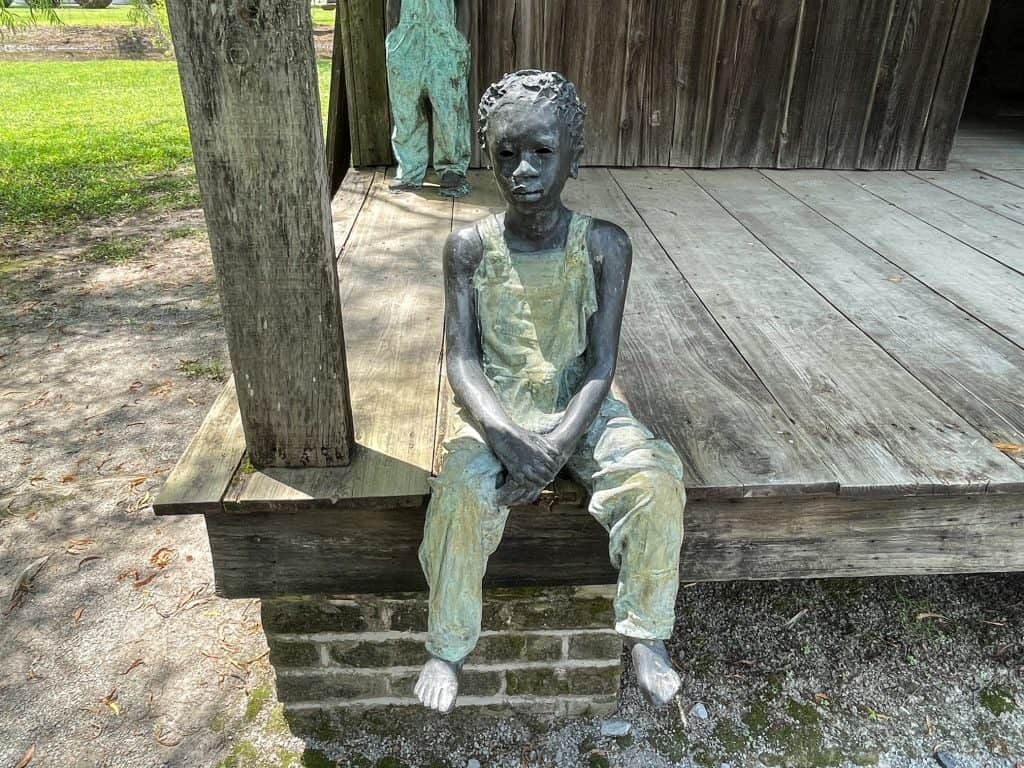 I can't speak for everyone but learning about the life and treatment of black slaves was eye-opening and heartbreaking.
Just know that visiting might ignite both emotions of anger and sadness at the injustice that not only happened on the Whitney Plantation but all plantations in the area.
I was horrified to learn what had actually gone on but even more so that I was never taught any of this in school.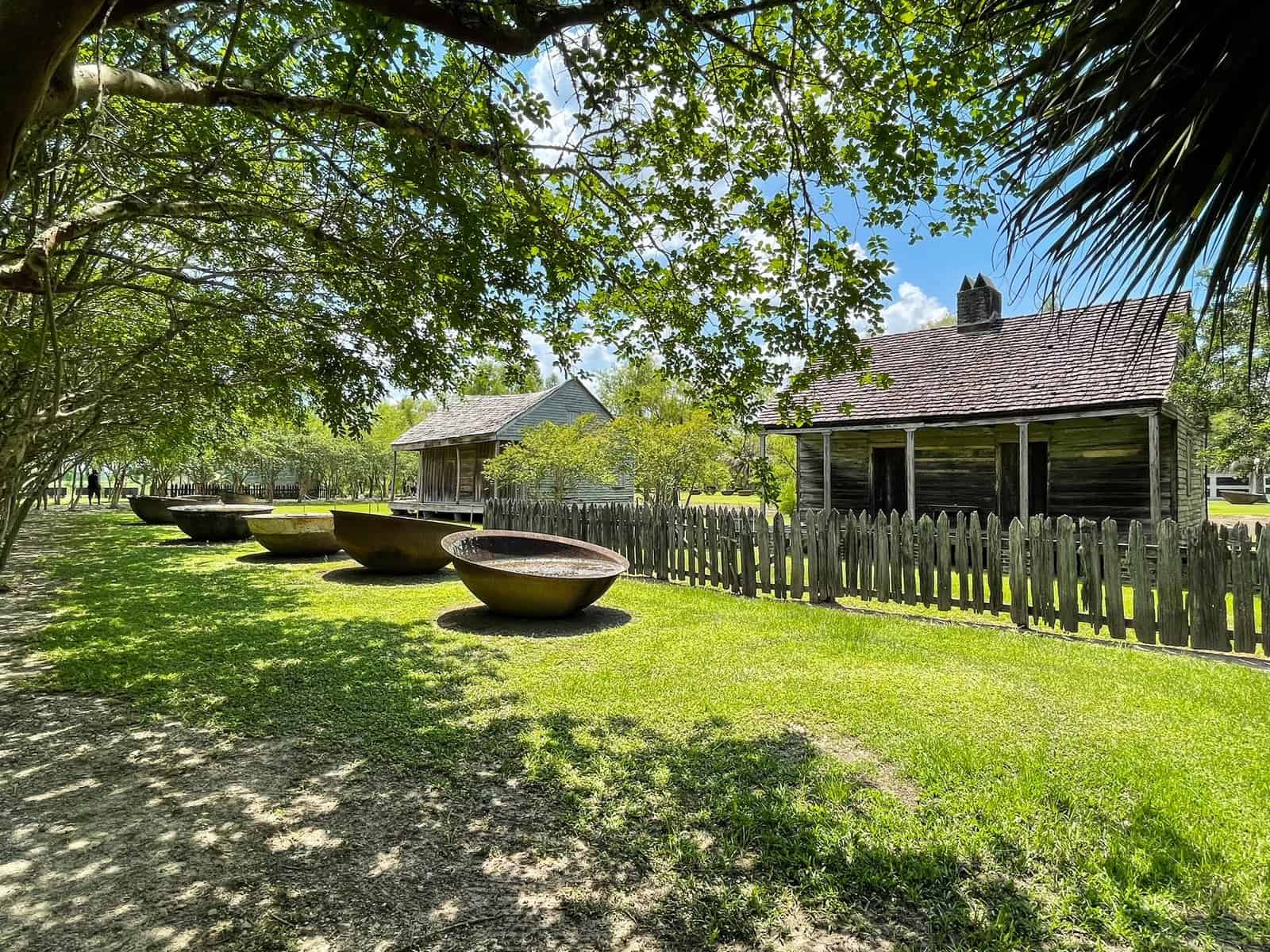 Even though it is a dark period in our American history I don't think it should be forgotten and it is important to understand what life was really like on a plantation and not just the romanticized version seen in movies.
Hours: Open to tour Wednesday – Monday from 10:00 am to 3:00 pm. Closed Tuesday.
Note: The Whitney Plantation is part of the Louisiana African American Heritage Trail.
Book A Tour To The Whitney Plantation Today
2. Laura Plantation
I enjoyed my visit to Laura Plantation as my guide did an excellent job of telling the history from the perspective of both the plantation owners and slaves.
The main house is a bright yellow with accents of green and orange with huge oak trees surrounding it.
The Laura Plantation is a Creole Plantation built in 1805 and named after Laura, the granddaughter of the original owner Guillaume Duparc.
Unlike the rest of her family, you will learn why Laura was against having slaves on the plantation.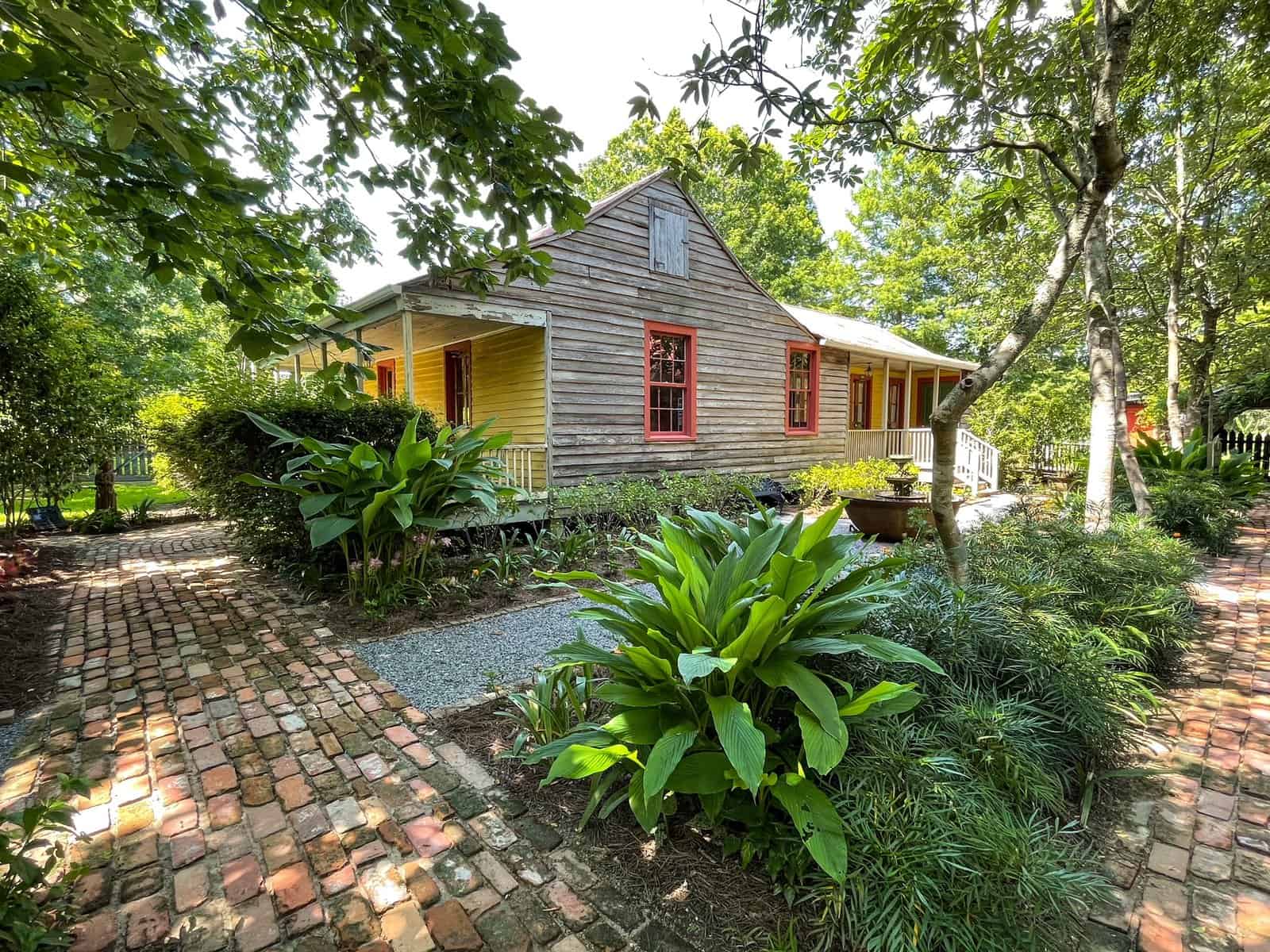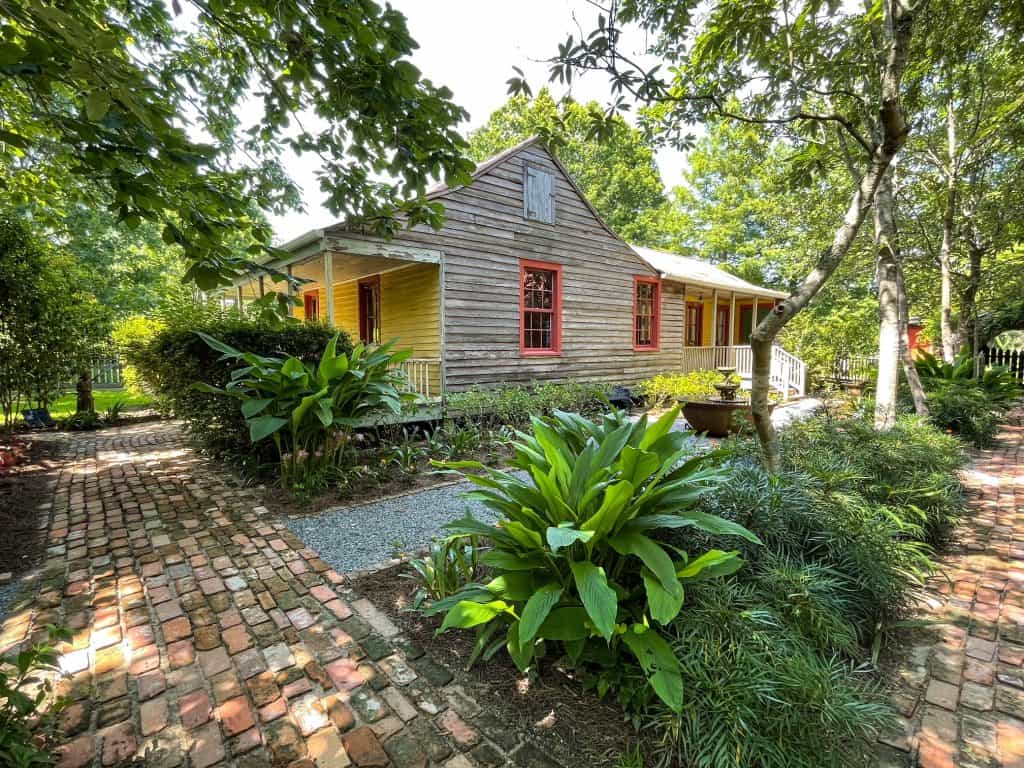 Interestingly, the Laura Plantation was run by four generations of women and not the men.
In 1830, Laura's grandmother purchased several teenage girls and had them impregnated to produce her future labor force.
At the peak, there were 65 cabins to house close to 200 slaves and their families with only one left to view today.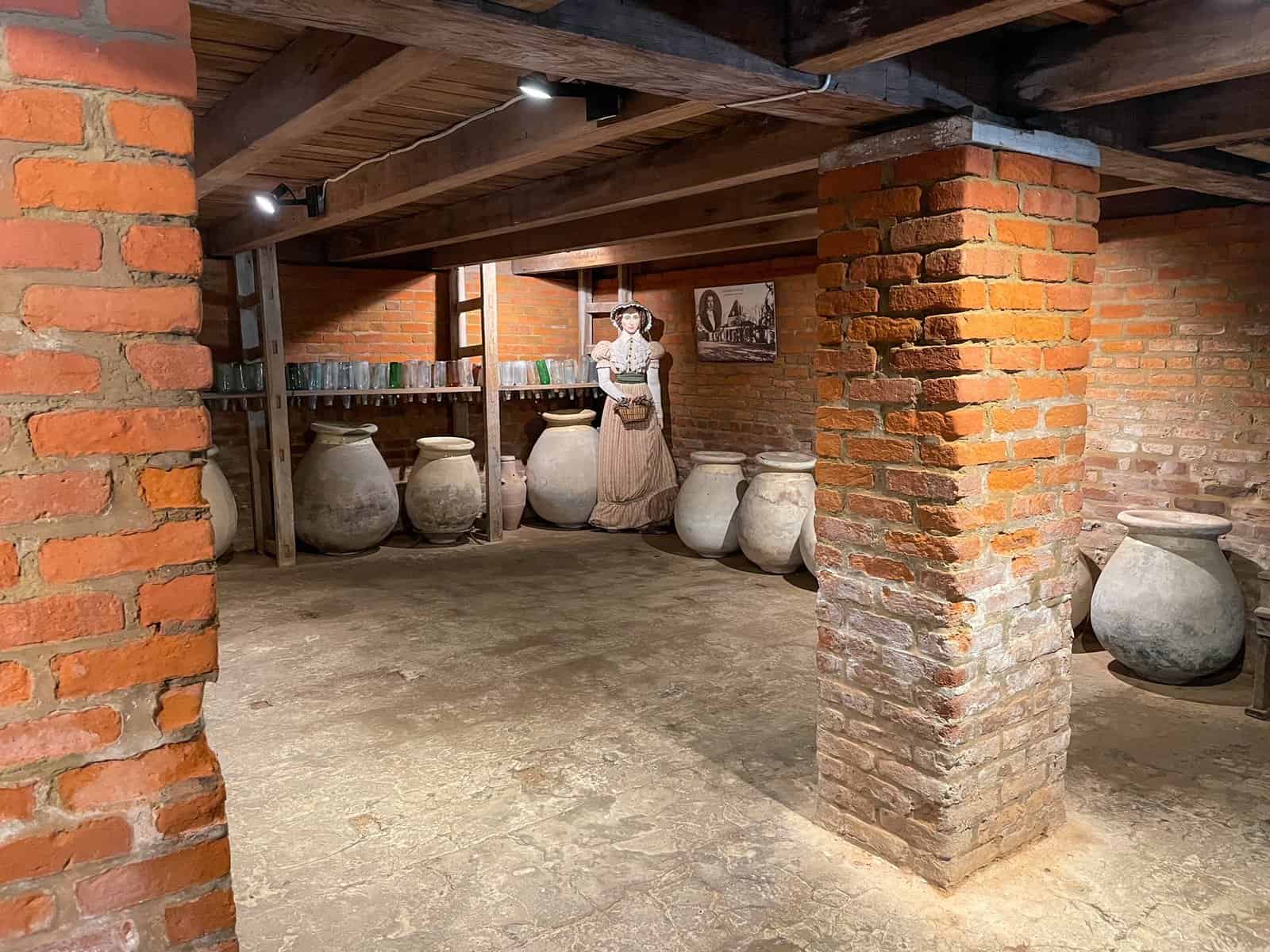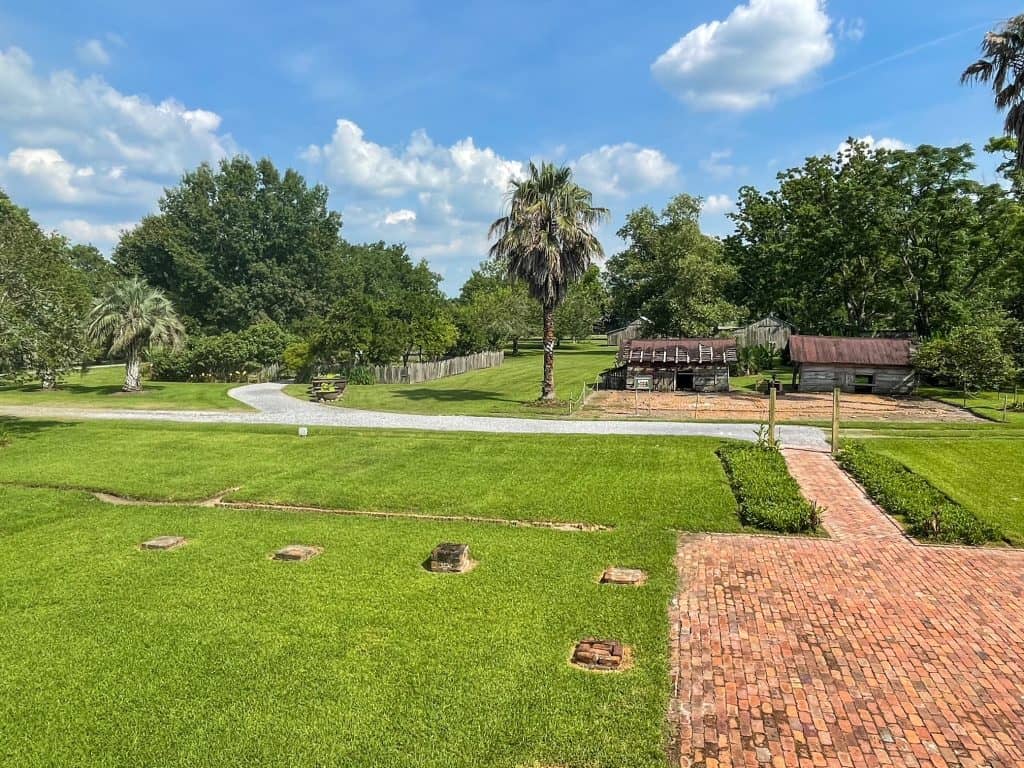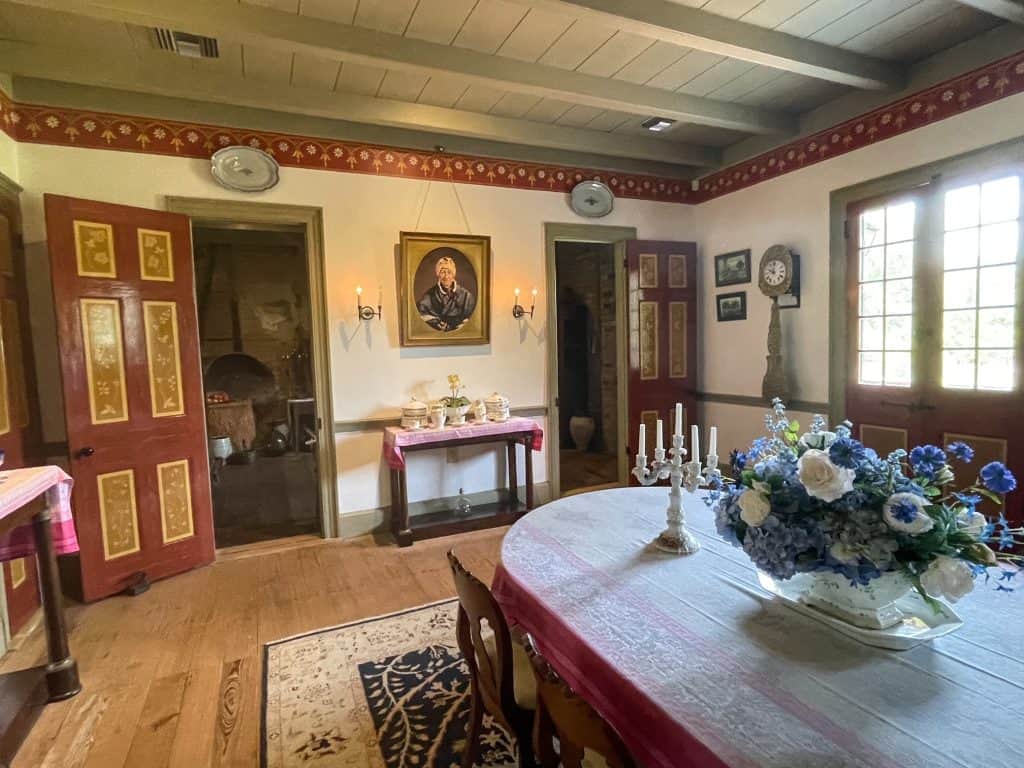 It wasn't uncommon for male plantation owners or their family members to rape slave women on the property.
Many of these women became pregnant and started new family lines of biracial children.
It was Laura's great-uncle Flagy who had children with the slave Henriette Jean-Pierre. On the tour, you can see a detailed family tree of their descendants.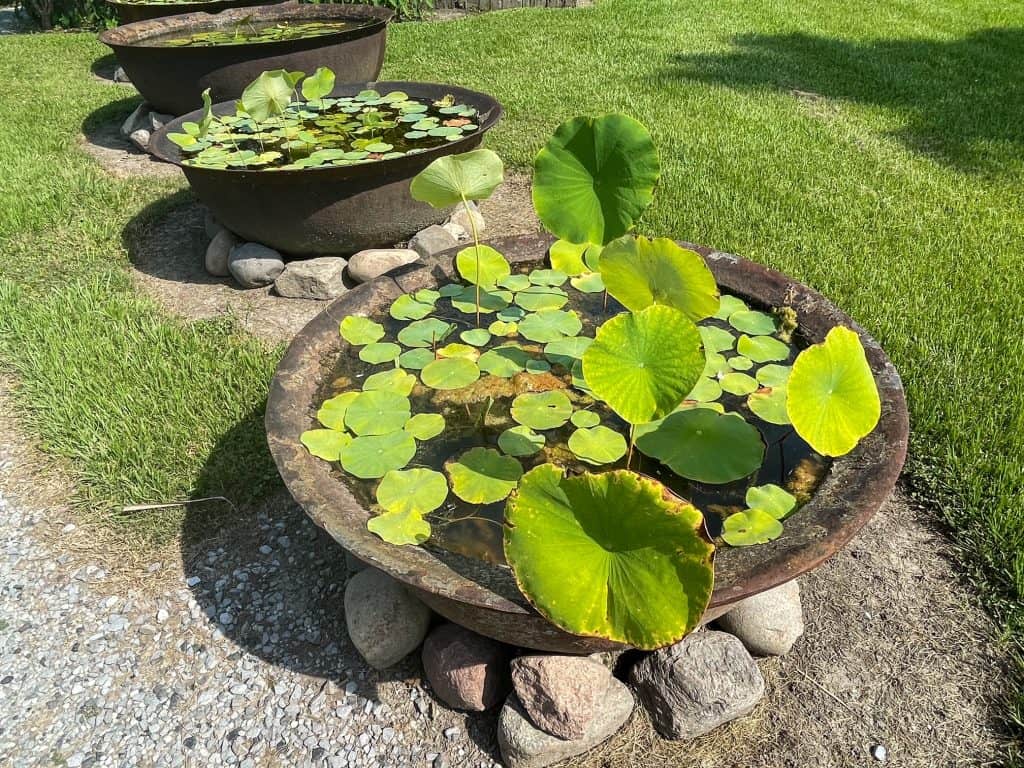 Take notice of the transactions when selling a slave. Men and those that were skilled were valued much more than women and children.
It is astonishing how any person could have a price tag but even more so to see what the US dollar equivalent would be today.
As with many of the plantations along the Mississippi River, the primary crop at Laura Plantation was sugarcane.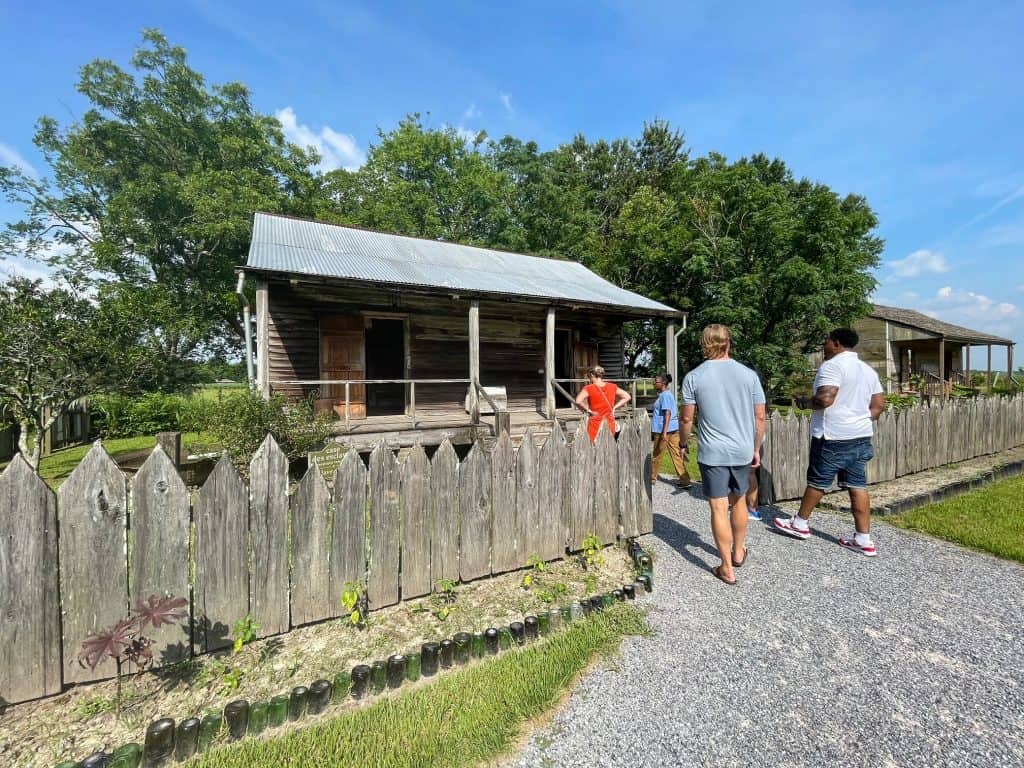 The guided tour will take you through the inside of the house, outside, and to the slave quarters where you can clearly see the contrast in how life was depending on your race.
Note: I found it interesting and sad to learn that many of the black descendants of those enslaved lived in the slave cabins until 1977.
I asked the guide why and was told that as horrible as it might sound, that was all they knew. It was their home and that of their parents and grandparents.
Hours: Open daily from 9:30 am to 3:20 pm. Tickets are required in advance.
Book A Tour To Laura Plantation Today
Discover Fun Tours Around New Orleans!
3. Oak Alley Plantation
Oak Alley Plantation might be the most famous plantation near New Orleans and as far as the grounds go the prettiest.
What makes Oak Alley the most photographed is its gorgeous old Live Oak trees that are between 200 and 250 years old.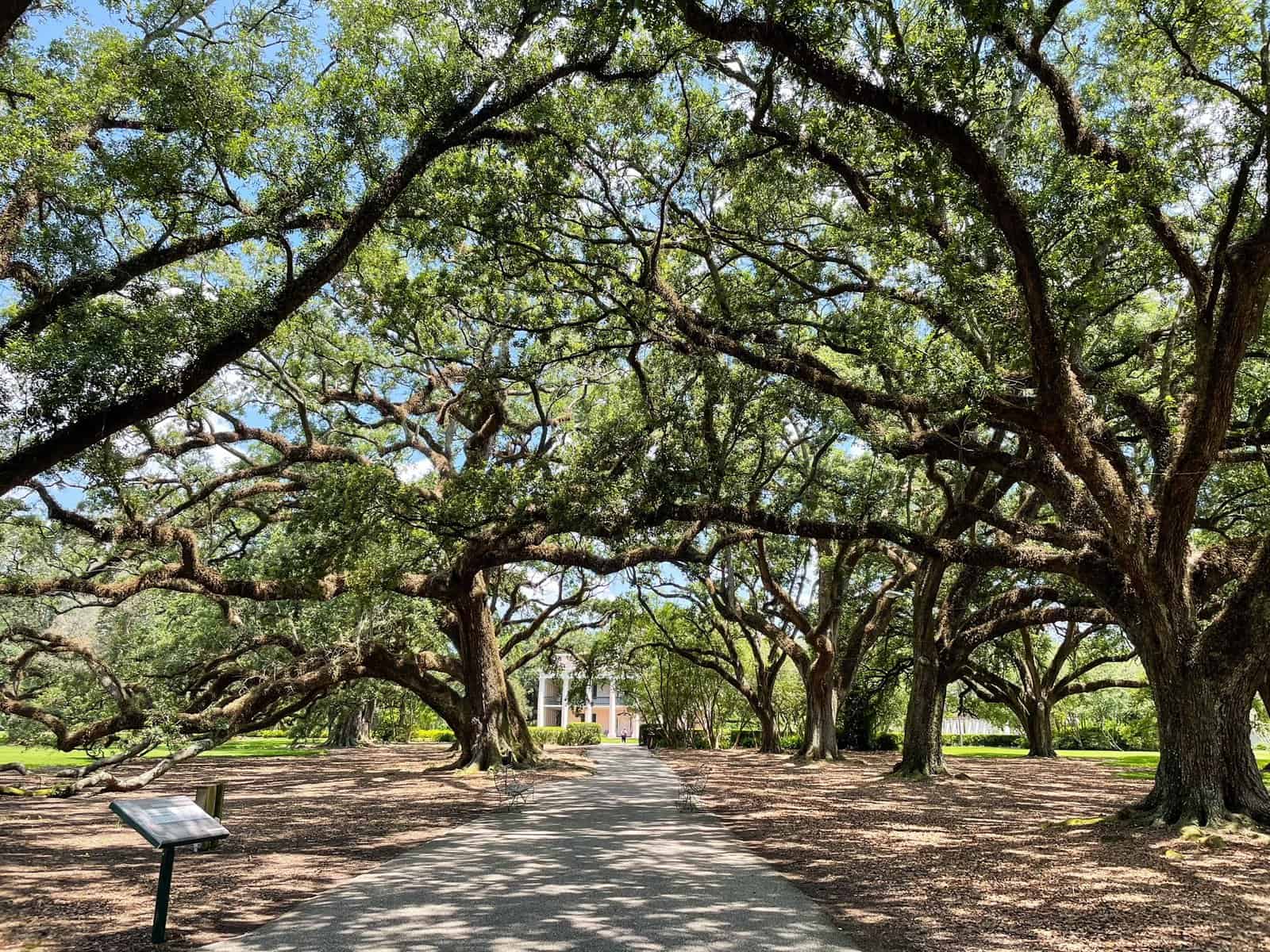 Two parallel rows of oak trees form an alley or pathway up to the main house and the same looking out from the back of the house.
It is quite stunning to walk underneath them and the canopy they form as one row meets another.
Covering 63 acres, Oak Alley Plantation was built in 1837 and as with other nearby plantations, the main crop was sugarcane.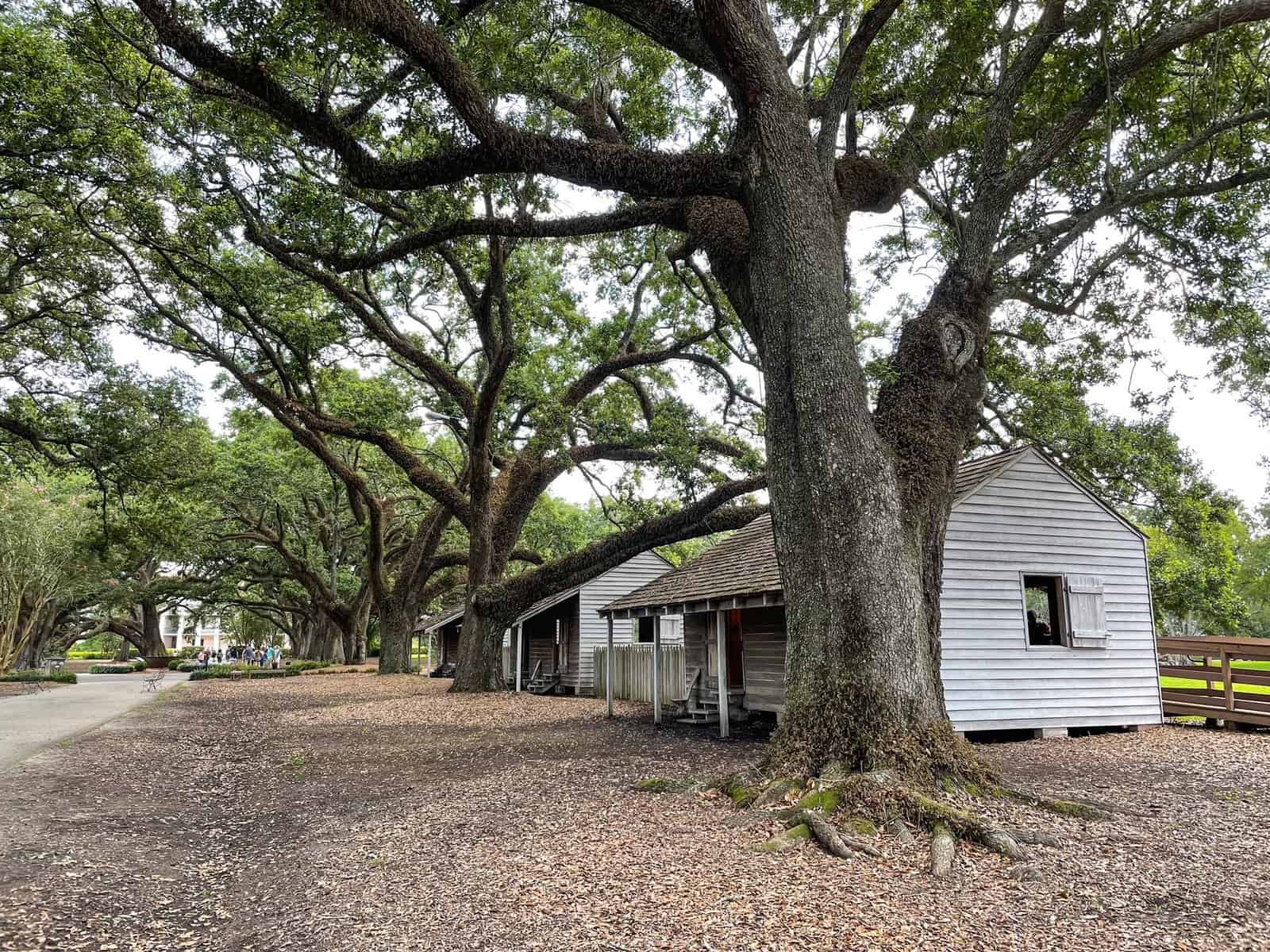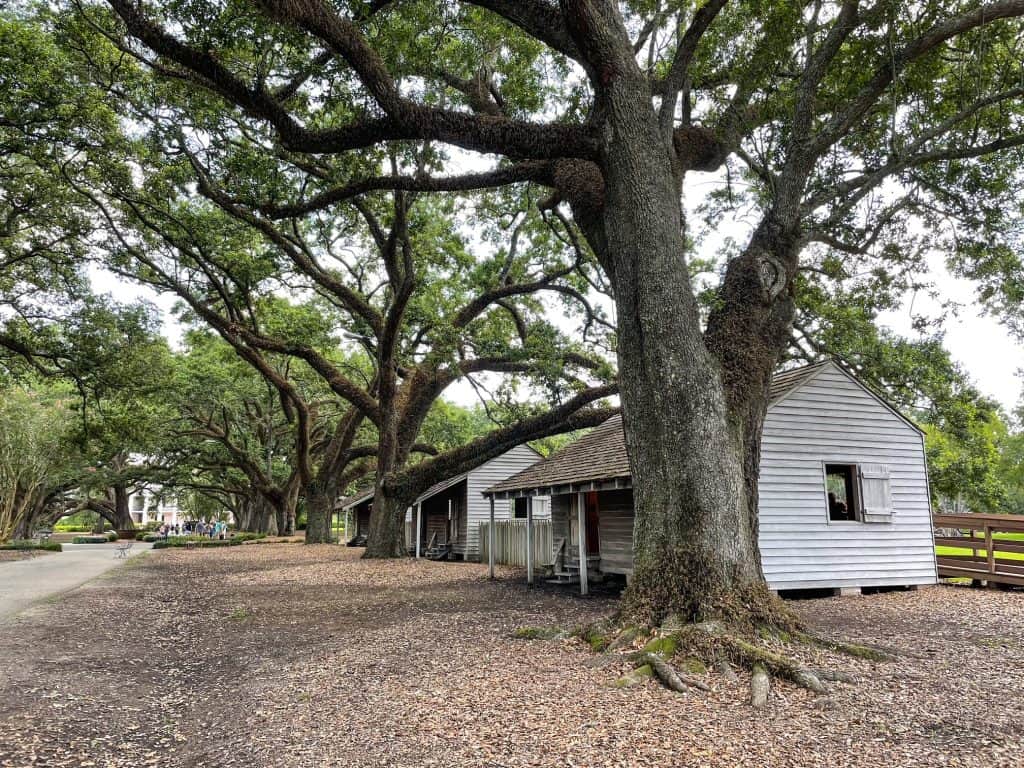 Touring the grounds and slave quarters is self-guided but as you make your way to the mansion, small groups are taken in for a guided tour at a time.
The slave quarters were located between the mansion and the sugar mill. At its height, there was a community of 20 double cabins that housed over 100 slaves and their families.
The original slave cabins were destroyed but replica ones were placed in the same spot. In each cabin, you can learn the stories of the slaves that lived on the plantation and how difficult life was.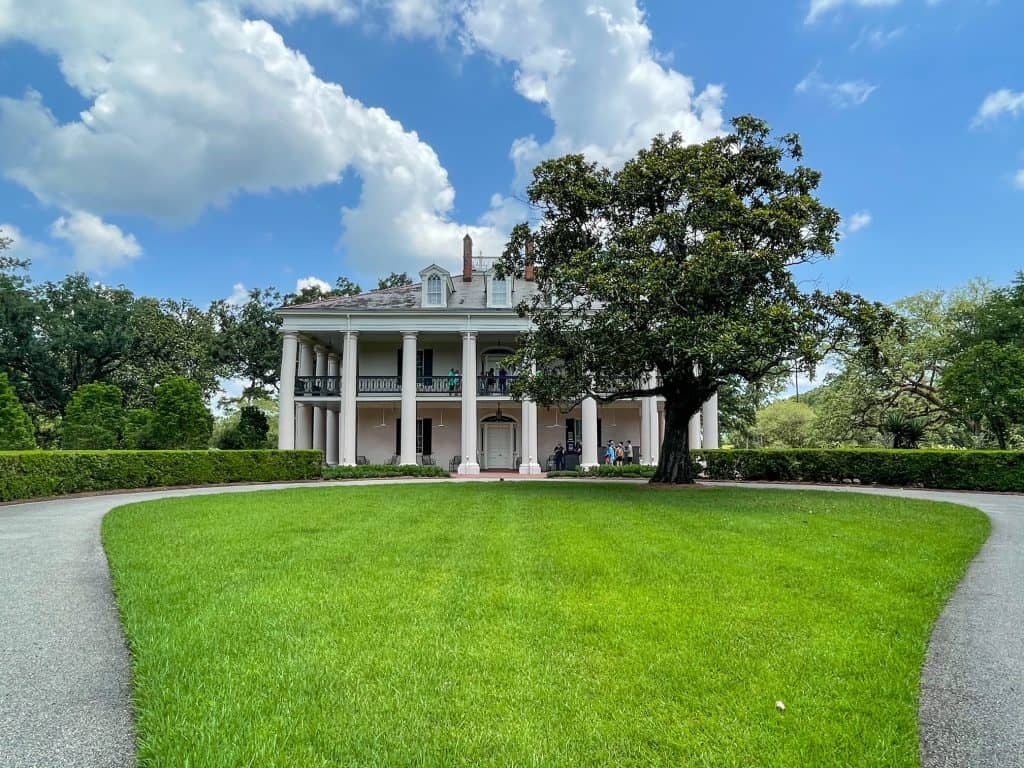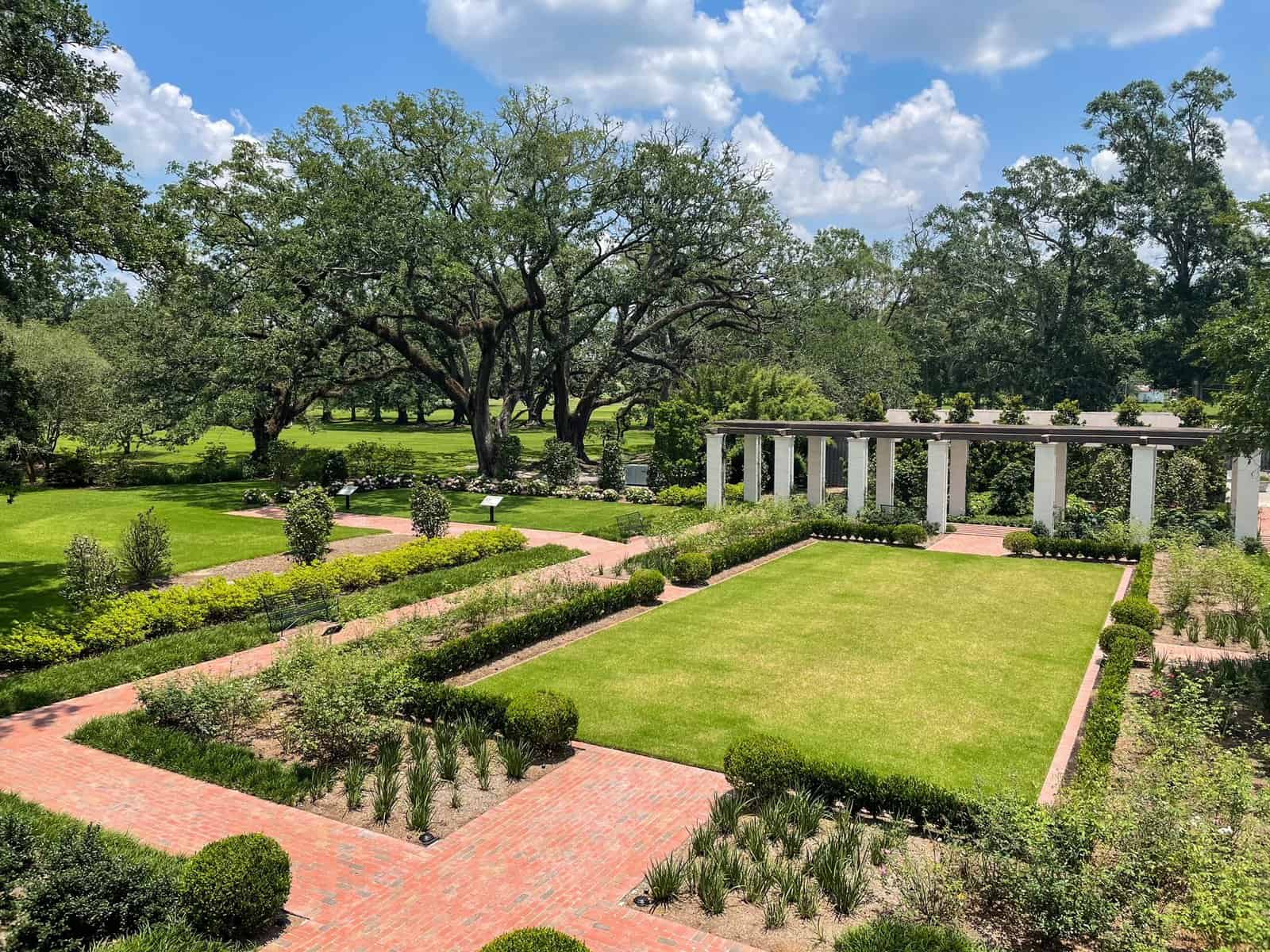 As you make your way to the mansion, you can get a mint julep if it is hot out and you need something refreshing to cool off.
The mansion was built in a Greek Revival architectural style with its distinctive large pillars and balcony.
Inside you can see furniture, artifacts, and décor of how the 14 owners over a 250 year period lived in elegance.
Hours: Open daily from 9:00 am to 5:00 pm. Tickets can be purchased onsite or in advance.
Book An Oak Alley Plantation Tour Today
4. Houmas House
Located in Darrow, Louisiana and about 1 hour upriver from New Orleans is the bright yellow and white Houmas House.
On a tour of the Houmas House plantation, you can imagine what life was like in the 1800s antebellum era.
The main house or mansion was originally a cottage but in 1829 it got a major upgrade to the Classical Revival Mansion you see today.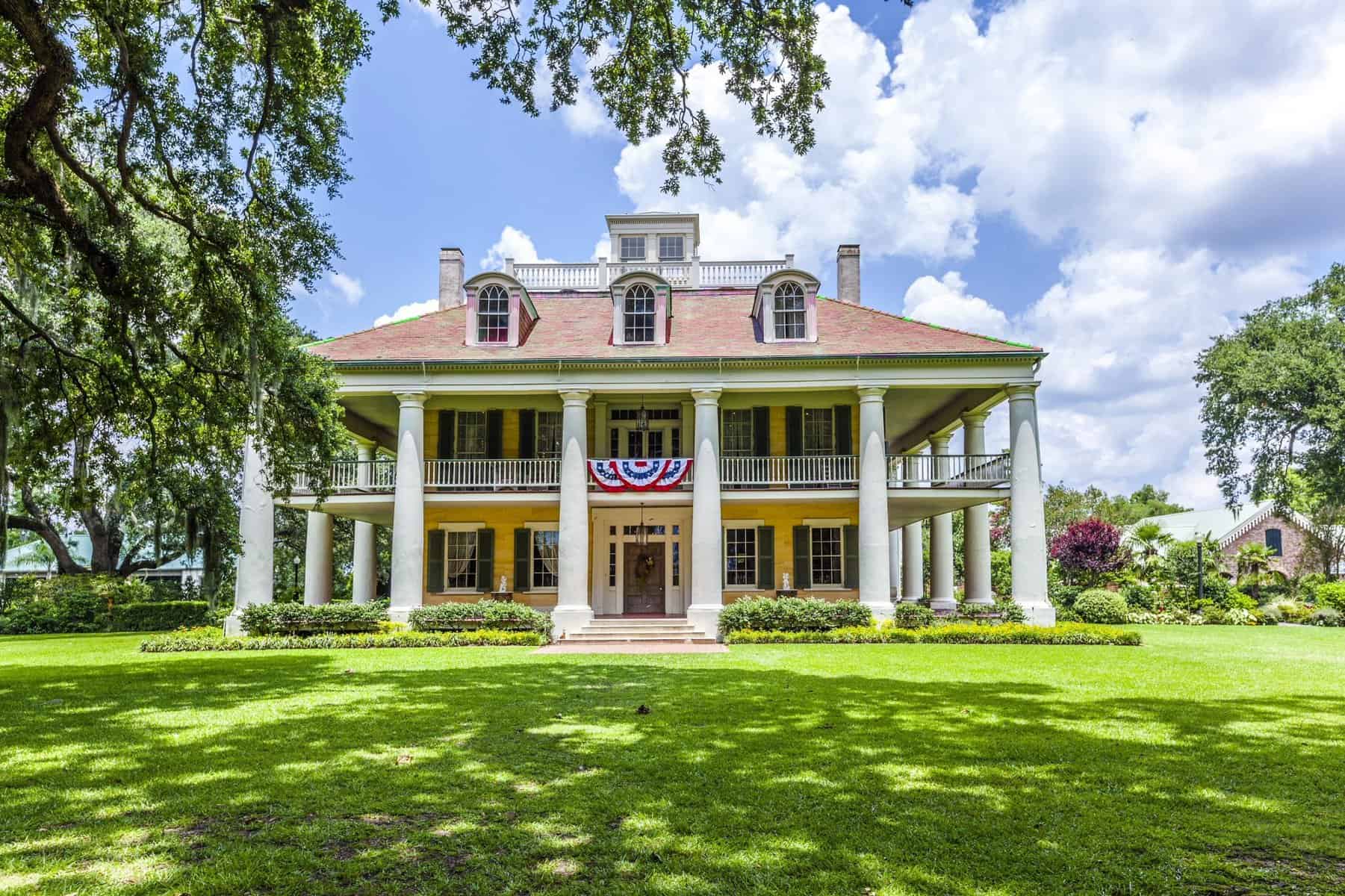 Originally built and owned by General Wade Hampton, the plantation has seen many owners over the years.
In 1858, John Burnside purchased the Houmas House for $1,000,000. That is a lot of money for today's standards, I can't even imagine having that kind of money in the 1800s.
He not only purchased Houmas House but other nearby plantations and became known as the "Sugar Prince" as the main crop was sugarcane.
Several owners and years later, a local businessman by the name of Kevin Kelly purchased the home, restored it, and opened it up to the public in 2003.
Inside guided tours take about 1 hour and display the lavish furnishings and lifestyle of a plantation owner in the sugarcane heyday.
As beautiful as the mansion is, the gardens are just as stunning. Take your time to wander through the grounds of lovely oak trees, ponds, and manicured gardens.
Houmas House is one of the few plantations where you stay overnight in one of their cottages. And they have not one but three restaurants to dine on Louisiana cuisine…
Many shows, movies, and commercials have been filmed here too so it might look familiar once you arrive.
Note: The name Houmas comes from the Native Americans who lived in this region known as the Houma tribe.
Hours: Open daily from 9:00 am to 8:00 pm.
Book A Tour To Houmas House Today
5. Destrehan Plantation
Created in 1787, the Destrehan Plantation is the oldest documented plantation in the Mississippi River Valley outside of New Orleans.
Owned by Jean-Noel Destrehan known as one of the most successful sugar barons during the antebellum era.
It also happens to be one of three sites where trials took place after the 1811 Slave Revolt, the largest revolt in the history of the United States.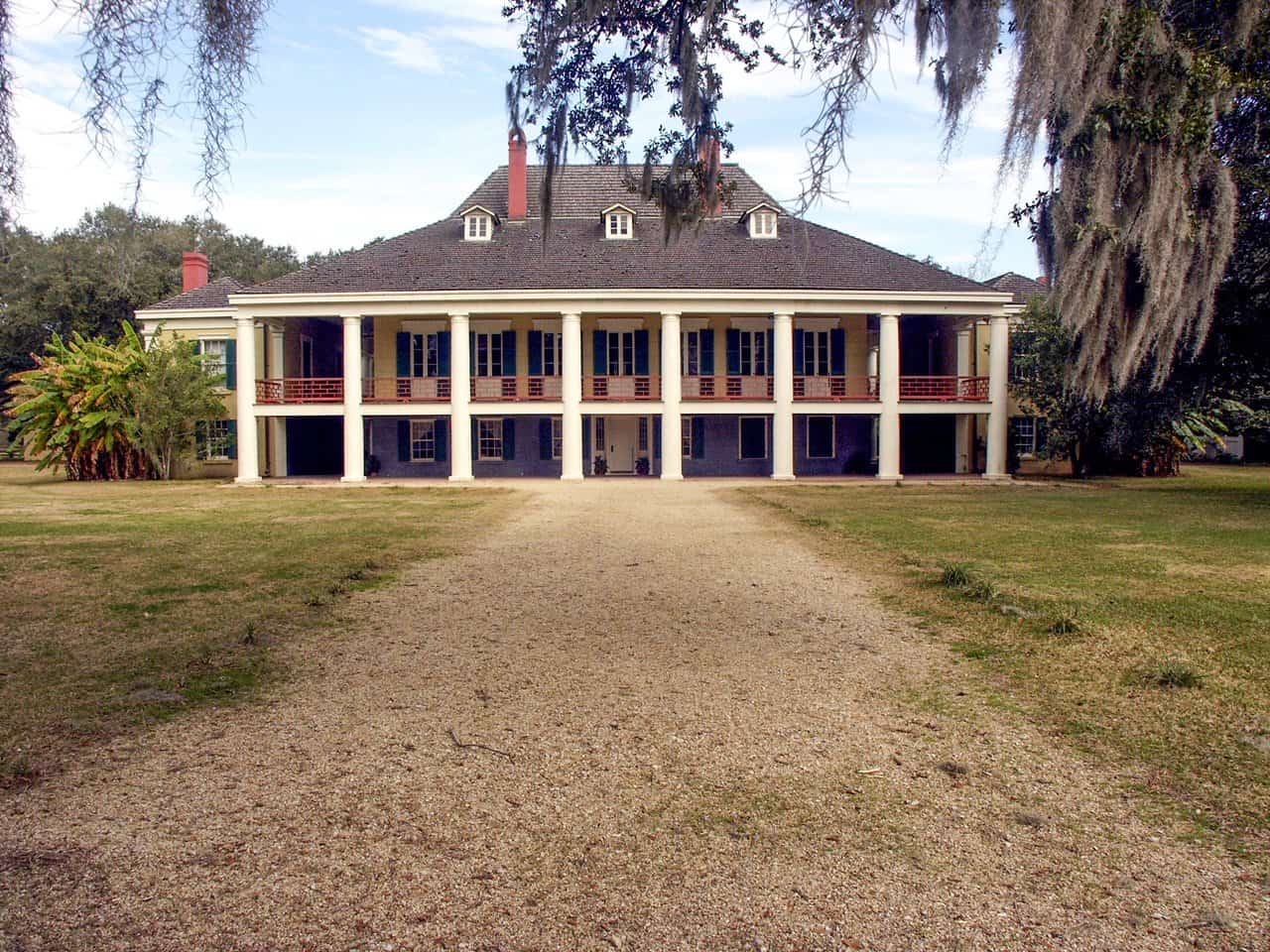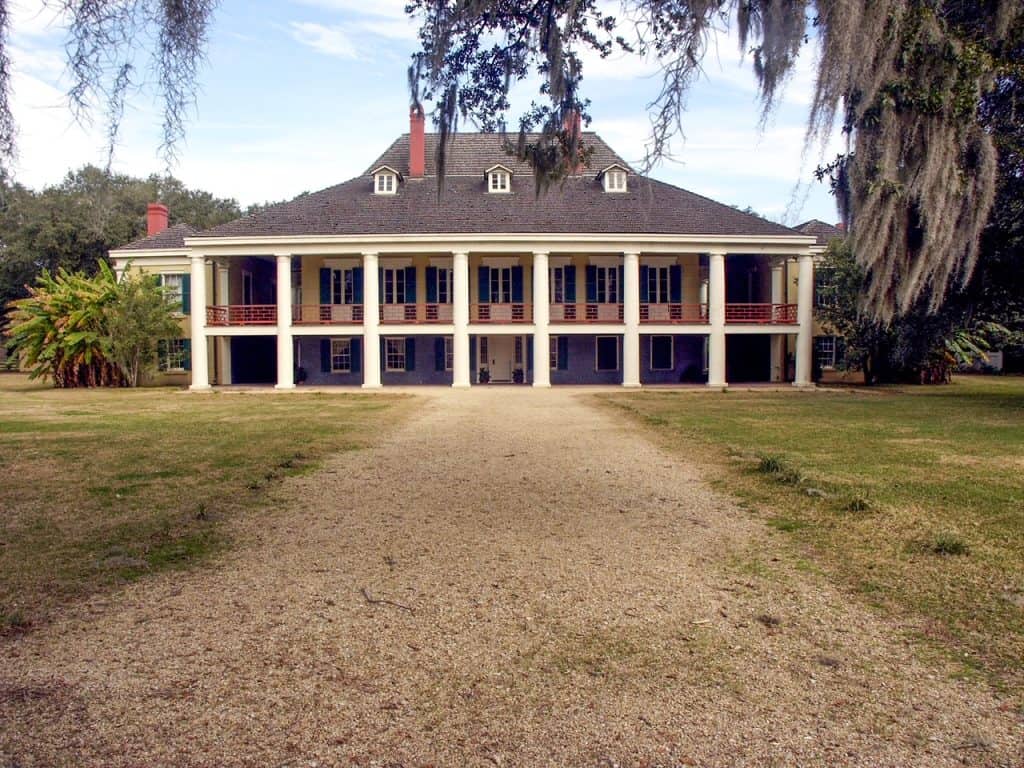 The trial resulted in the beheading of 45 slaves for their involvement in killing two plantation owners. Their heads were placed in front of the plantation to discourage any further revolting.
A guided tour will take you through the main house and then you can explore the gardens at your own pace.
For your tour, you can choose from the Plantation Tour or the Unheard Voices Tour.
The Unheard Voices Tour provides a historical narrative of people treated as second class such as German farmers, Acadians, enslaved Africans, and Native Americans.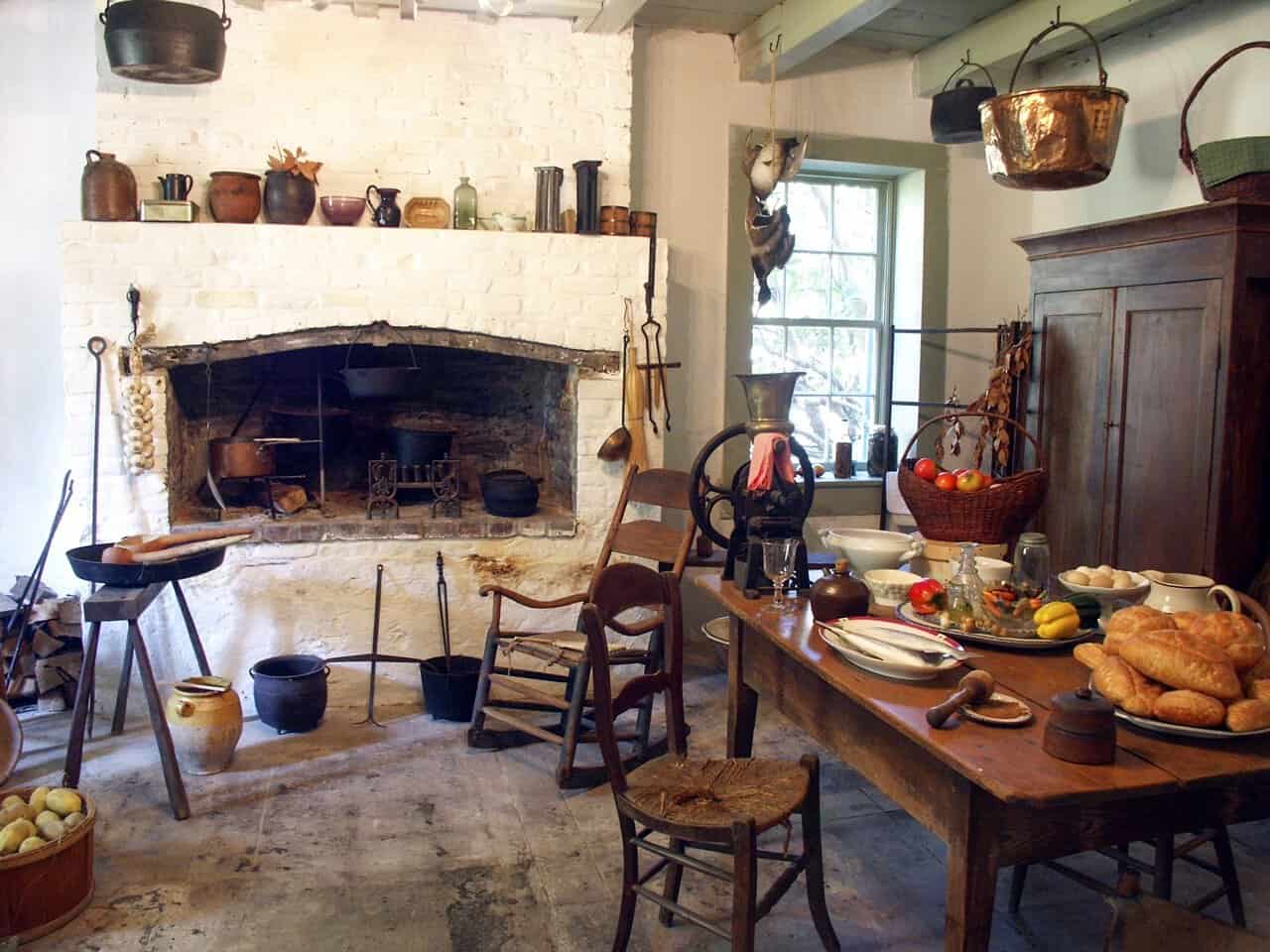 It is on this tour that you will get the perspective of slave life and the conditions in which they lived and worked on the plantation.
Hours: Open Friday – Sunday from 9:00 am to 5:30 pm or Monday – Thursday from 9:00 am to 4:30 pm.
Note: For fans that loved the movie Interview with the Vampire (1994), Destrehan Plantation was featured in it.
Book A Tour Of Destrehan Plantation Today
6. San Francisco Plantation
During my visit and while I started writing this post, the San Francisco Plantation was open for tours. But as of January 2022, it appears that it is closed.
Since there is no report on when or if it will open back up, I will give a brief summary in case you are able to visit one day.
Like many of the other plantations listed, the San Francisco Plantation has a Creole-style main house surrounded by gorgeous Live Oak trees that are hundreds of years old.
The turquoise and cream-colored exterior are bright and distinct from the other plantations you might see.
It is estimated that 152 slaves worked at the San Francisco Plantation during its operation.
If you are wondering why the plantation is called San Francisco? It is thought that when built in the mid-1850s, the name came from Edmond Marmillion's son.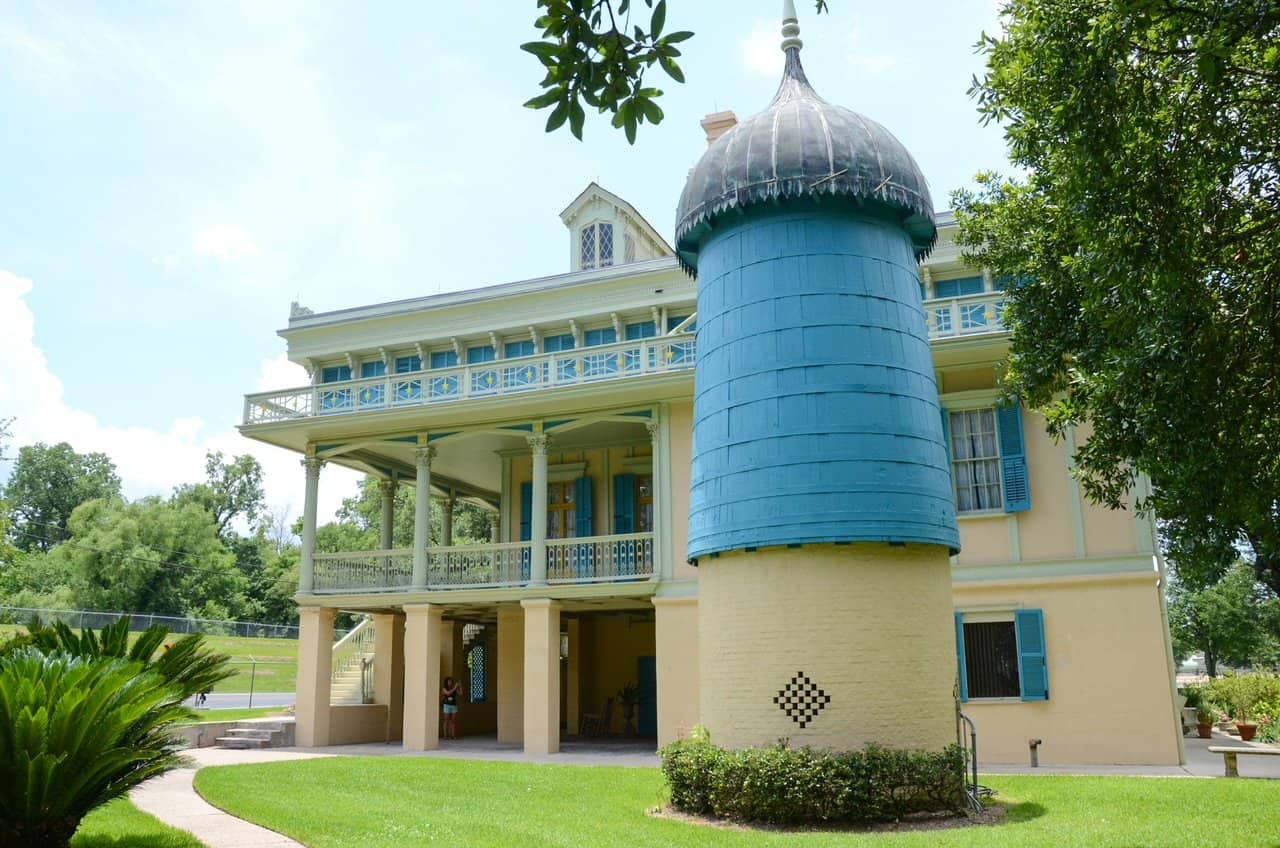 His son claimed that the huge amount of debt to run the plantation when he took over was "sans fruscins" or "without a penny in my pocket"!
Somehow the name evolved into San Francisco Plantation…
Tips For Visiting New Orleans Plantations
FAQs On Plantations In New Orleans
Is Visiting The Plantations Worth It?
I say yes. There is a huge amount of history and a perspective of what life was like on the plantations that you might not have heard before.
Even after slavery was abolished many slaves stayed on the plantations as they did not have many options when they had no money, education, or means.
Just because they were officially free didn't mean they lived a truly free and equal life.
What The Most Famous Plantation In New Orleans?
The most famous plantation in New Orleans is Oak Alley Plantation. Mainly for its stunning row of Oak trees that form a tunnel on each side of the mansion house.
It is captivating to see in person and see why it is the most photographed plantation.
What Is The Oldest Plantation In New Orleans?
The oldest plantation close to New Orleans is Destrehan Plantation.
Built in 1787, It is the oldest documented antebellum plantation along the lower Mississippi River Valley about 35 mins from New Orleans.
The plantation is open to visit and if you are looking for a tour with transportation, consider taking this Destrehan Plantation tour!
When Is The Best Time To Visit The Plantations?
You can visit the plantations near New Orleans any time of the year but for optimal weather, I'd plan for winter, spring, or fall.
During the spring and fall, you have great weather which is ideal for exploring the outdoor grounds.
The next best time to visit is surprisingly in the winter!
Overall, the weather in the winter is fairly mild with many nice days to visit a plantation. But of course, always bring an umbrella or rain jacket just in case!
The plus to visiting in the winter is that you can also attend Mardi Gras!
I visited in June and although it was very nice and sunny, it was extremely hot and humid. I still enjoyed my visit but plan on wearing sunscreen and bringing extra water.
Can You Stay At A Plantation In Louisiana?
If you like staying overnight in unique locations, you can spend the night on a plantation right here in Southern Louisiana.
The Inn at Houmas House has a number of charming cottages on the plantation property for you to stay.
Or if you can't get enough of Oak Alley's oak trees then book a stay at the Oak Alley Restaurant & Inn. They have multiple cottages just steps from the sights at the plantation!
Enjoy learning about the history of the plantations in New Orleans, Louisiana
Got Travel Insurance?
Don't leave home without travel insurance as you never know what might happen on a trip! It is always when you least expect it that something can go wrong like getting sick, in an accident or cancellation of some sort. Get a no-obligation quote from two trusted travel insurance companies for peace of mind on your next trip!
Looking For More Travel Inspiration?
Ultimate New Orleans Bucket List: 35 Fun Things To Do In NOLA
15 Fun Things To Do In Lafayette, Louisiana's Cajun Country
17 Fun Things To Do In Orange Beach, Alabama On Your First Visit
23 Cool And Fun Oklahoma City Attractions That Are A Must To See
15 Famous Things About Chicago You Must See
Disclaimer: As an Amazon Associate and a participant of other affiliate programs, I may earn from qualifying purchases in this post. This means that if you make a purchase through one of these links, I might receive a commission at no extra cost to you. Thank you and it is greatly appreciated!